A Night of North Pole Naughtiness
With the Christmas season well on its way, everyone at the North Pole is working hard to make this a holiday to remember.
Despite the efforts of the arctic inhabitants, productivity is at an all-time low, upsetting many and putting Santa's legacy at stake.
Desperate for a change, there are many who are willing to do almost anything to increase efficiency and restore peace at the North Pole. But only one who will go too far and commit an act of murder in this mystical place.
Will it be the audacious elf who believes they could run the workshop better?
The remorseful reindeer ready to hide their secrets? Or possibly the
unwavering wife who will do anything to protect her family through any ordeal?
As you join together for the Holly, Jolly Christmas party you will mingle with magical guests.
In the end of this Christmas murder mystery party, you will need to decipher between the evil and the innocent, the righteous and the responsible, the naughty and the nice, to make sure a criminal is caught!
You will not want to miss this holly, holly, Christmas Folly.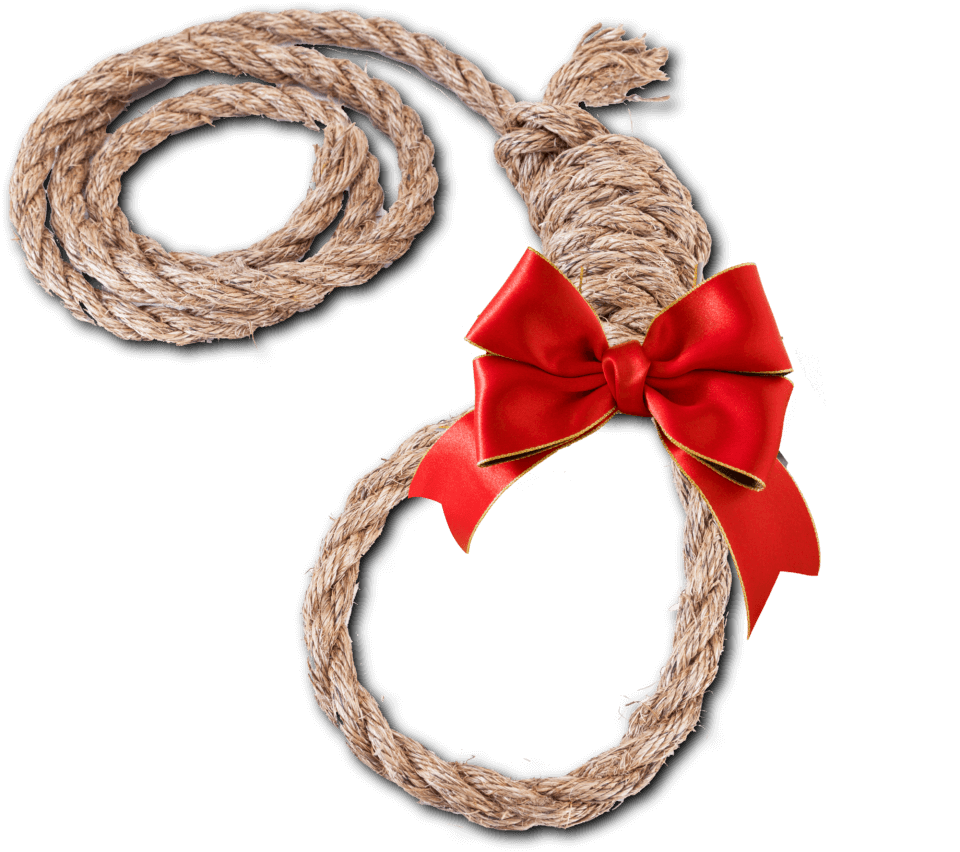 *Note that the cast listed below is provided only to give an idea of the types of roles available in this Christmas murder mystery party, and not presented in any order relevant to the plot. 
Not all cast members are included in every version.  
Santa Claus
Leader of North Pole Operations

With the changing times, Santa has a lot to do to keep up with the current state of the world AND make sure his legacy lives on untainted.
Mrs. Claus
Santa's Wife

As matriarch of the North Pole, the Mrs. is worried about some of her husband's decisions and may have to exert her power to get her way!
Connie Claus
Santa's Daughter

Connie is the heir apparent but someone without a lot of Christmas Spirit in her heart. Will her spoiled attitude ruin her chances to inherit the kingdom and legacy her father has built?
Kris Krangle
Santa's Protégé

Hand-picked to marry Santa's daughter and take over North Pole operations, Kris is filled with kindness, generosity and a business sense worthy of running the North Pole. The only thing Kris is missing is the affection of Connie.
Jingle
Head Elf

Groomed from adolescence to being Santa's right-hand man, Jingle oversees every aspect of the North Pole operations and events. He is the elf the others answer to.
Jangle
Elf

In charge of toy-designing, Jangle has a knack for making plans that some may see as outdated. Is Jangle's time in the workshop up or is there another reason for the lacking toy production?
Holiday Wishes
North Pole Postmaster
A picture is worth a thousand words, so take a look at actual versions of this Christmas murder mystery party hosted by our customers.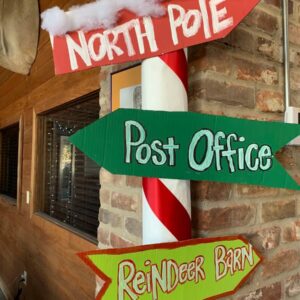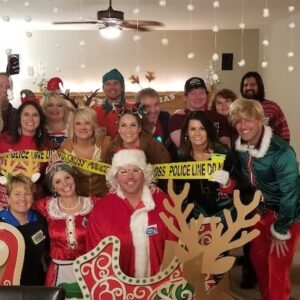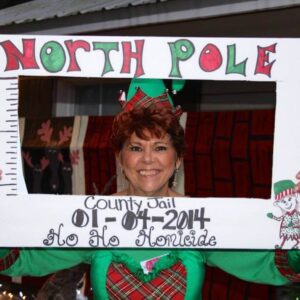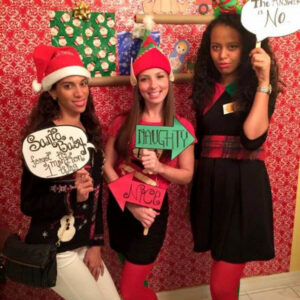 "I hosted my first party and I was scared that if anyone could fail such a flawless package it would be myself. But this kit makes it so so easy and fun. Lots of room to make it your own and not cookie cutter, but always super straight forward! I can't wait to host another onell! Thanks Night of Mystery!"
"I purchased the Night Of Mystery packet for a work team building event. All of my co-workers said it was the best team event they've been to. The packet was very straightforward and had so many ideas and tips to help make running the event super simple. Highly recommend!"
"I've had three parties over the years. This year we will be doing it again! Normal parties have their groups. High school over there, church over there, family over there. Well with the murder mystery dinner there is none of that. Plus your free to not be you for the night. Every party has been a success! Last one we had over 100 people come."
Are You Up for
the Challenge?