Halloween Office Party Ideas
Halloween is a magical time of year when pumpkins glow and mysteries abound. But you don't want to let your office celebration lack the charm and charisma of the season. Fear not! We're here to bring you the most spine-tingling, nail-biting Halloween office party ideas that will turn your ordinary office soiree into an unforgettable night of mystery and intrigue!
And the key to this transformation? A murder mystery party that will have everyone in your office on the edge of their seats!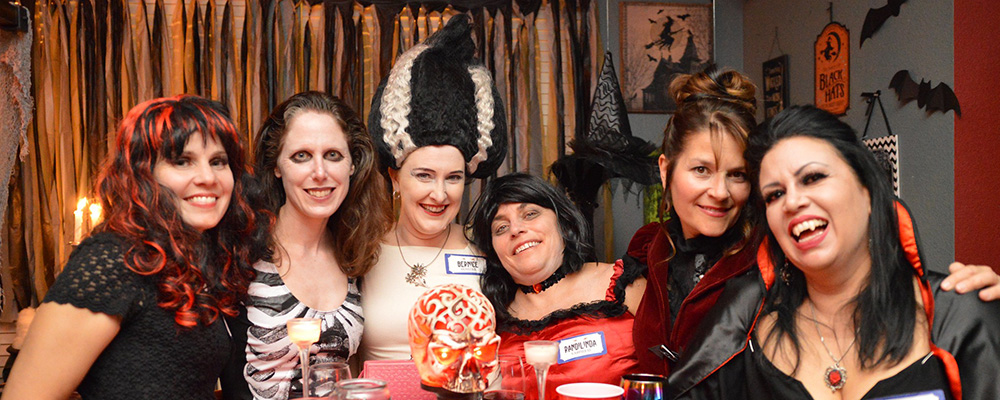 Mystery Games Make Great Halloween Office Party Activities
When it comes to Halloween office party ideas, nothing beats a good ol' murder mystery game. Why, you ask? Just think about some of these:
Who doesn't love an excuse to dress up?

You can be anyone from a dashing detective to a sly suspect, the opportunities are endless.

An organized game keeps everyone engaged.

There's no room for boredom when there's a mystery to be solved!

They create a unique office atmosphere.

Break free from your cubicles and plunge into a world of suspense and intrigue.

Creates camaraderie among employees. Nothing builds team spirit like solving a mystery together!
If you still need some convincing, you'll also want to think about these reasons:
Celebrate Q3 successes: Let's face it, it's one of the busiest times of the year.  This is a great way to celebrate!
Party when schedules are free: The typical "holiday season" at the end of the year results in busy schedules for everyone. Here's a way you can beat the rush.
Even replace that holiday party: Caterers and event venues are less busy this time of year, so this is more than just unique – it's also budget-friendly!
Create a tradition: Good employees like working at places with strong cultures, and a unique tradition is a great way to foster that.
Show your employees you care: Don't forget that they love to hear they are appreciated.
Halloween Office Party Themes: Setting The Stage for Suspense
The fist step is to choose a theme, but here are a few pro tips to think about when choosing.
Now let's delve into the heart of the matter: the themes. Each of these themed mysteries has its own distinctive flavor and will really ramp up your Halloween office celebration ideas.
Step into Dracula's Castle
Transform your into a hauntingly beautiful Transylvanian castle, filled with gargoyles and cobwebs. Don your capes and fangs and immerse yourselves in the chilling atmosphere of our game, Terror in Transylvania. And remember the blood-red punch and bat-shaped cookies for that extra touch!
There are LOTS of Halloween decorations around, so it is easy to deck out your office or party space as Dracula's Castle.
This one is great for Halloween because monster costumes can be used over and over, so most people already have one in their closet.
Revel in a 1920s Speakeasy
Take a step back in time to the Roaring Twenties. Think jazz music, flapper dresses, and hidden speakeasies. With our game Murder at the Juice Joint, you'll have your colleagues raving about your office's transformation into a vintage speakeasy. Serve up bloody desserts and classic cocktails to fully immerse your team in the era.
Everyone loves dressing like flappers and gangsters, and the transformation from office to speakeasy is, well, easy!
Experience the Intrigue of Murder in a Mansion
How many old mystery stories take place in a spooky mansion? Embrace the elegance and suspense of a classic mystery with A Clueless Murder. Transform your office into a grand mansion filled with velvet drapes, gilded mirrors, and dark secrets. Don't forget to serve elegant spreads of food to complete the aristocratic feel!
Also, since the characters are named after colors (ie, Professor Periwinkle, Pierre Pink, Scarlet Red, etc.) it makes costuming fun and easy to get into character!
These costumes are easy to put together from dress clothes, but people still feel dressed in costume.
Travel Back to Prom… in the 80s
Murder at the prom is the plot for so many of our great Halloween movies. Get ready for a blast from the past with Totally Rad 80s Prom Gone Bad. Your office becomes a high school gym decked out in bright colors and neon lights. Serve classic 80s party snacks, like neon frosted cakes and junk food of the era, while your colleagues boogie to the tunes of the decade.
This is more lighthearted on the surface, but you can go all out with the decorations. Plus some streamers and neon balloons are all you need to set the mood, making it inexpensive and fun!.
Embark on a Journey Aboard a Pirate Ship
Arr matey, prepare to walk the plank! Unleash your inner buccaneer with Murder Among the Mateys. Turn your office into a swashbuckling pirate ship. Your co-workers will have a blast donning their pirate hats and eye patches. Keep the pirate vibe going with seafood snacks and bottles of 'grog'!
Dressing like a pirate is one of the most popular last-minute costume ideas, so every scallywag will be able to put one together.
Ride into the Sunset with Murder in the Wild West
For those of you who realize this office aint big enough for the both of us. Gear up for a wild ride into the sunset with Murder at the Deadwood Saloon. Don your cowboy boots, bandanas, and Sheriff's badges, and transform your office into a rowdy saloon. Serve up some chili and cornbread to keep the cowboys and cowgirls energized for the sleuthing ahead.
A little decorating goes a long way when converting your office to the Wild West, so this is great if you don't want to get through that part quickly.
Roll into the Rough and Tumble of a Trailer Park
If your team enjoys a good laugh and a touch of the unconventional, then a trailer park theme could be just the ticket. Embrace the edginess with Trailer Park Tragedy. Costumes are a breeze to put together, and your office will roar with laughter at the sight of each other in overalls and trucker hats. Fry up some hotdogs and serve chips and soda for an authentic trailer park feast.
This one can cause confusion if you have customers coming through the door, so make sure to put a warning sign before entering!
** Serious warning: This is only a good idea if you want a truly raunchy office party. **

Embrace the Risks with Las Vegas
Sin City, the land of glitz, glamour, and… murder? Las Vegas takes the stakes to a whole new level in Murder in Sin City. Mix in some casino games and watch your office transform into a bustling Vegas casino. Serve up an all-you-can-eat buffet to keep the high-rollers satisfied!
If you add in some casino games, you'll have more Halloween office party activities that keep the party going even after the murder is solved.
Venture into the Unknown with Fantasy
Once upon a time, in a land far, far away… a murder occurred. Yes, even in a fairy tale, danger lurks around every corner. Transform your office into a whimsical fantasy land with Once Upon A Murder. Your colleagues will love dressing up as knights, wizards, and princesses. Don't forget to serve some magical treats like enchanted forest fruit smoothies and mystical pies.
The fantasy aspect of this one makes it feel more like a traditional Halloween party. And the murder helps…
Not Sure How Murder Mystery Parties Work?
Perhaps you're new to this whole shindig of mystery and intrigue. Maybe the thought of hosting a murder mystery party feels like an enigma wrapped in a riddle. We have an easy guide outlining murder mystery parties, but here it is in a nutshell:
A murder mystery party is an interactive event where each guest plays a specific character in a story where a crime takes place. The aim is for everyone to interact and use clues provided throughout the event to uncover the perpetrator.
With Night of Mystery, planning the perfect crime is simple. Once you've chosen your theme from our extensive list of Halloween office party themes, you'll receive a downloadable party kit. This kit includes everything you need to transform your office into a thrilling crime scene, including:
A comprehensive host guide

Invitations for your guests that also explain their characters

Name tags (so no one forgets who they are)

Character descriptions and objectives

Evidence, clues, and a murder to solve!
Your role as the host is to guide your guests along this suspenseful journey, ensuring that clues are revealed at the right time and that everyone is engaged in solving the mystery. At the end of the event, the murderer is revealed, and prizes can be given for the best costumes, best performances, or whoever managed to solve the crime.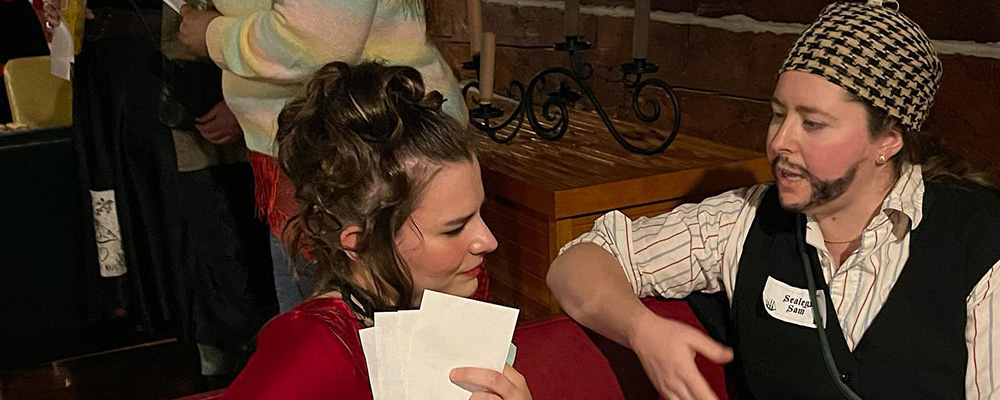 Plenty More Halloween Office Celebration Ideas
But wait! The mystery doesn't end here. We have a whole treasure trove of themes awaiting your perusal.
Each theme comes equipped with a Party Tips section loaded with invaluable resources like decorating tips, recipes, playlists, and links to costumes that will help you plan and execute your perfect Halloween office party.
With these Halloween office party ideas, your colleagues will be talking about this year's celebration for ages to come. So pick a theme, and let the mystery unfold!
Are You Up For The Challenge?