Halloween Murder Mystery Party: A Host's Guide
If you're here, it can mean only one thing: you're embarking on the thrilling endeavor of hosting a Halloween murder mystery party!
Chills! Excitement! Mystery! You're certainly in for a night of cryptic clues and clandestine operations. So grab your magnifying glass and your detective hat, we have a thrilling case to crack!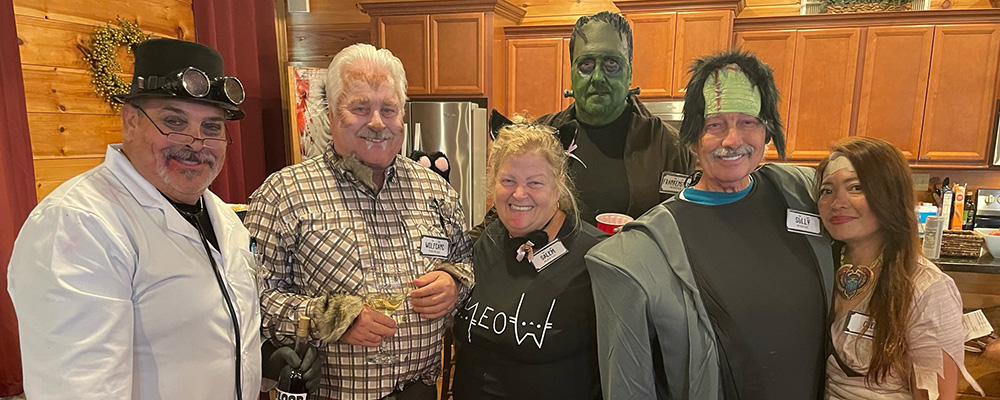 Halloween Themed Murder Mystery Dinner Party
A murder mystery party is more than just a gathering—it's an entire event, filled with suspense, drama, and most importantly, heaps of fun! 
Imagine your guests, decked out in their finest Halloween costumes, each playing a unique role in a grand, unfolding whodunit tale. The disguises and playacting lend an extra layer of intrigue to the murder mystery party, making it a perfect Halloween event.
Each attendee gets to be both actor and detective, slipping into their character's role while simultaneously trying to figure out the culprit of the dastardly deed. It's a blend of costume party, role-playing game, and interactive theater. Now, how's that for a Halloween spectacle!
Host A Halloween Murder Mystery Party
If you want to host a Halloween murder mystery party, it may seem like a Herculean task, but fear not! It's as easy as pie once you get the hang of it. We're here to guide you through it!
Here are some steps to ensure your mystery night is as smooth as a phantom's waltz:
Choose the right game for your guests:

Different games cater to various group sizes and themes. Keep your guests' preferences in mind when making this crucial choice.
Send out invitations:

Set the mood from the start with invitations that hint at the mysterious night ahead. Ensure to include their assigned character, background information, and costume suggestions.
Set up the crime scene:

Decorations are a vital part of setting the mood. Transform your living room into a haunted mansion, pirate ship, or a vampire's castle. The possibilities are limitless!
Prepare the party materials:

 Night of Mystery comes with easy to set up party materials for the guests. It's as easy as printing their objectives, preparing a few envelopes and distributing them as per the game's timeline.
Serve mystery-themed food and drinks: Let's not forget about the food! Think bloody marys, 'poisoned' apples, and other creatively named dishes.
Best Halloween Murder Mystery Party
Looking for top-notch, suspense-filled games for your Halloween murder mystery party? The suspense is over!
Here are some crowd favorites from our vault of mysteries:
Terror in Transylvania
Ready your supernatural senses, for it's time for Dracula's Birthday Bash at the eerie Transylvania castle – an evening for the spectral populace to revel and raise a toast! However, amidst the ethereal enjoyment, a comrade will end up in a grave, thrusting the ghostly guests into a frantic hunt for the rogue amongst them. Could it be the enchanting enchantress, the secretive mummy, or the retaliatory vampiress? Terror in Transylvania promises a thrillingly intricate night of intrigue, designed to keep you entranced and your ethereal pulses racing. Get ready for an adventure that's sure to bewitch and bewilder!
Murder at the Juice Joint
Step into the wild, romantic era of the Roaring 20s with Murder at the Juice Joint! With prohibition's end and organized crime on the ascent, The Juice Joint, a ritzy speakeasy managed by Rosie Marie, is the talk of the town. To commemorate its triumph, Rosie's throwing a memorable shindig at this exclusive locale – and you're on the guest list! But beware, one attendee's name is on a hit list, placing everyone in danger. With an eclectic mix of characters – ranging from notorious mobsters to hopeful Hollywood singers, a fiery cigarette girl to a corrupt police chief – the stage is set for an unforgettable night of mystery. Could the culprit be the seemingly virtuous mayor, the blacklisted bootlegger hungry for success, or perhaps the ambitious director aiming for history? Dive in, and let the thrilling 20's sleuthing commence!
Murder Among the Mateys
Avast, me hearties, and unsheath yer cutlasses! After a journey ripe with raiding and ransacking, the Jaded Jewel—a pirate vessel helmed by the fearsome old pirate Redbeard—lies moored in a cove near Port Royal. As the pirates saunter into town to celebrate their return and splurge their plunder, a tumultuous night unfolds in this swashbuckling Murder Among the Mateys mystery. As the night takes a tragic turn, one reveler ends up feeding the fishes in Davy Jones' Locker, leaving the others to hunt down the guilty party. Could the culprit be the avaricious pirate plotting a mutiny? The tantalizing sea mistress craving more than just fleeting romance? Or the daring swordsman desperate for the governor's daughter's love? Perhaps it's the treasure-hungry sailor who can't stand to share. In a port brimming with backstabbers and buccaneers, honesty is scant, and deceit comes at a hefty cost.
Once Upon A Murder
Unveil a timeless tale of treachery and treason in a realm far, far away with Once Upon A Murder. Following the enigmatic vanishing of Cinderella, Prince Charming is hosting a ball to seek a new queen. Some kingdom dwellers are bemused at the Prince's haste to replace his beloved, while others eagerly vie for their place as the new royal consort. But as the night progresses, a sinister slaying transpires in the palace, leaving it up to you to pen the final chapter. Could the culprit be the fairy godmother, whose magic fails to conjure her desired destiny? Or the affluent prince, who's estranged others with his wealth? Could it be the cunning dwarf with secrets too big for his stature, or a brooding princess plotting to ensnare Prince Charming's heart? Amidst a backdrop riddled with envy, betrayal, and duplicity, it's up to you to nab the wrongdoer of this fairytale whodunit, ensuring everyone can live happily ever after.
Halloween Murder Mystery Party For Adults & Kids
A Halloween murder mystery party is not just for the grown-ups! There are also some children's versions that make these parties can be just as exciting for the young sleuths. You can double the success of your setup by hosting a child-friendly version first. Then, come evening, recycle your decor for a thrilling Halloween murder mystery party for adults.
We're Here To Help Your Party
At Night of Mystery, we believe that every Halloween murder mystery party host deserves a helping hand – or in our case, a helping phantom! We offer an array of resources to make your party planning a breeze:
Detailed Game Kits:

Our kits come with comprehensive instructions, character backgrounds, costume suggestions, and more. They are designed for different group sizes and themes to perfectly cater to your needs.
Decorating Tips:

No clue about setting up the perfect crime scene? We've got you covered with creative ideas!
Recipes:

Check out our party tips pages to find mystery-themed recipes that will ensure your guests are well-fed detectives!
Playlists:

Music to set the mood? We provide

playlists

to ensure your night is filled with mystery, right down to the last note!
Costume Links:

If your guests are clueless about costumes, our links to various costume resources will surely help.
Roll up your sleeves, future host! Your Halloween murder mystery party night is going to be a grand, unforgettable event. With Night of Mystery by your side, you're all set to create the perfect blend of Halloween spirit and suspenseful fun. 
Welcome to a world of intrigue and excitement!
Are You Up For The Challenge?