Murder Mystery Games for Large Groups
Large group events are a great idea, but hosting them in a way that's interesting and fun can be a challenge. Not anymore! Prepare to immerse yourself in a world of intrigue, suspense, and crime with our thrilling murder mystery games for large groups.
Get ready to don your detective caps, unravel the riddles, and step into the shoes of the characters you never thought you'd be. Will you play the sly detective, the shady suspect, or the wily witness?
Only time will tell!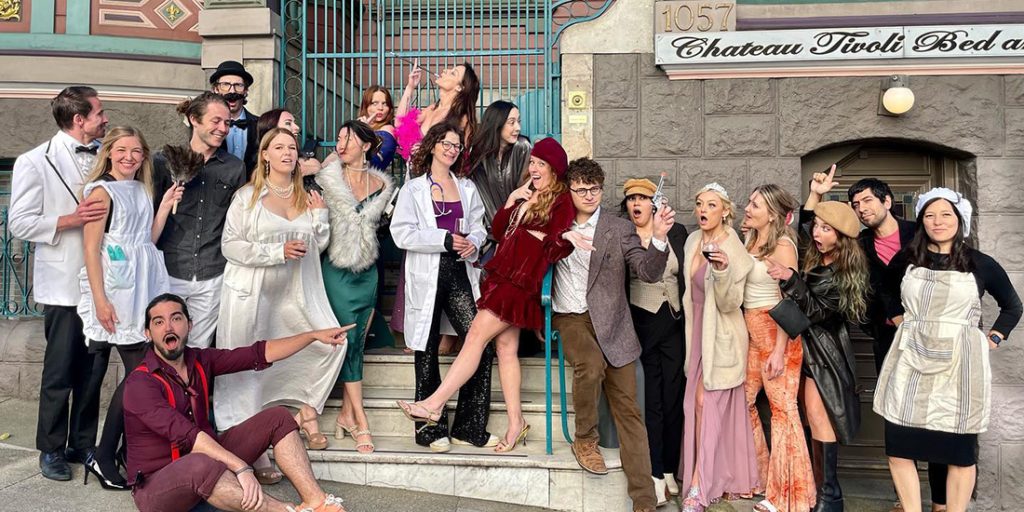 Mystery Games for Groups
There's nothing more thrilling than a good mystery, and there's no better way to stir up suspense than with our mystery games for groups.
Imagine a room full of eager participants, an unexplained crime, and a clock ticking down. Tick, tick, tick!
Can your group solve the crime before time runs out? Can any of the detectives unmask the culprit among the innocents? Will the murderer get away with it?!
A mystery game is more than just a game; it's an immersive and memorable experience.
It's a chance to immerse yourself in a world of intrigue and suspense. You're goin to really put your sleuthing skills to the test. From deciphering cryptic clues to unearthing hidden motives, every twist and turn will leave the group craving more.
But what if you're planning a gathering that's bigger than just a handful of your closest friends? That mystery is solved, because we have you covered with murder mystery games for large groups. These games are specially designed to ensure everyone has a role to play and a chance to shine – even with a lot of players! Here's what you can expect:
Engaging storylines that bring imaginations to life

Immersive character profiles for easy role-playing

Interactive format that encourages mingling and exposing of clues through interaction

Clues and evidence to challenge your problem-solving skills
Hosting Mystery Dinner Games for Large Groups
Now, imagine combining the thrill of a mystery game with the joy of a dinner party. Intriguing, isn't it? Our mystery dinner games for large groups are perfect for those who love to play host and want to offer an unforgettable evening.
As the host of a murder mystery dinner game, you'll create a world of suspense and surprise in the venue of your choosing (and you get to play along!). Set the mood with mysterious music, tantalizing recipes, and a crime scene that's begging to be solved. And don't forget the costumes! We provide you with helpful links to costumes that fit your game's theme perfectly, so everyone can really take over their character.
How Large Group Mystery Games Work
While our murder mystery games for small groups create an intimate and cozy setting for solving some crime, our murder mystery games for large groups provide an expansive and immersive experience for a whole crowd. More players mean more suspects, more alibis, and more suspense!
With our large group formats, you will have 20 main suspects, along with a number of extra characters.
 These extra guests will:
Act as sleuths and not suspects – although they do not necessarily know that!

Have their own character bios that are integrated into the mystery with information about the suspects of the crime.

They will not be known as investigators, but additional gangsters, flappers, cowboys, etc.

They will be an active part of the party with secrets to keep and objectives to complete.

They will act as sleuths and help bring to the surface some of the hidden motives of the suspects in question.

These characters will help with the investigation, but will not hinder the investigation if they do not show up.
With larger parties, we find that it is essential to have these extra roles to:
Make sure everyone is "involved" with the murder

To help bring to light all of the possible motives for the murder

A great way to accommodate last-minute add-ons or guests who are still determining if they can make the party
In a small group, it's possible that everyone knows everyone. But in a large group, you're likely to find yourself questioning the innocence of that charming stranger across the room. It's a game of strategy and wit that will keep you on your toes, and the larger number of people means you need to work together.
Best Murder Mystery Games for Large Groups
So what are the best murder mystery games for large groups? You've come to the right place! Here at Night of Mystery, we've got a lineup of games that'll knock your detective socks off.
Totally Rad 80s Prom Gone Bad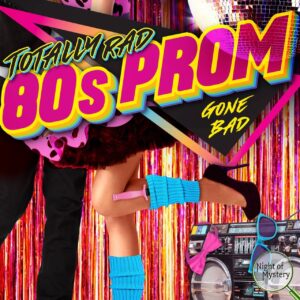 With their high school career coming to an end, the students of Mayhem High find themselves battling it out over grades, popularity, affection, class rankings and what they all have been focused on for years… Who will be awarded the prom king and queen title?
But as the night unfolds, the royalty will be rewarded and an innocent life will be claimed. Can you find the culprit in this crazy madness that is filled with neon, naughtiness and narcissistic behavior?
Murder At The Juice Joint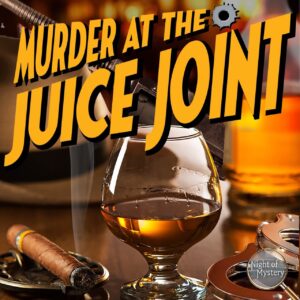 With the passing of prohibition and organized crime on the rise, The Juice Joint is a swanky speakeasy run by Rosie Marie, has been nothing but jumping. To celebrate its success, Rosie is planning a party to remember at the exclusive nightspot.
However, one of the names on the guest list is also on another's hit list… and no one is safe from the consequences. With murder on the menu, you are certain to find a medley of individuals to make the night most memorable.
Learn more about this night of mystery and intrigue in the Roaring 20s.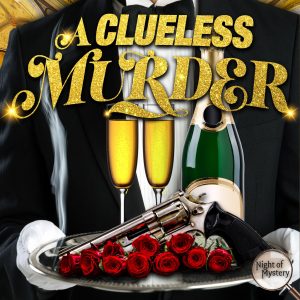 Samuel was a man of great wealth, some of which you hope to gain in inheritance —but only if you are brave enough to attend the reading of his will. Foul play was indicated in his death, but the killer has yet to be brought to justice… and is likely to strike again!
Between Samuel's eccentric ex-wife to his spying servants and the provocative pool boy, it seems that everyone has a chance of inheriting a piece of this millionaire's estate. Your help is needed to piece together his mystifying death, all the while avoiding being the victim of yet another murder at the will reading.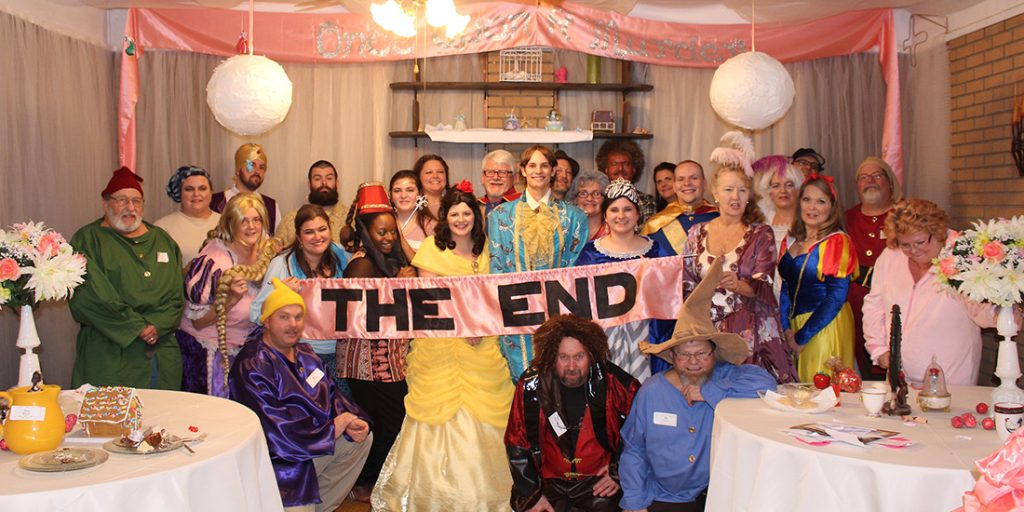 Why Choose Night of Mystery
At Night of Mystery, we believe that the best mysteries are the ones that you really feel you're in. We go above and beyond to ensure that your large group mystery games are as immersive and thrilling as possible.
Here's why you should choose us for your next gathering:
Customizable Game Options:

We have games designed for different group sizes, from intimate gatherings to grand parties. You choose the theme, setting, and crime – we provide the rest!
Comprehensive Planning Resources:

We provide much more than just a game. We equip you with a treasure trove of resources to help you plan and run your party, from decorating tips and costume links to recipes that fit the theme of your mystery.
Engaging and Immersive:

Our games aren't just about solving a crime. They're about truly stepping into a different world and becoming a part of the story. From the moment open the materials, you'll be plunged into a world of intrigue and suspense. Parties will never be the same…
Fun for Everyone:

Whether you're a mystery newbie or a seasoned sleuth, our games are designed to be fun and engaging for everyone. We ensure every participant has a

role

to play and that keeps everyone involved and invested in the game.
Night of Mystery offers more than just murder mystery games for large groups. We offer an unforgettable experience that will leave your guests talking for years.
Grab your detective hat, gather your friends, and dive into a night of mystery and intrigue! Are you ready to crack the case? The game is afoot, and the clock is ticking. Can you solve the crime before the night is over? Or will the killer get away with murder?
Are You Up For The Challenge?