We are surprised by how many of our customers will download a mystery and throw it on a whim! Often THAT VERY NIGHT!!! Whether it is to spice up an already planned party or create a reason to party, if you are short on time, here are some ways to make your party planning a breeze!
(1) Utilize our email invitations!
There isn't a faster way to let everyone know you are having a party than email. Simply
download an invite here
and send it out to your prospective party-goers to get an rsvp count of who may be interested!

Once you have your rsvp count and have purchased the party, you will be able to email your guest more information on the party, plus their character description.
(2) Pick a theme that requires less dressing up or that you believe your guests may already have.
For themes that are centered around simply dressing up (who doesn't have a little black dress?) try:
– Murder of a Millionaire
: set at a memoriam
– Horror at Homecoming
: a high school dance
– Cruising for Murder
: Captain's cocktail reception aboard a cruiseliner
– Till Death Do Us Part
: a wedding reception
– Lights! Camera! MURDER!
: extravangant Hollywood awards after-party
OR,
if you believe your guests will have tropical, Hawaiian shirt attire
– Murder in Margaritaland
– set at a tropical resort Think your friends could get creative with their bed sheets?
– Terror in a Toga
– in Roman times
(3) Consider providing some accessories for your guests to help them "get into character."
If you don't think your guests will have time to costume for the theme you want to thros, have a box of accessories for your guests. When they walk in the door, they can pick one or two to compliment their outfit.
(Find accessories at your local party store and/or order online with quick shipping.)
Some ideas include:
Murder at The Deadwood Saloon:
bandanas, cowboy hats, mustaches, feather boas, etc.
Murder at The Juice Joint:
long beads, feather boas, bowler hats, gangster hats, cigars.
Murder Among the Mateys:
pirate hats, eye patches, bandanas, mustaches, swords. If throwing an all-female party, consider
Killing For the Crown
and you provide the sashes!
You get the idea.
(If you don't, check for more ideas on the individual "party tips" pages within the website.)
(4) Have a "surprise" murder mystery party.
Let everyone know you are throwing a party and when they arrive, hand them their description, nametag, money and "a" objectives. If you want them to come dressed up, let them know the theme (a western, a toga, a pirate, etc. party). This takes some angst off the guest coming and also makes it so the host does not have to worry about assigning/emailing/mailing parts ahead of time. If you are going this route, you may want to utitilze #3 above and have at least some accessories for certain characters – like a veil for the bride, if throwing
Till Death Do Us Part.
"One year, we threw Murder in Margaritaland without telling anyone. My husband (Coconut Joe) greeted everyone with a lei as they walked into the door and that was all they needed to get in the mood. I assigned the characters and we were all good to go!"
(5) Utilize the website, the party decorations and all the party planning advice Night of Mystery has.
Often you will even find decorations included with the mystery – making it even easier! (Be sure to see if your mystery has it before ordering, though!)
Check out this blog post
(about halfway down) there will be ideas on how to find all the places you can go for ideas.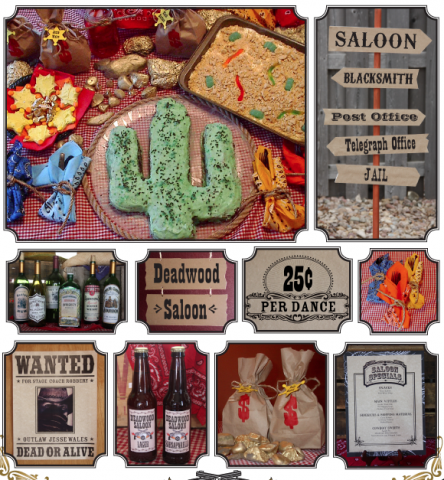 Most decorations included with the mystery you simply print out and hang up!
There you have it.
For those impromptu party planners who want to provide something extra-special, we've just shown you how!
CHECK OUT ALL OF OUR THEMES HERE
and download your mystery TODAY!