A Night of Love, Marriage and MURDER!!!
Look here for more info on what to expect at the party!
Be prepared to use you money!
AT THE PARTY, YOU WILL BE GIVEN FAKE MONEY TO DO WITH AS YOU PLEASE.
Here are some ideas on how to spend and collect money at the party! Keep in mind, there is an award at the end for the person who accumulates the most (fake) wealth!
Blackmail
Bribery
Extortion
Lie, Cheat, Steal
Pickpocketing
Pilfer "dead" bodies
Demand to be tipped for your services
Scheming with others
Creating a "worthy" cause
Collecting money for a "worthy" cause
Give up $ to keep your secrets
Pay others to divulge their secrets
Buy/sell drinks served at the party
Sell something you've made/brought to the party
Sell information you know
Sell information you overheard
Sell information you made up
Hold something for ransom
Any Creative Means You Can Think Of!!!

Always a Bridesmaid….
WHERE TO FIND THAT PERFECT DRESS:
• Use (or borrow a friend's) old bridesmaid's dress
• Scour the second-hand shops and garage sales
• Try the clearance racks in a department store right after a high school dance (like prom or homecoming)
• Dress up any outfit or gown by adding beading, cording, fancy fabrics, fringe, etc. (Stich witchery and hot glue make great non-sew adhesives.)
• Not the right color? Take a can of spray paint to the dress.
CONSIDER:
• Coordinating with the other bridesmaids coming to the party to match.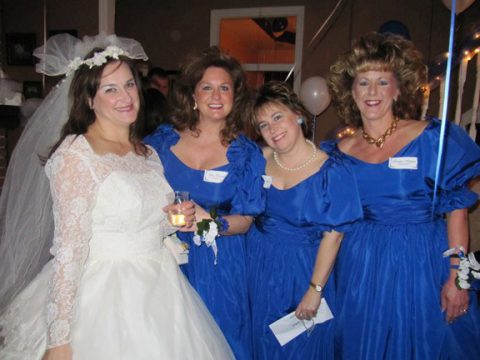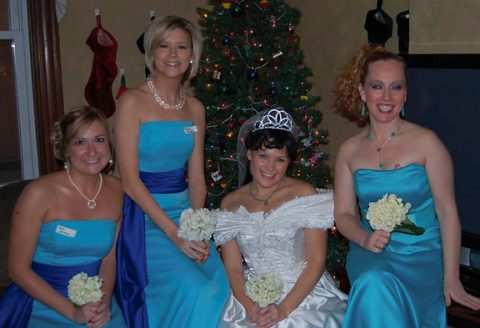 Traditional Italian Wedding Traditions
In an Italian wedding, the reception will begin with a cocktail hour where the bridal party and the guests separate for an hour and are served cocktails. During the cocktail hour food is served buffet style and the bride and groom will usually take this time to have photographs taken.
After cocktail hour the guests gather in the main dining room. The bride and groom enter and are formally introduced as husband and wife for the first time. The newlyweds then take the first dance with the wedding party soon joining in and then the rest of the guests. After some dancing, everyone is seated and speeches are given by family and friends and everyone joins in a champagne toast to the bride and groom.
Food is served throughout the reception, usually a three-course meal with plenty of dancing in between and then it is time for the bride and groom to cut the wedding cake just before the dessert course begins. Sicilian custom includes what is called "Venetian Hour" where a huge selection of pastries, fruit, cakes, and coffees are served on what is called a "Venetian Table" amidst much celebration.
After dessert is served there is more dancing and then gifts are given to the bride and groom. A tradition in Southern Italy is for the guests to give envelopes of money to the newlyweds who give a small token of appreciation called a wedding favor. In Northern Italy there is no tradition of envelopes with money, but the wedding favor is still given.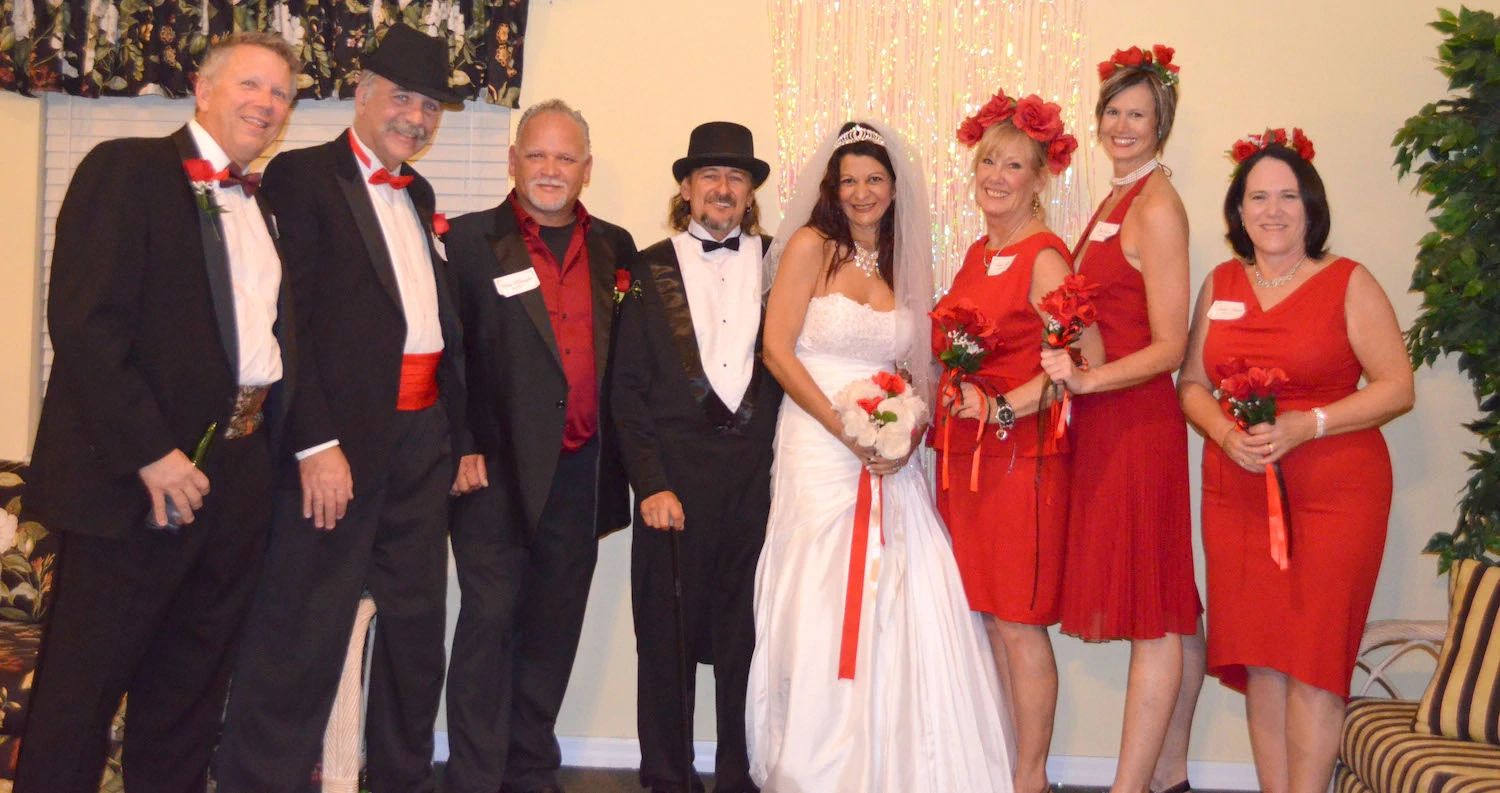 Get your creative costuming ideas for this wedding murder mystery game here!!!
How to create that perfect wedding reception party feel!what you can do!
Baffled about what you can serve for your wicked wedding reception – check here!!!
Ways to go above and beyond with THIS wedding theme!
Host Info
Some extra special hosting tips for THIS party!
Creating the buzz about your party is a sure-fire way to get your guests excited about attending.
• Send out your "Save The Date" postcards (included with the mystery) as you would for a wedding.
• Create invites to your party on wedding invite stationary. You can find some inexpensively at your local craft store or office supply store.
Themed Ideas to do AT the party!
TO MAKE IT A LITTLE MORE THEME-CENTRIC, YOU COULD:
ENTRYWAY. Have the entryway arranged like a hotel lobby with signs pointing to "The Giovanni & Simpson Reception Room."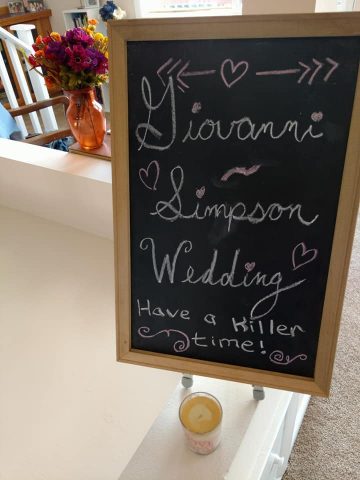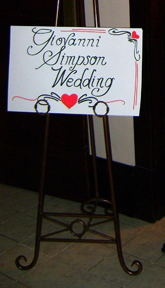 Have a guest book for all of your guests to sign in! Encourage them to make comments about the party.
Create a wedding ceremony stage, complete with an aisle for the bride to walk down.
Use the staged area to make announcements such as the greeting, investigation report, evidence presentation, etc.
Create a dance floor for the reception.
Do the first dance, dance with the parents, cutting the cake and other wedding traditions.
If serving dinner, have a head table where the bridal party will sit.
• Place a "Just Married" sign on it (included with mystery).
• Balloon arch over it optional!
• Seat other guests by where their characters should sit (with their "family" members).
• Use placecards, included with mystery, at table settings.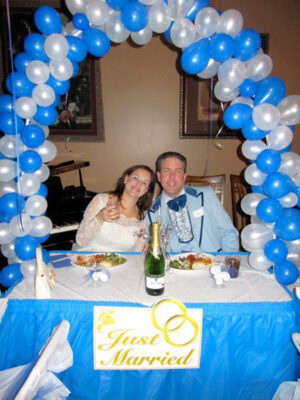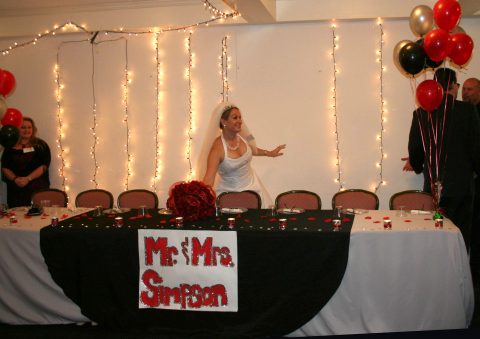 Have wedding favors for your guests
Wrap candy in tulle fabric and tie with a bow! Add a little "murder" to them by dipping the ends in red fabric paint and letting them dry.
(Signs included with mystery)
Have bubbles available for your guests to shower the happy couple with.
The wedding toast! Toasting glasses rimmed with "blood" (instructions with mystery – pictured below).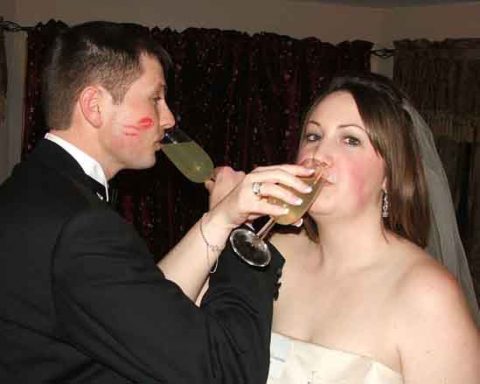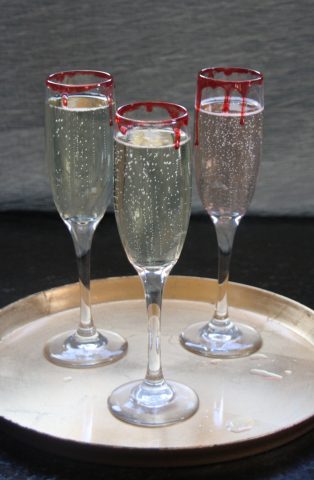 Get monogrammed napkins and such with Becky and Stanley's monograms.
Create wedding programs! Have the programs lying about to help people remember who all of the characters are from the mystery.
Have disposable cameras sitting out on the tables so that the guests at the wedding can capture some great candid picts of the night.
Have a wedding arch – you can place it on your wedding area or someplace else for pictures. To create a balloon arch, follow these directions!
See "Create a Photospot" for more tips!
Utilize All the EXTRAS!!!
B
E SURE TO UTILIZE ALL OF THE EXTRAS THAT COME WITH THE MYSTERY– 
Name cards for your guests
 Personalized menus
 Drink charms for all of your guests
 Recipe and directions to make some killer chiller glasses
Designed labels to put on champagne bottles for awards
And MORE!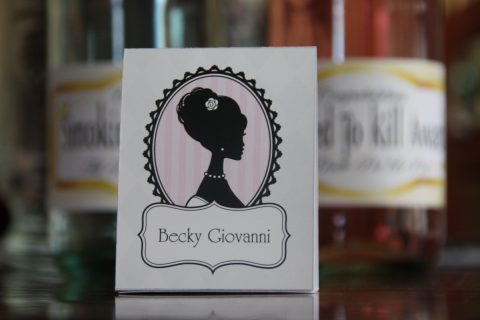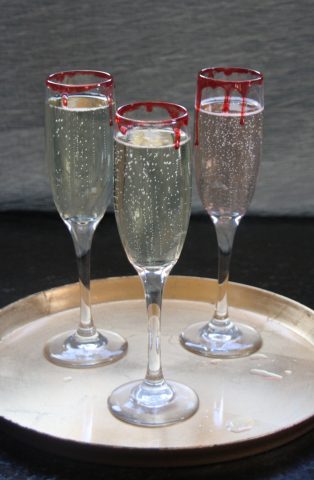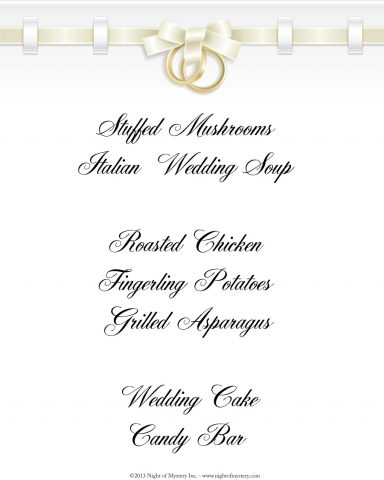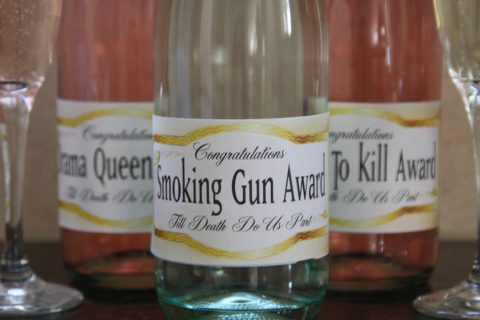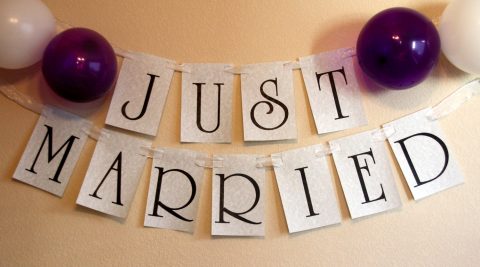 Are You Up for
the Challenge?