Murder Off The Field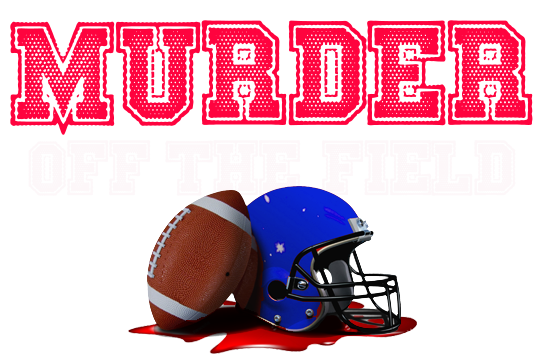 After making the playoffs but finishing just short
of a Super Bowl birth, the Pitbulls are ready to
celebrate the highlights of their season!
As the team's players, coaches, and league comrades gather for a
season ending party, there is no shortage of scandal.
From debating who is to blame for the season ending interception,
to the talk of player trades and speculation about the star quarterback
returning or retiring this year — there is no topic off the table.
What the guests don't realize is — not only is the future of
the team at stake, but so is the future of one of the guests!
Someone will perish in a fatal party penalty!
Will it be the social media-savvy wide receiver — who has sent his last tweet?
The rookie quarterback who will never get a chance to shine?
The offensive coordinator who has made one too many bad play calls?
Or possibly the ever-calculating coach whose moves
in free agency may cost him his life?
As the clock winds down on the evening, a culprit will try to sneak in

 

one final play to avoid being caught. With a fourth down and one final clue 

to uncover, it is up to the party guests to catch a murderer before he goes free!
View Introduction Here
Guest Info
Guest Breakdown
For 15-20 guests: 15-20 males
For 10-15 guests: 10-15 males
This game is formatted as an all-male game, but can be played by females and/or males. However, the names and pronouns used in the mystery do favor the male gender. 
The Cast
*Note that the cast listed below is provided only to give an idea of the types of roles available, and not presented in any order relevant to the plot. Not all cast members are included in every version.
Rodger Dodger

League Commissioner

Officially in charge of the league, Rodger will not let anyone dictate how he runs the league or cheat it in any fashion.

Will Wellecheck

Pitbull Head Coach

With fighting players and coaches, Will has some tough decisions to make on how to lead his team moving forward.

Brett Favorite

Starting Quarterback

With his football legacy on the line, will this be the year Brett finally hangs up his cleats?

Jim Tebow

Rookie Quarterback

Opinionated, assertive, and eager to start for the team, this rookie can't wait to play!

Nick Nailer

Defensive Lineman

Upset about how the season ended, will Nick build upon the past or feel the need to start over?

Antonio Green

Wide Receiver

Brett Favorite's go-to guy, some think Antonio's phenomenal success has helped the team while others will argue it has hurt it.
Teddy Tomlinson

Pitbull General Manager

Darrell Rebel

Pitbull Offensive Coordinator

Brock Oswego

Backup Quarterback

Beckham Marshall

Wide Receiver

Tony Como

Free Agent Quarterback

Tom Made

Free Agent Quarterback

Archie Favorite

Brett Favorite's Father

Eli Favorite

Gladiators Quarterback

Harry Bradshaw

Sports Commentator

Crunchy Numbers

League Statistician

Spencer Yells

Superfan

Larry McGuire

Sports Agent

Pete Stripes

Referee

Slick Rick

Sports Bookie
Party Tips
Party Extras
For this mystery, there are tips on decorations, food and much, much more included with the mystery! Check back for more tips about costuming, decorations and much more!!!
Tips
All of the information regarding how to run your Murder Off The Field party can be found online at Night of Mystery. We highly suggest that you take time to look over our website and download the

Murder Off The Field preview file.

Upon reading the introduction file, it will give you a better understanding about how the parties are run and what to expect once you purchase a full mystery file. If you still have question, the

Frequently Asked Questions

page at Night of Mystery is a great resource or you can contact us.

For even more party planning ideas, check out our

Murder Off The Field Pinterest Board here.

Once you order, in your mystery packet you will receive directions and/or printables to make unique and original decorations specific to your party! (Some pictured above.) Included will be:

• Jersey Templates

• Designed menu

• Napkin Wraps

• Food Labels

• Signs for Your Party Space

• Football Banners

• DIY Goal Posts

AND MORE!!!

Each month we highlight one of our customers who has posted on our blog and award them a FREE party!

To get your $5 coupon AND be entered in the Party Of the Month contest for a chance to win a FREE party, please email

nompartyofthemonth@gmail.com

Don't forget to add all the important details and party highlights that made your party one to remember! We love to hear about all of the hard work you, as host, put into your party. From the decor, to the food, costumes, whatever. As well as how you and your guests acted (and reacted!) throughout the night! Everything that made your party one your guests will never forget — tell us about it! And be sure to attach some pictures!!!

Upon submitting, we will email you back a coupon to use for $5 off your next party AND enter you in our "Party of the Month" contest, where you could win a FREE party! One submitted, you will not have to resubmit, but will be entered EVERY MONTH until your party wins!

Check out some of our past winners here!

Night of Mystery POM Blogs

Thanks again for hosting with Night of Mystery and we can't wait to hear all about your party!!!
Download Intro
Purchase Murder Off The Field
Murder Off The Field includes:
Mystery PDF that includes: A Host Guide, A Schedule of the Night, An Introduction, Designed Invitations, Background Information, Character Descriptions, Character Objective Sheets, Name Tags, Evidence, Accusation Sheets, a Detailed Solution, Award Certificates, and more!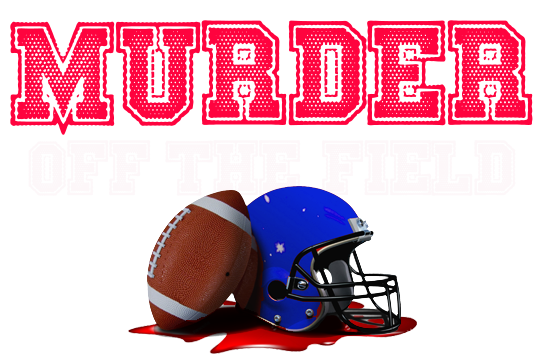 Download Intro