Bachelorettes and Bullets
A Delirious Evening Filled with
Deceit, Divas and Dirty Secrets!
With Mindy Mintjulius, a hot designer diva, preparing to don a wedding gown,
Mindy's gal pals have planned for one final night out on the town. As the important
people of the bachelorette's past and present gather to celebrate her future,
one guest will fall victim and end the night without a future at all…
In a party filled with menacing models, resentful
relatives and competitive co-workers, there is only
that will be found guilty and forbidden to go free.
Will it be the jealous sister who desires to be a bridesmaid? The unsuspecting
employee who was overlooked for a promotion? The veteran model that
is vindicating her spot on the runway? Or possibly the mother of the groom
that is as wicked as she is wealthy.
All the guests are guilty until proven innocent in this puzzling
party filled vengeful vixens and ferocious fashionistas.
Download Intro File
Guest Info
Guest Breakdown
For 20-80 guests: 20 + females
For 15-20 guests: 15-20 females
For 10-15 guests: 10-15 females
For 8-12 guests: 8-12 females
* The upgrade is only able to upgrade the 15-20 guest version to the 20-80 guest version. The upgrade DOES NOT work with any other size of party.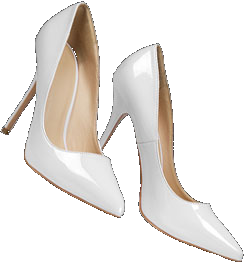 The Cast
*Note that the cast listed below is provided only to give an idea of the types of roles available, and not presented in any order relevant to the plot. Not all cast members are included in every version.
Mindy Mintjulius

Bachelorette

As the guest of honor, it is best that Mindy does not suspect that there are as many guests supporting the wedding as secretly opposing it.

Lindsey Loyal

Maid of Honor

It is Lindsey's main objective to make sure that the wedding goes off without a hitch and she intends to stick to it!

Little Lizzie

Bridesmaid

Mindy's little sister, Lizzie is the force that keeps her family together and she has no intention of changing that tonight!

Hillary Mintjulius

Bride's Older Sister

With Hillary's rebellious past and recent change of attitude, it is hard to say exactly whose side she is truly on.

Mama Martha

Bride's Mother

Is Mama Martha's peculiar behavior pre-wedding jitters, or is there more to her anxiety?

Rochelle Roberts

Groom's Mother

Although Rochelle endorsed the engagement of her son to Mindy, her recent actions have sent a different message.
Rita Roberts

Bridesmaid

Hannah Homemaker

Bride's Best Friend From High School

Sondra Supple

Bride's Friend

Leslie Liplock

Fashion Model

Fanny Fashion

Fashion Model

Holly Hott

Fashion Model

Sarah Sew

Fashion Designer

Clara Clerk

Receptionist

Public Pam

Publicity Manager

Ivanna Story

Fashion Magazine Editor

Betty Shutterbug

Fashion Photographer

Linda Legal

Company Lawyer

Debra Details

Wedding Planner

Justice Jangle

Bride's Cousin
Party Tips
Costumes
Some simple suggestions on how to glam it up for your murderous girls night out!!!
COSTUME SUGGESTIONS:
• Tiaras, buttons, beads, etc.–
No bachelorette party is complete without some "bachelorette accessories". Find the most popular ones here.
• Make a tiara for the bride-to-be. Or just for yourself if you are feeling special.

• In order to make a lasting impression at Mindy's Bachelorette Party, check out the latest fashion trends and dress accordingly!

– Fashion Trendsetter: One of the few trend resources with free information on forecasting, trend reporting (color and materials), news service and up-to-date fashion information. Check here. 

– Trendstop: This is the top of the line, trend forecasting services and it is geared for the industry. They include stunning reports on fabrics and trim, color, graphics, knitwear, and accessories. Visit their site, you're in for a feast.

• Looking for the hottest hairstyle for Mindy's Bachelorette Party?
Check here for:
Trendy Long Hairstyles
Freshest Medium Hairstyles 
Chic Short Hairstyles
Decorations
Some ideas on how to deck out your party space for your divas!
Looking for decoration inspiration for your party? Here's a video to help!
Click below to start!
• Create a fashion runway for your guests to walk down as they enter the party. It will definately get them in that glamourous-state-of- mind.
• Aim for mild embarrassment instead of humiliation when it comes to using racy decorations. If your guests are uncomfortable in their surroundings, it won't be fun for anyone.
• Go wild with straws, shot glasses, etc. all in the shape of your favorite male part. There are a number of party stores (both local and online) that sell "Bachelorette Party items". Due to the lewd nature of many of these items, we don't have them posted on the website.
• Visit your local party store for balloons, streamers and other supplies to execute a color theme. Choosing one or a couple of colors to unify decorations around is a great way to pull everything together.
• Rent fun movies like, My Best Friend's Wedding, Betsy's Wedding, and Four Weddings and a Funeral and have them playing in the background.
• If you have extra time, play a few "bachelorette party games" during the party. Have your guests play the games "in character". Find some here.
• Decorate your venue with posters of good-looking guys!
Food & Music
Dinner or drinks? Either or. Here are some fun suggestions on what to serve your gal pals!
• Fun with Fondue. Consider serving a variety of fondues with your party. Nothing invites gossip more than dipping over a pot together. Here are some great recipes.
• Don't be afraid to go greasy. This night is a night with "no calories", so bring on the pizza, chips and wings. This may be a great choice, too, if you plan to have a lot of alcoholic drinking involved.
• No bachelorette party menu is complete without a cake. For a more innocent bachelorette party, choose a bakery that is known around town. For a more adult themed bachelorette party, then a novelty cake is the perfect choice. It is to be expected, as they are quite common, but it always adds some humor to the night. If a bakery is out of the budget, then there is nothing wrong with a homemade cake and a selection of goodies.
Click here to find a great cd with a bunch of high-powered tunes perfect for the night!
Make your own mix. Fill the cd with tunes like:
Let's Get This Party Started (Pink) • RESPECT (Aretha Franklin) • I Will Survive (Gloria Gaynor) • These Boots Were Made For Walkin (Nancy Sinatra) • Dancing Queen (Abba) • Strike It Up (Black Box) • It's Raining Men (Weather Girls) • We've Got The Beat (GoGo's) • Our Lips Are Sealed (GoGo's) • That Don't Impress Me Much (Shania Twain) • Let's Get It On (Barry White) • Sexual Healing (Marvin Gaye) • Get Down Tonight (KC And The Sunshine Band) • Freak Out (Chic) • She Bangs (Ricky Martin) • YMCA (Village People).
For Free Music– Visit your local library to borrow copies of any of the music above or your own picks.
Music
Check out our playlist selections for this mystery!
Testimonials
Valentine's Day we had our Bullets and Bachelorettes party. Our husbands our deployed to Iraq and we couldn't have picked a better party to have on Valentine's Day than this one. It was a blast with all of us women acting like our characters! We couldn't have asked for anything better and our husbands were glad we took a sad day and turned it into something fun! Thanks for a great time! We are hoping to entertain ourselves with another murder mystery party before our husbands return.
We all had an amazing time doing the Bachelorettes and Bullets murder mystery. Everyone was really involved which was great particularly as it was quite a diverse group! Some were a little nervous before starting about what to expect but it was really simple to do and we only had a small delay in the victims dying when the lights went out which was very funny and something we still laugh about now. The plot was very clever and hardly anyone suspected the real murderer! Overall a great birthday party and would definitely advise others to give it a go even if you don't think you're the kind of person, it really doesn't matter :D !
We had an awesome time! and everyone got into their character....EVERYONE! I was skeptical at first as some of the potential guests were very shy but WOW everyone impressed me so much. We used your murder mystery as a Moms Night Out through our local Mother's Group. We had record turnout too! Thanks!!!
I hosted a Bachelorette & Bullets party for my niece. We had a total of 18 guests. When the guests arrived, I had a "red carpet" set up and a shiny silver curtain they had to walk through. I was 'Betty Shutterbug' (the fashion photographer) but there was also a sleazy paparazzi (my brother-in-law) lurking behind one of the poles on the porch. I was there to catch the beauty shots, he was trying to get the "scandalous" shots to sell to the tabloids. Even though he was only there for a few minutes, he totally stole the show! He set the mood right at the start of the evening! Everyone played their part so well, and had lots of fun doing it...it was like a giant (funny) soap opera, and we laughed ALL night. We had fancy table settings for all of the 'supermodels and fashion designers', complete with a HUGE soup and salad bar. The whole night was a hit! No one guessed who the murderer was, so I gave the award to the "killer". Everyone loved their prizes and we had fun "goodie bags" for everyone to take home. After the party we played a "naughty" Mad Lib game and laughed even more! After 4 hours and a few blisters from wearing our heels all night, we finally went home. Everyone wants to know when I'm hosting another one?? :)
I purchased the Night Of Mystery packet for a work team building event. All of my co-workers said it was the best team event they've been to. The packet was very straightforward and had so many ideas and tips to help make running the event super simple. Highly recommend!
Purchase Bachelorettes and Bullets
Bachelorettes and Bullets includes:
Mystery PDF that includes: A Host Guide, A Schedule of the Night, An Introduction, Designed Invitations, Background Information, Character Descriptions, Character Objective Sheets, Name Tags, Evidence, Accusation Sheets, a Detailed Solution, Award Certificates, and more!
Download Intro