A Night of Football, Felonies and Foul Plays.
Riley Rodger – League Commissioner. Officially in charge of the league, Riley will not let anyone dictate how they run the league or or let anyone cheat it in any fashion.
Tommy Tomlinson – Pitbulls General Manager. Responsible for setting the Pitbulls up for success, Tommy wants to have the best of all worlds, but will the Pitbull budget allow it?
Robbie Robins – Pitbulls Coach. With fighting players and coaches, Robbie has some tough decisions to make on how to lead the Pitbulls moving forward. 
Ryan Rebel – Pitbulls Offensive Coordinator. Tired of being overlooked, this coach is searching for someone to have more faith in their abilities or a way to showcase them.
Joe Baller – Pitbulls Starting Quarterback. With Joe's football legacy on the line, will this be the year Joe finally hangs up their cleats?
Avery Minsell – Pitbulls Backup Quarterback. Known for their excellent play in practice, if Avery doesn't earn a starting position soon, they may just have to look elsewhere. 
Beck Jones – Pitbulls Rookie Quarterback. Opinionated, assertive, and eager to start for the team, this rookie can't wait to play!
Sam Givens – Pitbulls Receiver. Joe Baller's go-to receiver, some think Sam's phenomenal success has helped the team while others will argue it has hurt it. 
Teddy Honeycutt – Pitbulls Receiver. While Teddy has made their name in the league, Teddy has yet to catch a break with the Pitbulls – a situation Teddy is looking to change.
Nick Nailer – Pitbulls Linebacker. Upset about how the season ended, will Nick build upon the past or feel the need to start over?
Rory Swanson – Free Agent Quarterback. Looking to join the Pitbulls, Rory just may be the answer to all the Pitbull's problems.
Brady Cadey – Free Agent Quarterback. Annoyed with their current situation, Brady may be looking to join the Pitbull team or just the opportunity to take advantage of it.
Biggie Baller – Parent to Joe and JuJu Baller. Proud parent of two of the league's leading quarterbacks, Biggie Baller loves to capitalize on their childrens' successes (and failures).
JuJu Baller – Gladiators Quarterback. Sibling to an all-time great, it is often forgotten that JuJu is a great quarterback themself. 
Carey Bradshaw – Sports Commentator. Known for their opinionated reporting, could this be the time when Carey's favoritism comes back to haunt them?
Crunchy Numbers – League Statistician. With rumors of inaccurate statistics swirling widely, is Crunchy's carelessness the center of a scandal or is there more to the matter?
Sawyer Yells – Super Fan. No one loves the league more than Sawyer, and they will do just about ANYTHING to prove it!
Jerry McGuire – Sports Agent. While wheeling and dealing is part of the process, Jerry excels at setting their clients up for success. But at what price?
Slick Rickie – Sports Bookie. This former player has a heart for the Pitbulls and the knowledge to prove it. Could Rickie's business benefit the Pitbulls or lead to their demise?
Shannon Stripes – Referee. Known for their fairness in the league, this official is one who can sniff out a party foul from a mile away!
Touchdown Dance Breakdown
If you're heading to a Murder Off The Field Party, you might want to consider emulating your favorite player's moves on the field. And there's no moves more notable than the revered touchdown celebration!
The NFL loosened their restrictive rules on touchdown celebrations in 2017, and the fans have given an enthusiastic thumbs up to the new approach. Players across the league have taken the time after scoring six to do new and inventive routines. Of course, the true pioneers of end zone shenanigans still stand the test of time, and we think they're worth celebrating.
Below you will find descriptions of some of these all-time classic end zone celebrations, complete with instructions on how to perform them! These infographics will very useful in your party preparations, and quite possibly in game play! Practice these moves, choose from our affiliate's NFL Costumes, and you're sure to be on the highlight reel in no time!
The Funky Chicken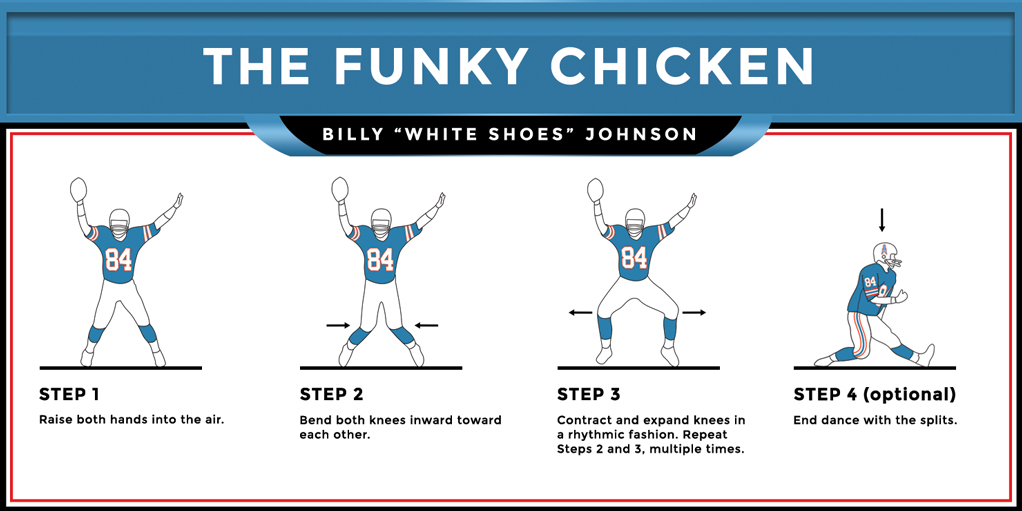 Billy Johnson is credited with being one of the first players to perform a touchdown celebration. And atypical it was indeed! Inspired by the 1970 Rufus Thomas song "Do the Funky Chicken," he performed a silly, knee-knocking end zone celebration that mimicked the dance corresponding to the novelty song. Johnson played as a wide receiver and a kick returner from 1974 through 1988. You can recreate his sideline antics by following the steps we have illustrated in this image.
The Ickey Shuffle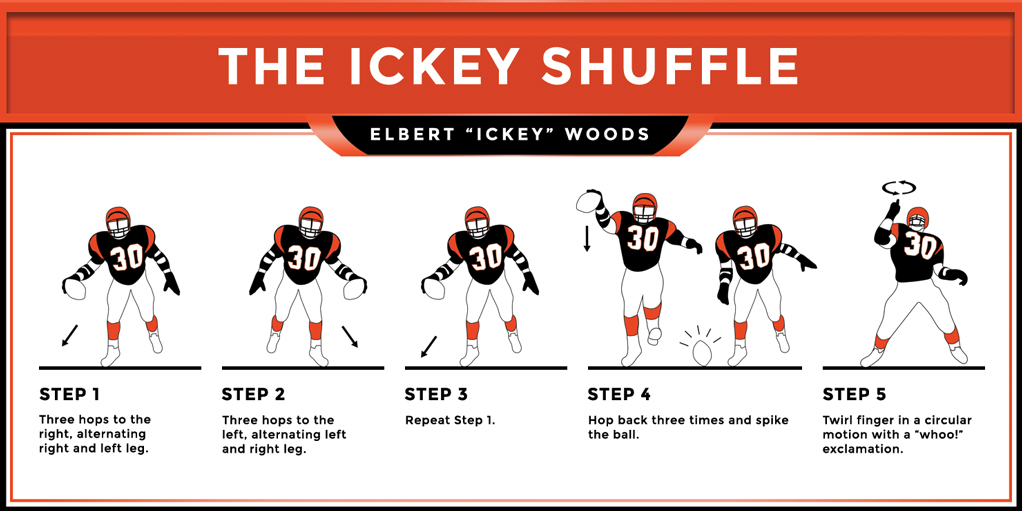 Elbert "Ickey" Woods played just four seasons for the Cincinnati Bengals, but left an indelible impression in NFL lore with his renowned end zone antics. His signature maneuverer was rather simple. Shuffle the feet to the right, hold the football to the right, shuffle the feet to the left and hold the football to the left, and finish with three hops to the right and a spike of the football. Of course this dance, along with the celebrations of his 80s contemporaries, led to the NFL creating the Excessive Celebration rule that effectively banned it, although he was allowed to continue performing it on his own team's sideline.
The Prime Time High Step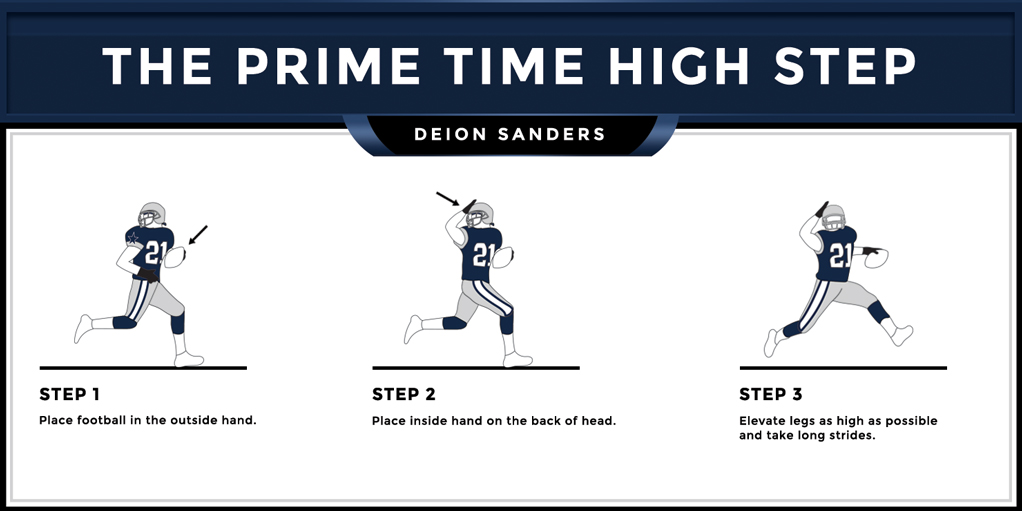 Prime Time Deion Sanders. The well renowned two-sport star made a big splash in the NFL winning a Super Bowl with the San Francisco 49ers in 1994, and following that up with a high profile stint and another Super Bowl with the Dallas Cowboys the next year. Of course, teaming up with Jerry Jones and America's Team vaulted Deion into the upper echelon of superstar status. His pick sixes made him a threat to score when the opposing offense was on the field, and his signature high step on an interception return made our list of notable NFL touchdown celebrations. We just have 3 simple steps to perform the Prime Time High Step. Football in the outside hand, place the other hand on the back of your head, and elevate your legs as high as you can in stride. Grabbing a Cowboys jersey for an NFL costume to be Prime Time Deion was never this easy or fun!
The Dirty Bird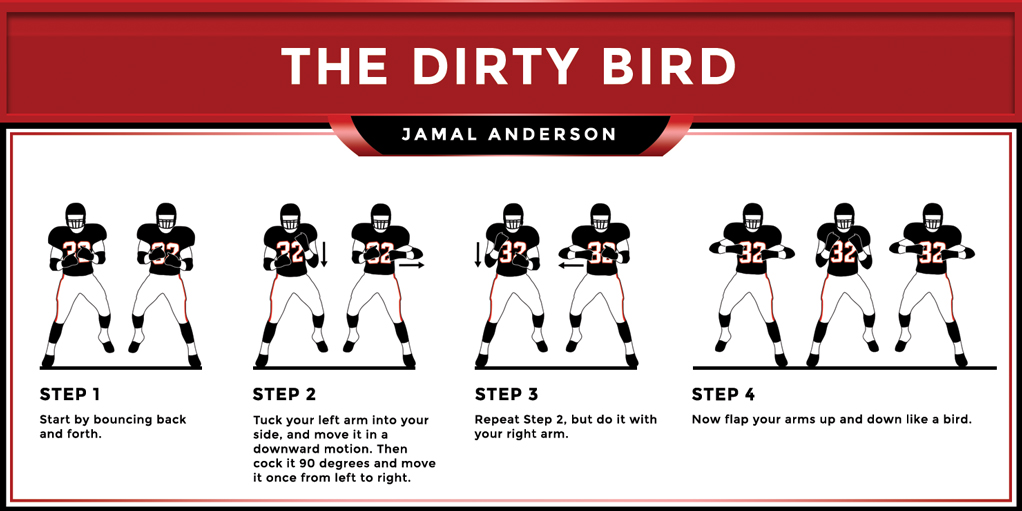 When a signature dance or move becomes emblematic of the entire team, well, you've got to be doing something right. That was the case with the 1998 NFC Champion Atlanta Falcons, and their touchdown routine is still associated with the team's identity today! The famous end zone dance was pioneered by player Jamal Anderson, who, after hearing a fan dub the '98 team as the Dirty Birds, decided to do a dance routine that features his elbows and arms mimicking the flapping wings of a bird. He did so the next time he scored, and the dance spread to the rest of the team in short order. You, of course, can do your own dirty bird with a group or by yourself by just recreating these famous steps. A little shuffle is involved, alternating each elbow at 90 degrees, and of course, flapping them with vigor as well. It's an easy routine that's sure to add to your costume's authenticity!
The Pom Pom Dance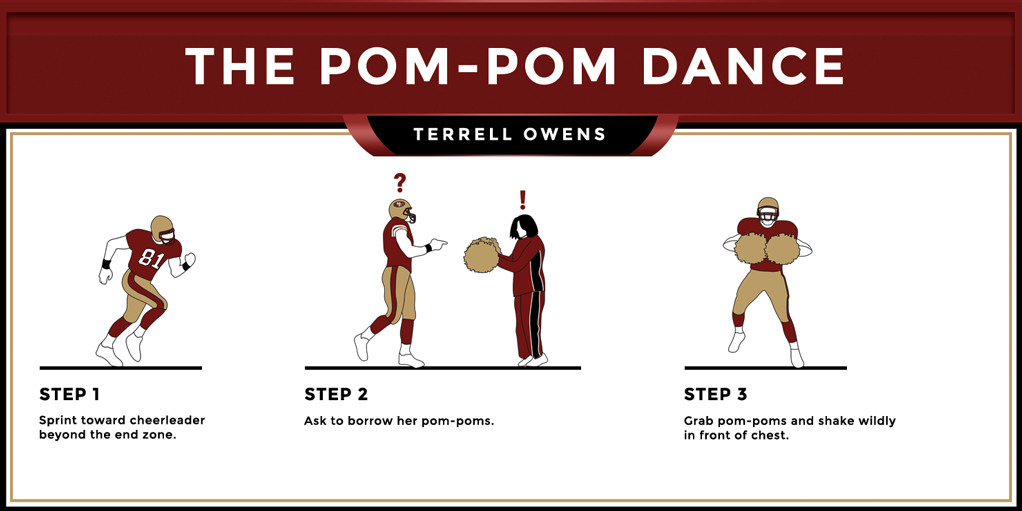 It's easy to call Terrell Owens one of the great receivers of the game, but, he's equally as well known for his off-field controversies. And, of course, his flamboyant touchdown celebrations. It's hard to pick just one of his signature routines to highlight here, but alas, there is the one that gained instant notoriety. In 2002 when he was with the 49ers, after scoring a 45 yard touchdown against the Packers, he immediately ran to the cheerleaders and demanded a set of pom-poms. And he shook 'em, did a little dance, and walked off the field. Unfortunate, they lost that game, but you can recreate those steps to do your own T.O. jig. Just follow the steps we've outlined here!
The Moss Moon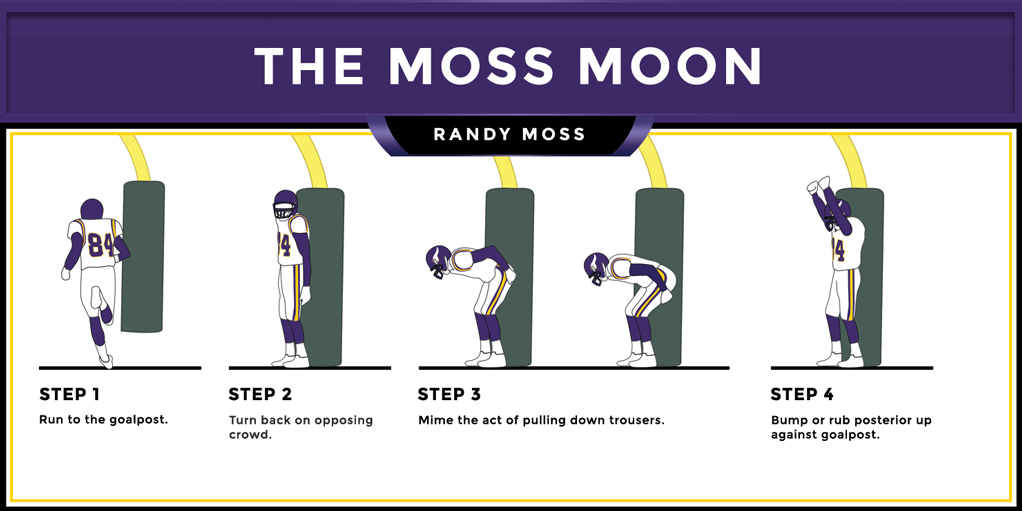 Oh, Mr. Moss. The SuperFreak burst onto the NFL scene with the Minnesota Vikings, where he caught many a long ball for them over 7 seasons. It was one of his last games with the Vikes, though, that definitely left an indelible mark on the Minnesota's rivalry with the Green Bay Packers. In their 2005 NFC wildcard matchup, Moss, after scoring the team's second touchdown, trotted to the goalpost and pantomimed pulling down his pants to moon the Green Bay fans. Of course, even though no skin was exposed, this touchdown celebration was viewed as highly controversial. He departed the team in the offseason, and this TD celebration remains an iconic visual for era. You can recreate your own Moss Moon, of course, whenever you've got a player jersey on. We just suggest following suit with Randy Moss and sticking to pantomiming the action only!
The Ball Flip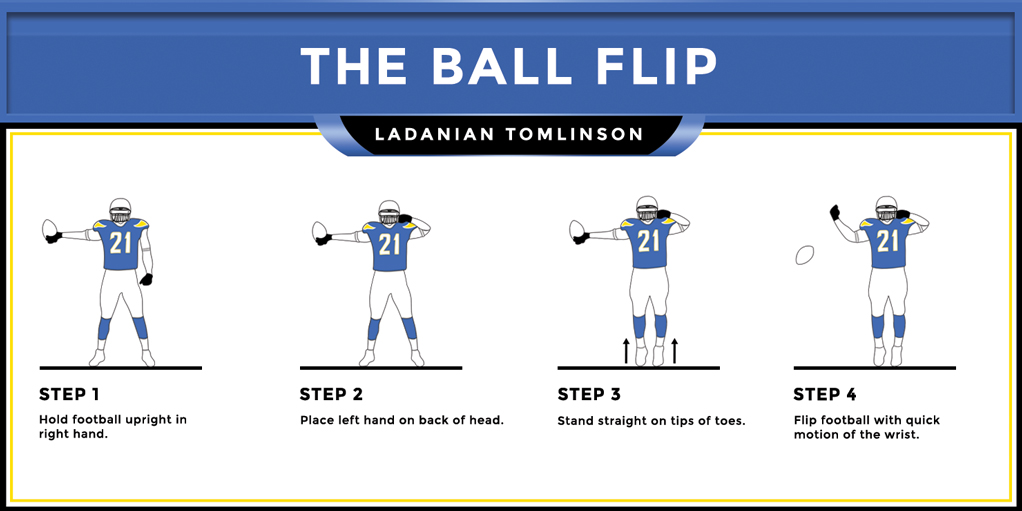 Ladanian Tomlinson was the premiere running back in the league for many of his 11 NFL seasons. At least as far as Fantasy Football owners were concerned! Of course, he excited plenty of San Diego Chargers fans during his career, too, and his propensity for rushing touchdowns gave him plenty of opportunities to showcase his signature touchdown celebration. You can replicate the simple maneuver quite easily by following these steps: Hold the football upright in your right hand, place your left hand on the back of your hand, stand straight on the tips of your toes, and flip the football with a quick motion of the wrist! That's all it takes, although it does require a little bit of finesse to pull it off just like LT. If the flip is too obvious, you are probably doing it wrong.
The Golf Putt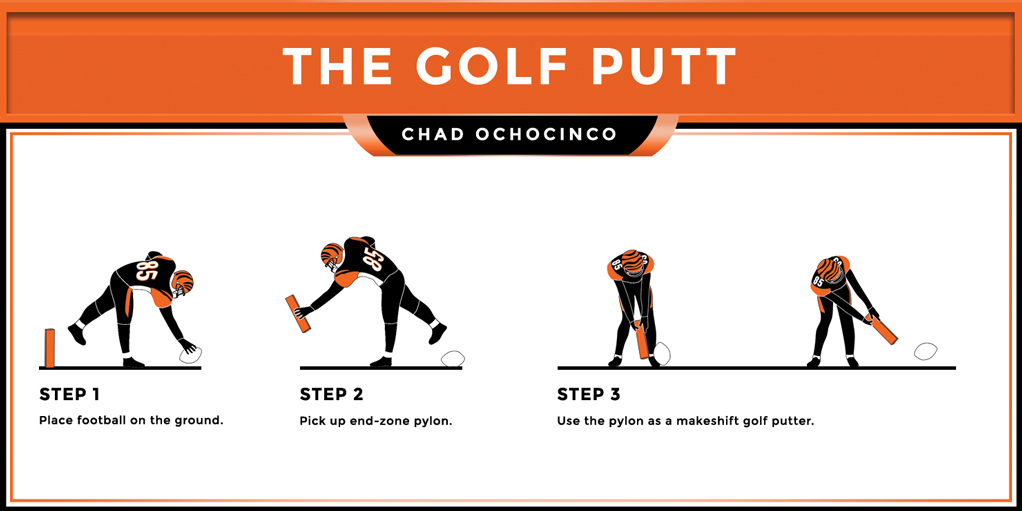 Chad Ochocinco, formerly known as Chad Johnson, made waves across the league for his over-the-top antics during his tenure with the Cincinnati Bengals. Case in point, legally changing his last name from Johnson to Ochocinco, supposedly in honor of Hispanic Heritage Month in the NFL. (Never mind the fact that "ocho cinco" is not his player number 85. "Ochenta y cinco" would actually be number 85 in Spanish.) Sideline and off-the-field antics aside, Ochocinco dabbled in plenty of over-the-top touchdown celebrations as well. The one that sticks with us is when, in 2005 after a touchdown against the Baltimore Ravens, he ran to the corner of the end zone, carefully placed the ball on the ground and used one of the orange end zone pylons as a golf club to putt the ball. We've illustrated those moves here, and you recreate them if you can manage to track down a pylon!
The Salsa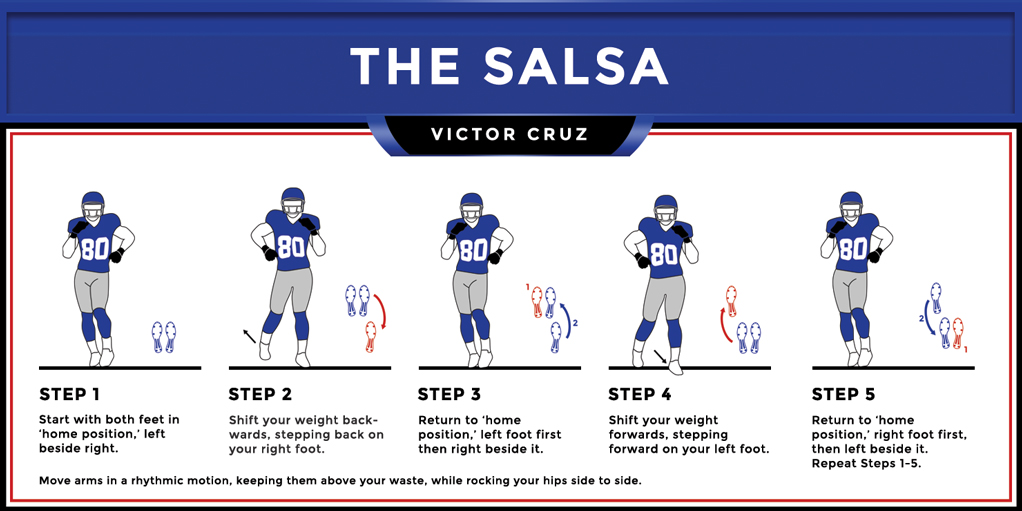 In the modern NFL era, few recurring celebrations have become famous because of the league's clamping down on excessive celebrations. Leave it to Victor Cruz to slip in there and revive the (almost) lost art of the touchdown dance. Well-received and highly regarded for its simplicity, the star receiver for the New York Giants simply does a brief Salsa dance after he makes a score. Cruz has even stated that it was inspired by his deceased grandmother who taught him the dance at a young age. (She also loved touchdown celebrations, by the way.) Heart touching, fun, effective! You can replicate his end zone moves by following our graphic, but for full effect, you might have to log a few hours at your local ballroom for some actual lessons.
The Gronk Spike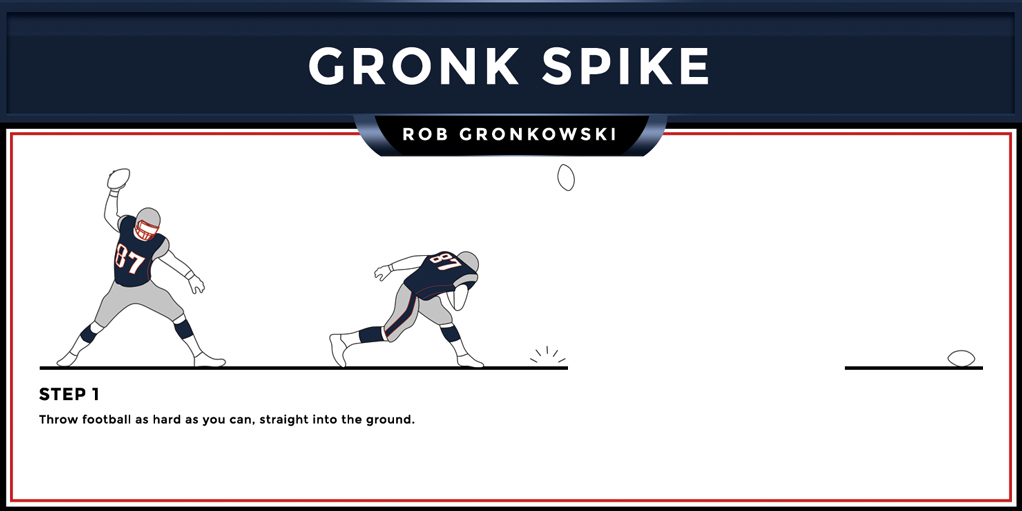 Gronk, a.k.a. Rob Gronkowski, might be the NFL's biggest bro, but it's hard not to admire his zest for life. He loves playing football, and he loves having fun. Well known for his party boy antics and well regarded for his high caliber of play on the field, he has a patented touchdown celebration that pretty much perfectly fits his image. The Gronk Spike! Sure, many players have spiked the ball before him, but none have done it with quite the same amount of force and attitude. (Take a wiz around the web to look at some GIFs of the maneuver if you don't believe us!) You of course, can pull off a Gronk costume with his jersey and a goofy smile. But it wouldn't be complete if you couldn't spike the ball right. Just follow these steps to achieve your own Gronk spike. Take a football, slam it into the ground. It's really that easy!
Make your own Jersey or Shirt!
Included with the mystery materials are iron-on designs, you you can make your own Jersey and/or t-shirt for you and/or all of your guests!!!
Some Staples
Football burgers — Make football-shaped patties and pair them with hoagie rolls, and then deck them out with cheese to really take the trophy home.

Hot Dogs

Chicken Wings
Gluten-Free  Party Menu:
Buffalo Chicken Dip (a.k.a. Crack)

Popcorn

Veggies

Cheese tray
Create a SNACK STADIUM!!!
Sweeeeeet Treats for the BIG PARTY!!!
Be sure to use all of the Extras Included in the Mystery Materials to help serve your food!
Included will be:  a designed menu (for you to input your food choices), napkin wraps, bottle wraps, editable table tents, and more to make it a memorable football murder mystery game! (Pictured above).
Pro Tip: to go with the theme of the party, "name" your foods with words describing football or the Pitbulls.
Examples
Pigskin Pot Stickers

4th Down (Chicken) Fingers

Touchdown Bites

GridIron Cake
Are You Up for
the Challenge?