Somewhere in the tropics between the Port of Confusion and Bay of Disarray, you'll find that murder meets mayhem and the intrigue begins!
While most vacation at Margaritaland, an exclusive tropical resort, to get away from their troubles, for one unfortunate soul, it will mean the end of their travels altogether.
Has the lottery winner's luck run out? Will it be the bartender who has served his last drink? Is the honeymoon over for two lovebirds before it nearly began? Or will the stars collide for one Hollywood star?
At the resort, the guilty will mingle among the guests and everyone will be left with the task of deciphering between the facts and falsehoods that plague this paradise in order to make a killer pay for their crime.
The night itself will be a clever concoction of chaos, crime, and cocktails in the Caribbean.
We have a virtual version of this Caribbean murder mystery party that can be played in an online platform!
Be sure the "Virtual" button is selected when purchasing.
Download an intro file for the virtual version below in the versions section.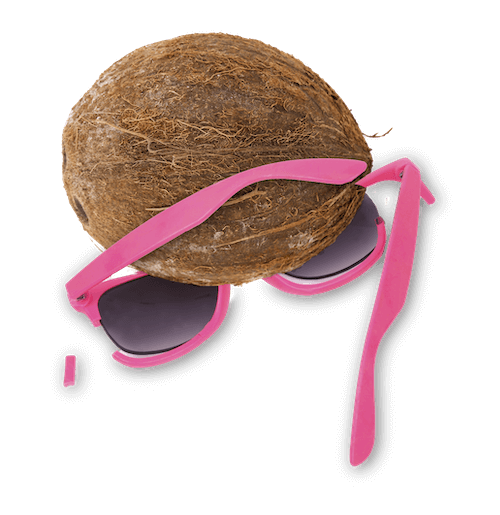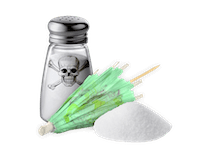 *Note that the cast listed below is provided only to give an idea of the types of roles available in this Caribbean murder mystery party, and not presented in any order relevant to the plot. 
Not all cast members are included in every version.
Coconut Joe
Owner of Margaritaland.

The owner of the resort and the man to talk to when anything goes wrong.
Coconut Jane
Wife to Coconut Joe

Jane is in charge of guest relations and will go to any extent to make sure that the guests remain happy and satisfied.
Bindy Barkeep
Bar Manager

With bar profits decreasing lately, Bindy is looking for someone to blame. Will Bindy be able to keep the bar in the black... and their job?
Jack Daniels
Bartender

Known as the Casanova of the pool bar, it is hard to say whether his philandering ways will get him promoted or in trouble.
Kylie Cocktail
Cocktail Waitress

A gold-digger at heart, her aspirations might be a little ambitious for even her to achieve.
Lifesavin' Sam
Lifeguard

Sam is supposed to be the safeguard of the resort, however, after his recent break-up with Kylie Cocktail, his actions have been doing more harm than good.
Thurston Howard III
Millionaire
Mo Manager
Sandy Beachbum's Manager
Izzie Islander
Island Girl
Candy Cotton
Millionaire's girlfriend
Agent Hollywood
Hollywood Agent
Lucky Numbers
Lottery Winner
Sandy Beachbum
Professional Surfer
A picture is worth a thousand words, so take a look at actual Caribbean murder mystery party events hosted by our customers.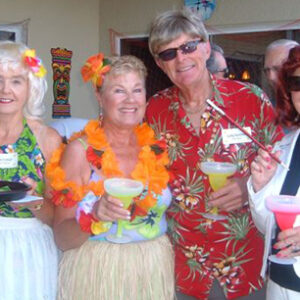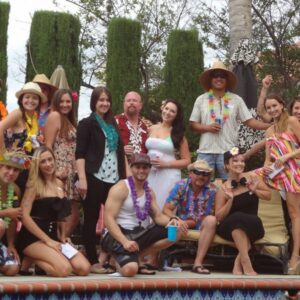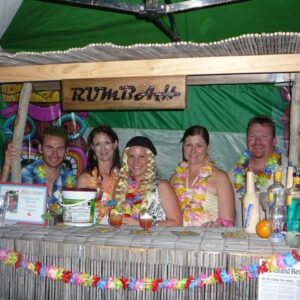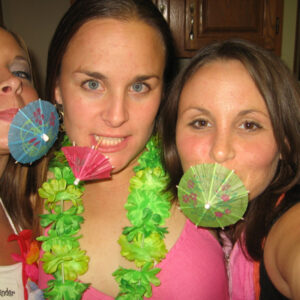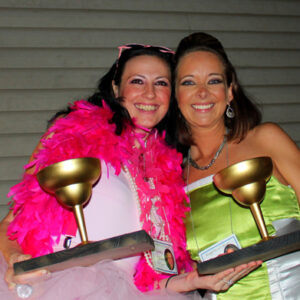 "I hosted my first party and I was scared that if anyone could fail such a flawless package it would be myself. But this kit makes it so so easy and fun. Lots of room to make it your own and not cookie cutter, but always super straight forward! I can't wait to host another onell! Thanks Night of Mystery!"
"I purchased the Night Of Mystery packet for a work team building event. All of my co-workers said it was the best team event they've been to. The packet was very straightforward and had so many ideas and tips to help make running the event super simple. Highly recommend!"
"I've had three parties over the years. This year we will be doing it again! Normal parties have their groups. High school over there, church over there, family over there. Well with the murder mystery dinner there is none of that. Plus your free to not be you for the night. Every party has been a success! Last one we had over 100 people come."
Are You Up for
the Challenge?