A Night of Buccaneers, Booty and Bloodshed!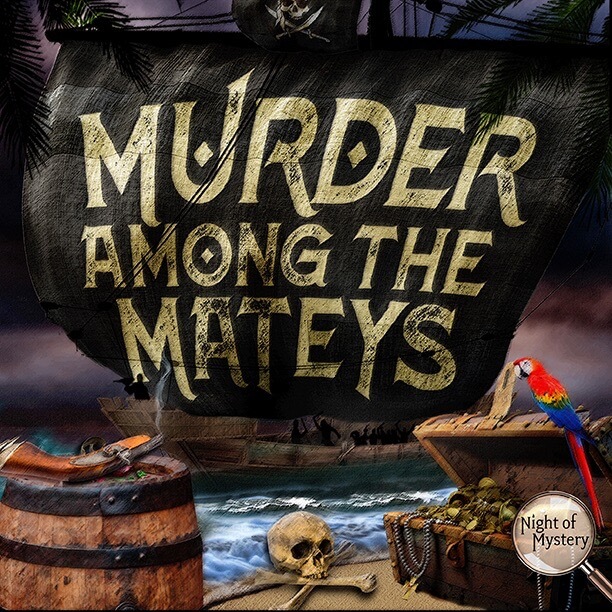 Look here to find everything you need to know about your fellow buccaneers, acting like a pirate, and more!
Talk and Act Like A Pirate!
Guidelines to help you reach your pirating potential. 
~ APPLIES TO YE WENCHES AS WELL!!!
• GROWL – AND SCOWL OFTEN. Pirates don't use a cultured, elegant, smooth vocalization – they mutter and growl… A lot.
• USE PIRATE LINGO. Sounding like a pirate isn't as hard as it seems! There are lots of resources for picking up pirate "lingo," (like the dictionary you can download above), so make use of them (more common terms listed below) in addition to trying to affect a vocal sound. Avoid using modern epithets (swear words). It's much more colorful (and kid-friendly) to use "pirate slang" for those naughty words.
• GESTURE WITH YOUR HANDS FREQUENTLY. Don't forget that pirates do most of their talking on the deck of a ship – out on the ocean, where wind, waves, and bird calls make it tough to hear. Gesturing often gives you a sense of "being there."
• SLUR YOUR WORDS TOGETHER. Saying, "The boys and I were out for a lovely day on the water today" sounds like something you'd overhear at a yacht club, not out on the bounding main! Instead, try, "Me 'n' these here scurvy scallywags drug our sorry keesters out t'th'ship'n'had us a grand great adventuaaarrr! We almost had t'keelhaul Mad Connie f'r gettin inter th' grog behind our backs!" Use contractions whenever possible. Be sure to punctuate often with "Arrrr!"
• NEVER USE "YOU" OR "YOU'RE" – EVER. Instead, use the piratical form, "yer", "ye" or "ya" for all forms of address to others. "Yer a scurvy bilge rat, ya pompous gasbag" or "Here's yer dinner, ya mangy cockroach." Note that you should always endeavor to call the addressee by some insulting name, usually involving an animal.
• EMBELLISH AT WILL. A pirate is larger than life, and his or her speech should always reflect this. Don't just say, "We saw a whale off the starboard bow today." Say, "Me'n'th' crew seen a great grand sea beastie, th' mother of all whales, aye!"
• REFER TO YOURSELF AS "ME" AT ALL TIMES, NEVER "I." It is not piratically correct to say, "I have a cold." It is far better as a pirate to declare, "Got me a case o'th'sniffles, 'ass rye!"
• MORE IMPORTANTLY, SUBSTITUTE "ME" FOR "MY." For example, don't say, "Look at my new sword," say "Lookit me new sword!" Also substitute "meself" for "myself" as in "Got meself a right fine ship!"
• MUTTER UNINTELLIGIBLY UNLESS YELLING. Being a pirate usually meant being liquored up to some degree – a lot of time, pirates were pretty mush-mouthed. In the step preceding, the term "'ass rye" actually translates to "that's right." Get it?
• BE AS LOUD AS HUMANLY POSSIBLE. Pirates are not shy – stand tall, me hearties, and be counted!
Prime Suspects: Salty Sea Dog Regulars
Cap'n Redbeard—Pirate Captain. A fierce but fair pirate, this man runs a tight ship and won't have anyone overthrowing it!
Sharktooth Brandy—Saucy Sea Mistress. Sister to the Cap'n, Brandy has been braving these waters since she was a girl. Her latest conquer, however, is not one that occupies her time at sea. 
Merciless Morgan—First Mate. Found alone on an island, Redbeard took Morgan in and he quickly became one of the Cap'n's favorites. 
One-eyed Wanda—Gunner. Raised as a boy on the pirate ship, Wanda was passed over by Merciless Morgan when it came to promotion. Wanda has a lot to prove if she is to earn her rightful place. 
Thumbless Jacky—Crewmate. A seasoned pirate, Thumbless Jacky has only been on the crew of The Jaded Jewel for only a short while.  
Cutthroat McPhearson—Powder Monkey. Fierce and feisty are two words that best describe this pirate. Cutthroat has larger plans than most of his fellow crew members.
Gurglin' Uma Scarr—Galley Wench. Desperate to gain Cutthroat McPhearson's attention, Uma is a woman that will do many things to get noticed. 
Governor Napier—Governor of Port Royal. As the governor of this seaside town, it is his job to keep it safe at all costs!
Juliana Napier—Governor's Wife. Tired of living in terror, Juliana is ready to take matters into her own hands to insure the safety of her family. 
Antonia Napier—Governor's Daughter. In love with a merchant sailor, Antonia is destined to lead a happily married life—as long as nothing gets in her way! 
Breathless Betty Napier—Governor's Daughter. This rebellious daughter has a lot to learn about what she can and cannot get away with. Will her parents be able to teach Betty her limits?
Commodore Clearing—Commodore. In charge of the fleet that defends Port Royal, the commodore may lose his job and his arranged marriage if he can't bring a pirate to justice.
Buccaneer Bradshaw—Privateer. Ready to step in and take over where the commodore is lacking, Buccaneer Bradshaw needs to prove that he has what it takes to get the job done and win the heart of Breathless Betty. 
Shoutin' Roger Dagger—Innkeeper. Rumor has it that vigilante-minded Roger is out to bring a pirate to justice himself. 
Mad Rose—Serving Wench. A real spitfire, Rose will make anyone who crosses her regret their actions. 
Blackspot Jane—Pirate's Widow. Widowed and alone, Jane is desperate to make someone pay for her loss. 
Sealegs Sam—Merchant Sailor. A lowly merchant sailor, Sam wants nothing more than to be married to his true love, Antonia. 
Rovin' Reynolds—Treasure Hunter. Hot on the trail of Toothless Willie's buried treasure, there is little that can come between them and their fortune in gold. 
Jean Golddust—Gold Dealer. Jean is eager to exchange gold for anyone in town. Not only does the gold tell tales of where it's been but who has been dealing with and for the pirates. 
Dirty Wiggins—Gallows Master. For many, justice in this seaside village means the gallows, and Dirty is often the one responsible for putting the guilty there.
Port Royal was a city located at the end of the Palisadoes at the mouth of the Kingston Harbour, in southeastern Jamaica. Founded in 1518, it was the centre of shipping commerce in the Caribbean Sea during the latter half of the 17th century.
Port Royal was once home to privateers employed to nip at superpower Habsburg Spain's empire when smaller European powers dared not directly make war on Spain. As a port city, it was notorious for its gaudy displays of wealth and loose morals and was a popular homeport for the English and Dutch sponsored privateers to spend their treasure during the 17th century. When those governments abandoned the practice of issuing letters of marque against the Spanish treasure fleets and possessions in the later 16th century, many privateers turned pirate and used the city as their main base during the heyday of the Caribbean pirates in the 17th century. Pirates from around the world congregated at Port Royal coming from waters as far away as Madagascar.
For your Swashbuckling Swagger and Buccaneer Bravado check out these tips on what to wear and where to find it!
Making a seaworthy establishment for ye filthy guests to p-arrrrr-ty in!
Unbuckle yer swash and eat up, Me Hearty! Check here for ye menu ideas!
Are You Up for
the Challenge?