Backstabbing, Bribery and Blackmail Among Beauties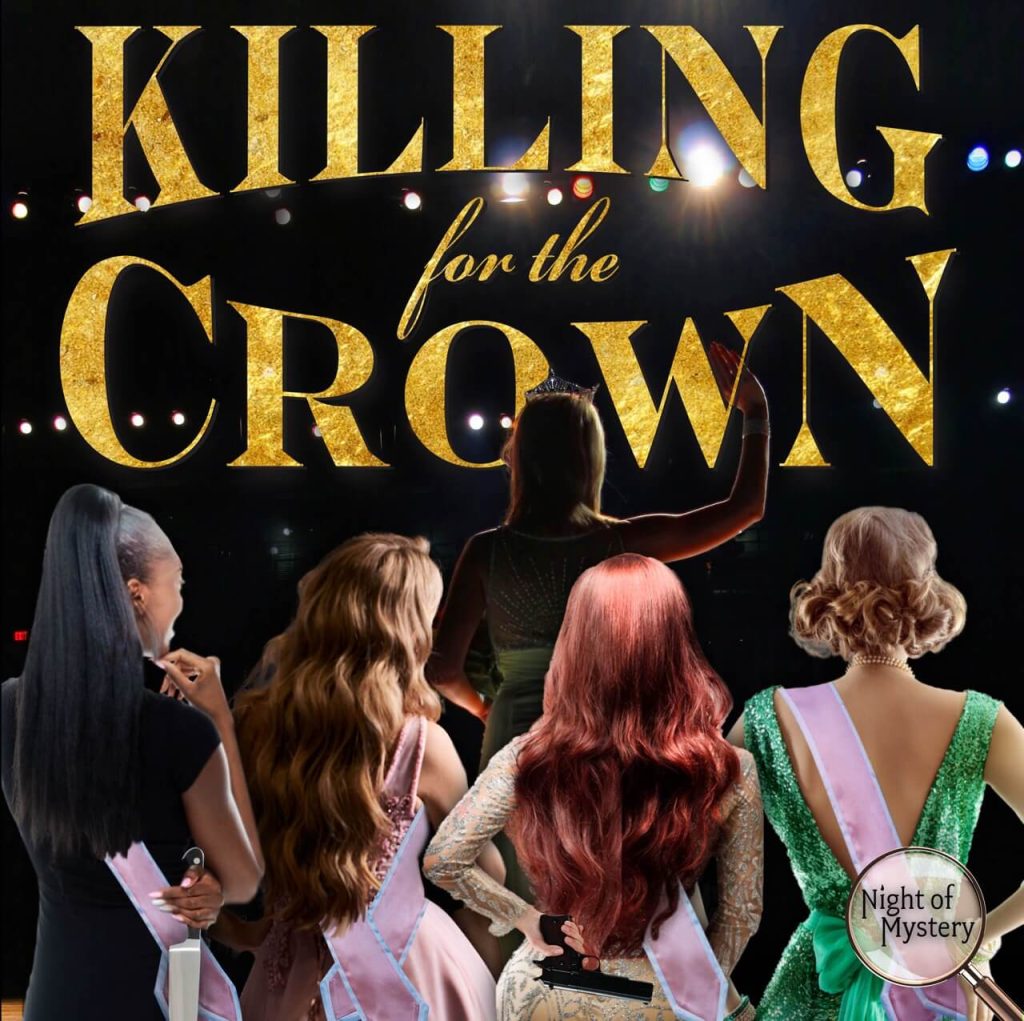 All the information and "how-to"s to help you become pageant-ready before your debut at the pre-pageant party!
Where to find that perfect pageant dress.
Decorations to help deck out your place for the pre-pagent party!!!
In and Around The Party Space
Roll out the red carpet! Nothing but glamour for these beauties!
– Consider adding a banner and/or red rope with stanchions to make it official.
– Where to buy a red carpet.
– How to make red rope with stanchions here.
– Where to buy stanchions with red rope.
• Have your guests enter through a VIP entrance!
'VIP Entrance' sign (included with the mystery)
• How about a balloon arch to honor the beauties? It's easier than it seems!
– How-to make a balloon arch.
– Where to find an inexpensive arch.
• Create a luminary walkway for the guests as they approach the party.
• Download and print off pictures of other beauty queen winners and hang them on the wall. (Included with mystery purchase.)
– For added effect, put them in frames.
– You can spray paint the frames gold for an extra touch!
• Cut or punch out star shapes out of gold or silver cardstock. Hang them from the ceiling with fishing line or create garland by sewing them together.
• Hang signs for the different areas, "backstage," "judges lounge," etc. (Included with the mystery.)
• Create a "Pageant Powder Room".
– Within the powder room, include goodie basket for last-minute touch-ups and freshening up throughout the night. Ideas for items to place in your goodie basket: body glitter, hairspray, nail polish, glitzy eye shadow, compacts, and costume jewelry (found inexpensively at your local Goodwill or re-sale shop). (Sign for the powder room included with the mystery.)
Picking a Color Scheme
Three popular color schemes for your party may be gold, white, silver and/or pink.
To pull the color scheme through to your whole space consider the following:
• When decorating a large area or to make an area look more intimate and festive, consider draping pink, white, silver or gold gossamer across the ceiling, walls, and edges of the tablecloth. Combine two colors for a fabulous appearance.
• A little spray paint can go a long, long way. Spray paint novelty items, vases, old wine bottles, etc. to help bring out the color theme and add inexpensive decoration to your party.
• Have a tablecloth—whether plastic or fabric – the colors of your choice.
• Accentuate your tablecloth with the alternative color by using paint pens or fabric paint to paint on decorative accents.
Using Fabric
There are many ways you could use "fancy" or colorful fabric to decorate:
• Drape brightly colored fabric on the walls like banners.
• Make a table runner, table cloth and/or napkins.
• Drape over furniture.
• Create decorative pillows.
• Tie to the back of a chair.Places to find fancy fabrics inexpensively:
– Searching clearance bins at fabric stoes
– Second hand shops
– The fabric section at Walmart
Create a Photo Spot!
Give your guests an unforgettable souvenier by setting up a photo area where they can capture a picture of themselves in character.
A few suggestions:
• Pick a place where there will be good lighting.
• You can make it as elaborate or simple as you want.
• Accessories and decorations can make the difference. Have some extra props on hand that your guests can pose with.
• An easy way to create a background is to use a "scene setter." These affordable rolls of images transform your room instantly and make for a good backdrop to your picture.
• Use props like a red carpet, tiaras, boas, lavish chairs, anything you can think of, to create a staged area for pictures.
• Make sure there is enough room to fit everyone in to the frame.
• For individual shots of guests, designate someone to be in charge of pictures as your guests arrive.
— Consider your character list and which character would fit the role of taking the picture. Ie, if you want mug shots, perhaps ask the investigator to be in charge of taking the pictures.
• For a group picture, take one just before the introduction is read or right after the solution is read (before people may start heading out).
— These are two times when you can count on everyone being around and attentive.
How to feed your backstabbing beauties at the party!
A Meal to Remember
THINK PINK!
One option is to serve a number of pink delicacies! Pink champagne, pink lemonade, pink popcorn, pink maccaroons, etc. You name it. Check out this website for more ideas and recipes for pink food.
A STATELY AFFAIR
Serve food and drinks from each of the states — Mississippi Mud Pies, Texas Toothpicks, Alaskan Salmon Cakes, Alabama Slammers, Californian Wine, you get the picture.
– For a potluck, have each of the girls/women bring a dish from their "home state."
KEEP IT SMALL
These are health conscience beauty queens! Serve everything in smaller portions (of course they can eat just as much!). Mini cupcakes, cocktail weiners, finger sandwiches, etc. Any bite size food will do. Present each of the foods on a little doily to add elegance.
FRIED AND FABULOUS!
These pageant beauties are probably sick of dieting for their big day. Serve an array of fattening (but delicious) foods.

AMERICAN FARE
Hamburgers, hot dogs, potato chips, Smithfield ham, New England Clam chowder, apple pie. Foods that this country is known for.
• Top your cupcakes with some "crowning moments" (pictured below). Cupcake toppers included with the mystery purchase.
• Take any cake and add a butcher knife with some red food gel to add a murderous appeal!
• All it takes are some tiaras, and you have turned any cake (or cupcakes) into a themed dessert for your blushing beauties!
Setting Your Table
• Construct one long table for dinner. Use a brightly colored or metallic piece of fabric for a runner.
• Drape table with gossamer and put white twinkle brghts underneath to illuminate.
• Decorate the table runner with gold fabric paint.
• Include gold- or silver-toned plastic plates, cups and plastic/silverware.
• Purchase gold colored plastic cups and hot glue fake jewels to the outside of the cups.
• Have decorative napkins held together by elaborate (costume) jewelry.
• Finish off by tying a tulle or other fabric bow onto each chair.
• Use a centerpiece of white roses (fake or real) in a clear vase filled with sparkly gems or beads.
• Spray paint decorative vases and use them as centerpieces. Add flowers or lights to highlight them.
• Make your own placecards with designs included in the mystery packet (pictured below).
• Display your menu for everyone to see or have it at each place setting. (Menu template included with package.)
Are You Up for
the Challenge?