Hasta que la muerte nos separe
A Night of Love, Marriage and MURDER!!!
Your presence is requested to celebrate the union of Becky Giovanni to Stanley Simpson 
with a wedding reception you won't soon forget.
As friends and family come together for a night of food and fun, it will quickly turn into a night of mystery and mayhem – leaving one of the guests murdered!
And you and your guests are left to solve the crime… 
Will it be the jealous ex-boyfriend who is to blame?
The father of the bride who opposed the marriage from the start?
Could it be the bridesmaid who longs to be a bride?
Or possibly the estranged uncle that has wasted away his family fortune?
As the night progresses, secrets will be revealed, motives exposed and your sleuthing skills will be put to the test.
What will you say when it is your turn to finger the culprit of this wedding murder mystery party?
SPEAK NOW OR FOREVER A KILLER GOES FREE!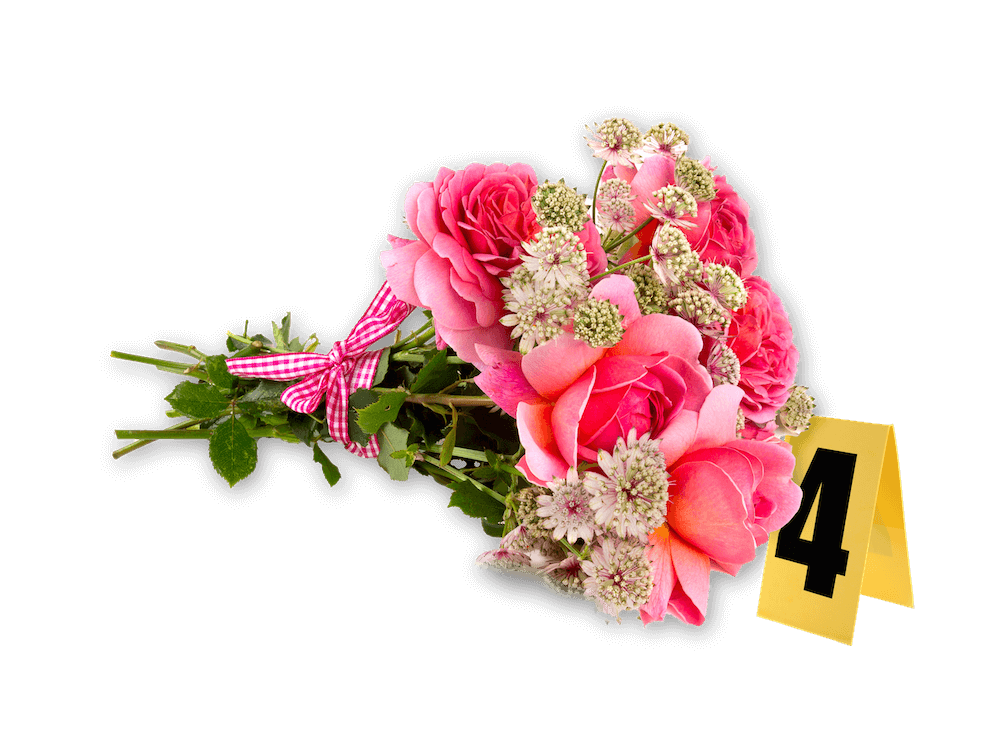 *Note that the cast listed below is provided only to give an idea of the types of roles available in this wedding murder mystery party, and not presented in any order relevant to the plot. Not all cast members are included in every version.
No todos los miembros del reparto están incluidos en todas las versiones.
Stanley Simpson
The Groom

The lucky man will not only be gaining the love of his life, but a family with wealth...something Stanley has never had.
Becky Giovanni-Simpson
The Bride

The blushing bride has never been so happy. Becky is determined to make sure NO ONE ruins her wedding day!
Brutus Simpson
Groomsman and Brother to the Groom

An over-protective brother and business partner to the groom, Brutus' control over his little brother seems to be in question now that Becky is in Stanley's life.
Wade Wilmington
The Best Man

Although Wade has proven himself to be a man who is easily manipulated, he is looking to reverse that. Immediately.
Ken Kruger
Groomsman

Ken is not only a friend of the groom, but the ex-boyfriend of the bride and the reason the pair met. Will Ken's complicated relationship to the couple get in the way of their special day playing out as planned?
Trish Trinket
The Maid of Honor

As the best friend of the bride, Trisha will do anything to ensure Becky's happiness. Conversely, Becky would do the same, and possibly already has.
Gina Giovanni
Bridesmaid and Sister to the Bride
Tony Giovanni
Father of the Bride
Stacey Sultry
Cousin to the Bride
Chris Constable
Hotel Security
Darlene Simpson
Bridesmaid and Sister to the Groom
Brittany Simpson
Mother of the Groom
George Giovanni
Estranged Uncle to the Bride
Biff Buffolini
Wedding Guest
Ronnie Rhymer
Wedding Photographer
Marianna Giovanni
Mother of the Bride
Hugh Simpson
Father of the Groom
Gianni Giovanni
Grandparent of the Bride
Kasey Cake
Wedding Coordinator
A picture is worth a thousand words, so take a look at actual wedding murder mystery party games hosted by our customers.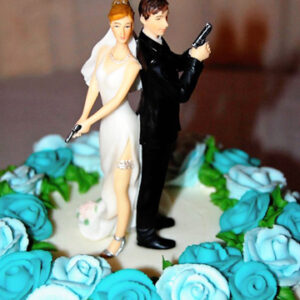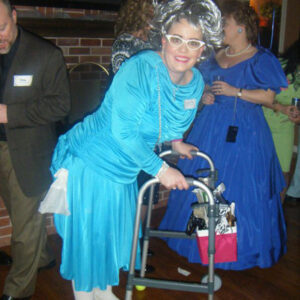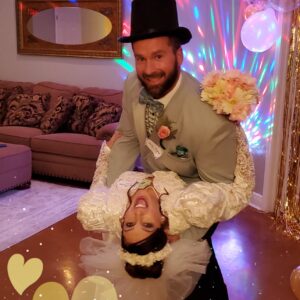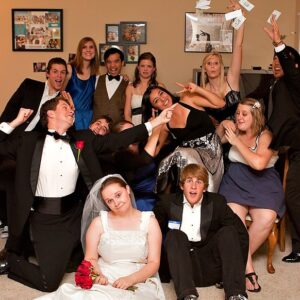 "He organizado mi primera fiesta y tenía miedo de que si alguien podía fallar en un paquete tan impecable fuera yo misma. Pero este kit lo hace tan fácil y divertido. Hay mucho espacio para hacerlo a tu gusto y no es un corte de galleta, ¡pero siempre es súper sencillo! ¡No puedo esperar a organizar otro onell! Gracias Noche de Misterio".
"Compré el paquete Noche de Misterio para un evento de formación de equipos de trabajo. Todos mis compañeros de trabajo dijeron que era el mejor evento de equipo al que habían asistido. El paquete era muy sencillo y tenía muchas ideas y consejos para ayudar a que el evento fuera súper sencillo. Lo recomiendo encarecidamente".
"He tenido tres fiestas a lo largo de los años. Este año volveremos a hacerlo. Las fiestas normales tienen sus grupos. El instituto por ahí, la iglesia por allá, la familia por allá. Pues con la cena de misterio de asesinato no hay nada de eso. Además eres libre de no ser tú durante la noche. Todas las fiestas han sido un éxito. En la última vinieron más de 100 personas".
¿Estás preparado para
¿el desafío?