A Timeless Tale of Treachery and Treason in a Kingdom Far, Far Away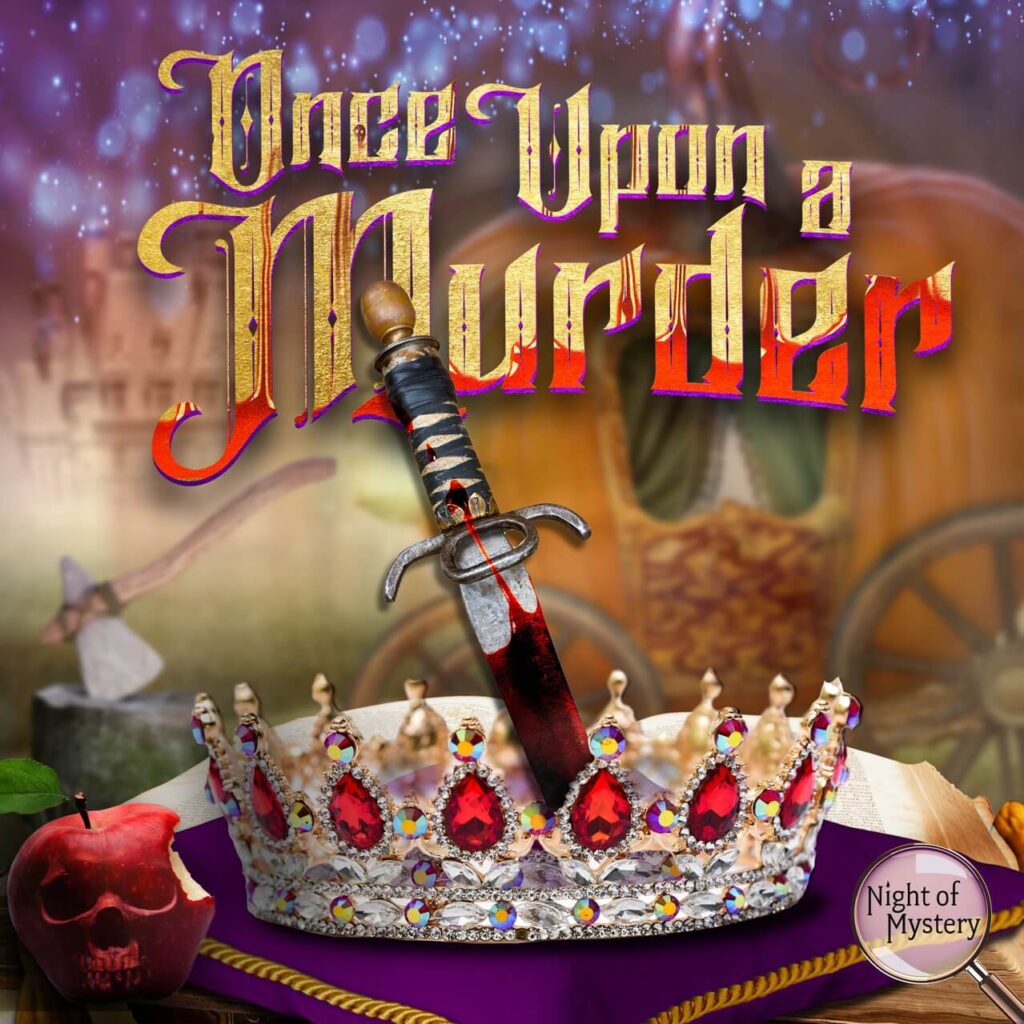 Información para invitados
What you need to know about the Ball and the other guests attending…
Who to expect at the Grand Ball
PRINCE CHARMING • Prince. The leader of the kingdom and heartthrob to many, this dashing young man will have numerous decisions to make – all of which will affect the outcome of the night.
FELICITY • Cinderella's Fairy Godmother. Still doting over the disappearance of her goddaughter, Felicity continues to hope that Cinderella will reappear and everyone will live happily ever after.
GRISELDA • Cinderella's Stepsister. After years of animosity, Griselda has earned Cinderella's trust and her place in the castle. Now that Cinderella is gone, will Griselda be next to disappear mysteriously?
RAPUNZEL • Princess. Desperate to get out of her tower, this trapped temptress may have more than one offer on the table… the question is which one will she pick?

SNOW • Snow White. With hopes of moving out of the forest, this princess hopes to soon be known not as the daughter of a queen that is evil, but as the wife of a prince that is charming.
HERB • Dwarf. Like a brother to Snow, Snow's dependence on Herb is endearing to some and annoying to others.
NOSY • Dwarf. Ambitious and inquisitive, this dwarf can't keep their nose out of anyone's business. Be hopeful you are not the murderer, because Nosy will be out to expose you!

ALADDIN • Prince. Royalty by marriage, Aladdin continues to use his power to grow his palace collection of possessions. At what point will his princess say enough is enough?
JASMOOR • Princess. Feeling left out by all of the excitement around the search for a new princess, Jasmine is left to herself and her palace.
JINN • Genie. Put in this world to grant Aladdin's wishes, Jinn can't solve Aladdin's problems single-handedly, but they will try…
BELLE • Beast's wife. Suspicious of her husband's actions, Belle is not the only one who is questioning what Beast is doing in the woods.
BEAST • Belle's husband. Once feared for his appearance, Beast has taken on a new identity as prince. While his physique may have changed, that doesn't mean his temperament has.
HANSEL • Orphan. In love with a princess, the only way Hansel can gain her affection is to prove he will adequately provide for her.
GRETEL • Orphan. Left behind as a child, Gretel will not allow for her beau to do the same.

RED • Little Red Riding Hood. This is one girl who is certainly not distracted or lost. Red will use her will and wit to make sure she and her grandmother are taken care of.
GRAM • Red's Grandmother. Aging and helpless, this grandmother once fought off a wolf with the help of the woodcutter – will history be able to repeat itself?
AXE • Woodcutter. Protector of Gram and Red, Axe refuses to seek his own happiness until he insures Gram and Red are provided for.
TEETH • Big, Bad Wolf. After earlier wishing to devour Red, now he hopes to marry her. Red has other plans for her future, but it is unclear what her beholders intend.

RUMPELSTILTZKIN • Imp. Known for trickery, scheming and deception, Rumpelstiltzkin's tactics may be just what this kingdom needs to find out who really is behind Cinderella's disappearance…

HAMLET • Little Pig. This seasoned realtor knows a thing or two about building and selling houses.
Unfamiliar with fairy tale characters?
Click on the characters' names above to follow links to the stories where these characters originated.
Click through these pictures to get some ideas on costumes and creations for the characters in Once Upon A Murder!
Check here for ideas on how to deck out your castle for the GRANDEST of all Grand Balls!!!
What type of Grand food to make for your Grand Ball!
Información sobre el anfitrión
Ideas, tips, tricks, etc. to help you go above and beyond for your Once Upon A Murder party!
¿Estás preparado para
¿el desafío?