Asesinato en el salón Deadwood
¡Una noche de asesinatos y caos en el Salvaje Oeste!
**¡Versión virtual disponible!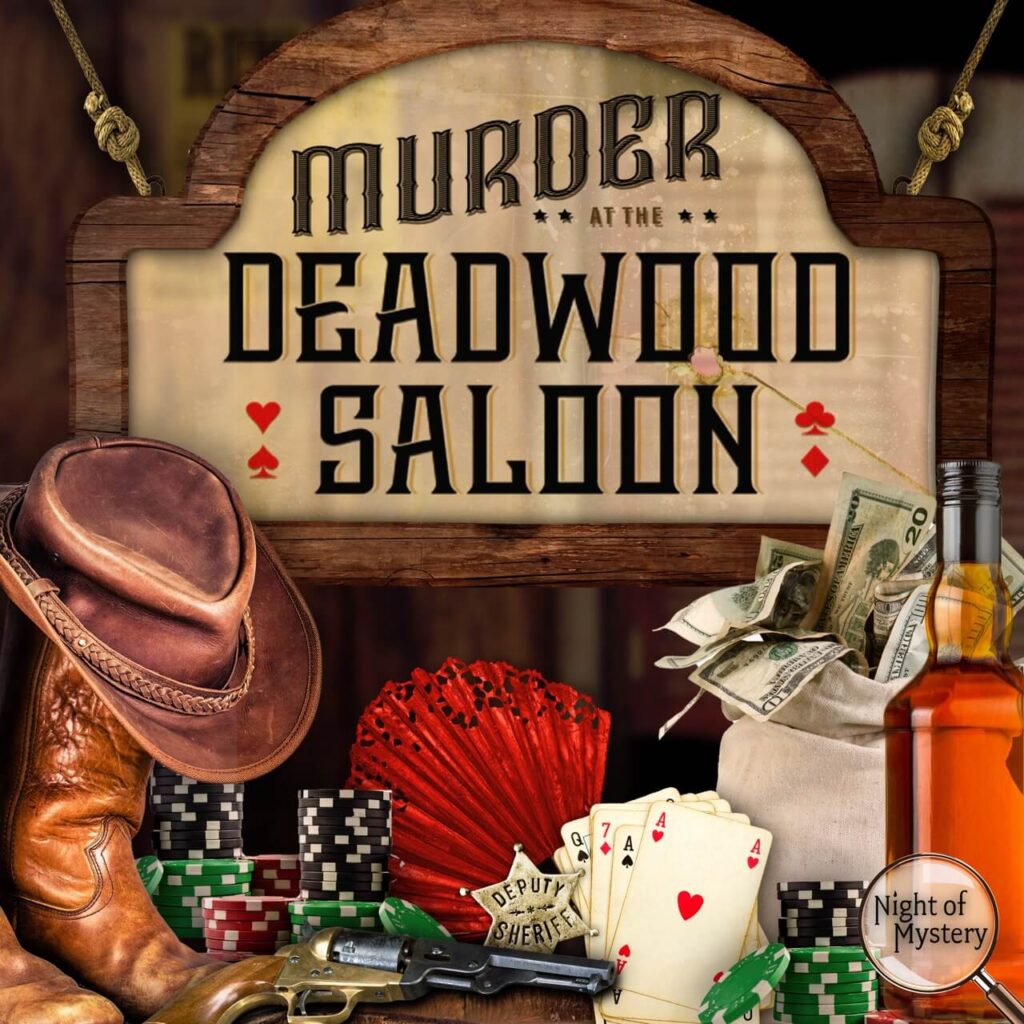 Información para invitados
Everything you need to know from who's coming to the proper slang to use at it!
Talk the Talk
Download your wild west dictionary
***In virtually every mining camp and prairie town a poker table could be found in each saloon, surrounded by prospectors, lawmen, cowboys, railroad workers, soldiers, and outlaws for a chance to tempt fortune and fate. ***
The Usual Suspects
Harry High-Stakes—Saloon Owner. As the organizer of this grand event, Harry has a lot at stake if it is not successful! 
Henrietta High-Stakes—Wife to Harry High-Stakes. Spending less and less time at the saloon lately, could Henrietta be into something or someone else? 
Gambling Jack—Gambler. The best hand in poker either side of the Mississippi, Jack has not lost a major tournament in the last five years. Until now. 
Anna Belle—Wife to Gambling Jack. Known as her husband's good luck charm, some say Anna Belle is the reason Gambling Jack never loses. 
Mitch Maverick—Traveling Businessman. As the winner of the tournament, many question how a businessman could have such great card skills. Could Mitch be the next poker phenomenon? 
Holly Hickok—Gambler. A real southern belle with a flare for poker, many wonder what a girl like Holly is doing in the Wild West? 
Clay Coldwell—Gambler. A once known poker-great, Clay may no longer be lucky in cards, but he may be proving to be lucky in love. 
Montgomery Money—Land Investor. Arriving just this last night, word is Montgomery has his eye on purchasing the saloon and is using this traveling opportunity to seize it. 
Elizabeth Money—Wife to Montgomery Money. Although Elizabeth has been here scouting land prospects for her husband all week, she is still not used to the rough and rugged ways of the West. 
Minnie Money—Debutante. As the sheltered daughter of Montgomery and Elizabeth Money, Minnie's first trip out west has been an adventure that has taught her a lot about the wild ways of the West and the people it breeds.
Banker Bob—Bank Owner. After the Bank of Deadwood was robbed earlier this week, Bob suspects the culprit is someone in need of ante money for the poker tournament. Will Bob take justice into his own hands to punish the bandit? 
Banker Bonnie—Wife to Banker Bob. Desperate for Bob's attention, Bonnie will do anything to get it. Anything. 
Jesse Wales—Outlaw. Is Jesse here to meet up with old acquaintances or is this purely a business trip? 
Poker Alice—Poker Dealer. Alice makes her living dealing cards at the saloon, but could she be hiding more than her love for her favorite bartender? 
Sheriff Sam—Deadwood Sheriff. Although Sam is considered the law enforcement of this town, it has been said the only way to get anything 'enforced' is by padding Sam's wallet. 
Marshal Dalton—Federal Marshal. The Marshal was assigned to Deadwood to insure that there is no unlawful activity at the poker tournament. With outlaw rule becoming the way of the West these days, it is time the federal government put some order into place. 
Sally Starr—Saloon Girl. Because of Sally's strong allegiance to both Harry and Henrietta High-Stakes, Sally will see to it that the saloon thrives at all costs—but what price is too high? 
Taffy Garrette—Saloon Girl. Taffy is the eyes and ears of the saloon, someone who might know a little too much about what is about to go down. 
Black Barbara—Outlaw. Barbara has been in town all week and no one knows quite why. 
Billy-The-Bartender—Saloon Bartender and Bookkeeper. Billy knows the saloon life from every side of the coin and has his own suspicions about who is holding the saloon back from succeeding. 
Wild West Tidbits
WHAT SALOONS SERVED:
In those hard scrabble days, the whiskey served in many of the saloons was some pretty wicked stuff made with raw alcohol, burnt sugar and a little chewing tobacco. No wonder it took on such names as Tanglefoot, Forty-Rod, Tarantula Juice, Taos Lightning, Red Eye, and Coffin Varnish.
Also popular was Cactus Wine, made from a mix of tequila and peyote tea, and Mule Skinner, made with whiskey and blackberry liquor. The house rotgot was often 100 proof, though it was sometimes cut by the barkeep with turpentine, ammonia, gun powder or cayenne.
The most popular term for the libation served in saloons was Firewater, which originated when early traders were selling whiskey to the Indians. To convince the Indians of the high alcohol content, the peddlers would pour some of the liquor on the fire, as the Indians watched the fire begin to blaze.
But the majority of western saloon regulars drank straight liquor — rye or bourbon. If a man ordered a "fancy" cocktail or "sipped" at his drink, he was often ridiculed unless he was "known" or already had a proven reputation as a "tough guy." Unknowns, especially foreigners who often nursed their drinks, were sometimes forced to swallow a fifth of 100 proof at gunpoint "for his own good."
SALOON GIRLS:
The saloon or dance-hall girl's job was to brighten the evenings of lonely men starved for female companionship.
Contrary to what many might think, the saloon girl was not a prostitute. Their job was to entertain the guests, sing for them, dance with them, talk to them and perhaps flirt with them a bit – inducing them to remain in the bar, buying drinks and patronizing the games.
Most girls were refugees from farms or mills, lured by posters and handbills advertising high wages, easy work, and fine clothing. Many were widows or needy women of good morals, forced to earn a living in an era that offered few means for women to do so.
Earning as much as $10 per week, most saloon girls also made a commission from the drinks that they sold. Whiskey sold to the customer was marked up 30-60% over its wholesale price. Commonly drinks bought for the girls would only be cold tea or colored sugar water served in a shot glass; however, the customer was charged the full price of whiskey, which could range from ten to seventy-five cents a shot.
In most places the proprieties of treating the saloon girls as ladies were strictly observed, as much because Western men tended to revere all women, as because the women or the saloon keeper demanded it. Any man who mistreated these women would quickly become a social outcast, and if he insulted one he would very likely be killed. While they might have been scorned by the "proper" ladies, the saloon girl could count on respect from the males.
And as for the "respectable women," the saloon girls were rarely interested in the opinions of the drab, hard-working women who set themselves up to judge them. In fact, they were hard pressed to understand why those women didn't have sense enough to avoid working themselves to death by having babies, tending animals, and helping their husbands try to bring in a crop or tend the cattle.
In the early California Gold Rush of 1849, dance halls began to appear and spread throughout the boomtowns. While these saloons usually offered games of chance, their chief attraction was dancing.
The customer generally paid 75¢ to $1.00 for a ticket to dance, with the proceeds being split between the dance hall girl and the saloon owner. After the dance, the girl would steer the gentleman to the bar, where she would make an additional commission from the sale of a drink.
Click below for some period-friendly ideas on what to wear, how to accessorize, and more!
Transport Your Guests Back To The Wild West !
Fuera del Salón
- Coloque balas de heno reales fuera de la entrada. Si tiene una silla de montar, póngala sobre o alrededor de las balas de heno.
• Construct a hitching rail outside the venue and (if at all possible) a horse trough or tin bath equivalent will almost certainly result in someone getting a dunking before the saloon closes.• OR, Make a hitching post using a wooden palette and a sign (included with the mystery).
- Cree un puesto de señalización con diferentes señales de dirección. Puede tener señales que indiquen a la gente hacia: El Banco de Deadwood, la oficina de telégrafos, la cárcel, la diligencia, etc. (Hay instrucciones y plantillas sobre cómo hacer esto con el misterio.
• Make and hang a sign for your saloon. (Instructions and templates included with mystery purchase.)
• You can order some really cool saloon doors:
• OR, Construct your own saloon doors. Find out how to do so here.• Not up for building, order your saloon door here.
- Recorte las siluetas de un vaquero y una vaquera y cuélguelas en las ventanas.
Dentro del salón
- Coloque barriles de roble y/o growlers alrededor del espacio de la fiesta.
• Make a Saloon out of a picket fence, 2 palettes for sides and a large piece of plywood for the top!
• Create "old" liquor bottles by adding labels to empty bottles. Use them as props and/or to "stock your bar". (Designs included with purchase.)
- Si puede encontrar/conseguir carretes de cable grandes, ¡úselos para las mesas del salón!
• Hang "wanted", "reward" and other themed posters all over the walls. (These templates and two more included with mystery purchase.
- Imprima y cuelgue otros carteles de "salón". (Estas plantillas y dos más se incluyen con la compra misteriosa).
- O bien, ¡puede hacer sus propios carteles de salón en madera! Sólo tiene que cortar una paleta de madera a las dimensiones que desee y pintar su diseño.
• Create your own branded beer and/or sarsaparilla (root beer). (Label designs included with purchase. Just adhere to beer or root beer bottles.)
• Set up a poker table for the tournament. (Note: you do not need to actually have a tournament or play poker. Some hosts find this is a fun activity to do before, during or after the mystery.)
• Use scene setters to create your saloon wall or a western scene.
Preparando el escenario
¿Buscas inspiración para la decoración de tu fiesta? Aquí tienes un vídeo que te ayudará.
Haga clic abajo para empezar.
Check out our playlist selections for this mystery !
¿Estás preparado para
¿el desafío?