A Night of Medieval Madness
A tournament of great celebration is planned to honor the noble marriage
of Baron Bartholomew to Lady Diana of Dunnsberry in the manor of Fernwood.
As a resident of the manor, you are not only invited to be there,
but your attendance is required by the request of your lord.
Whether it is to see knights jousting or to partake
in the ale and entertainment, your business is your own…
that is until you find yourself in the middle of a murder.
With only one night to find the guilty, you will soon figure out
that there is a lot more at stake, for murder in the manor is punishable by death.
Whether you are guilty or not, there will be others trying to finger you as the culprit
as you try to find the real murderer, and only you can defend your innocence.
Who do you trust? Who will betray you before the night is through?
Everyone is a suspect and no one is safe in this mystery of medieval madness.
Be careful in attending this medieval murder mystery party.
Your life will depend not only on your innocence, but your
ability to defend it.
*Note that the cast listed below is provided only to give an idea of the types of roles available in this medieval murder mystery party, and not presented in any order relevant to the plot. 
No todos los miembros del reparto están incluidos en todas las versiones.  
King Kyle
King

As ruler of this prosperous kingdom, Kyle is well liked by everyone. It's hard to have many enemies when the punishment of betrayal is death!
Queen Genevieve
Queen

Genevieve rules equally alongside her king, or so she thinks.
Sheriff
The Sheriff of Fernwood.

As Kyle's official in Fernwood, Sheriff is in charge of collecting the taxes in the manor. With the profits dwindling, Sheriff may have some explaining to do since the royal family's prosperity seems to be at its highest.
Sherilyn
Sheriff's Wife

Sherilyn will do anything to see her husband promoted, especially if her actions bring her more power and riches.
Lord Taylor
Lord of the Manor

In celebration of his only son's marriage to the noblewoman of his choosing, Lord Taylor is determined to host a tournament of epic proportions.
Lady Gwendolyn
Lady of the Manor

Gwendolyn is delighted for the approaching tournament. To Gwendolyn, the celebration symbolizes prosperity and happiness and a chance to marry off her only son to another noble.
Baron Bartholomew
Son to Lord Taylor and Lady Gwendolyn
Lady Diana of Dunnsberry
Noblewoman
Willie the Watchman
Manor Watchperson
Maid Marilyn
Lady Gwendolyn's Lady-In-Waiting
Elizabeth the Elaborate
Vassal
A picture is worth a thousand words, so take a look at actual versions of this medieval murder mystery party hosted by our customers.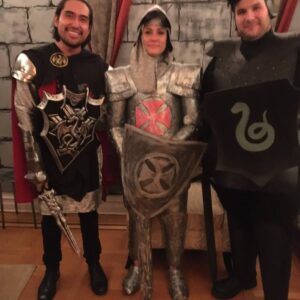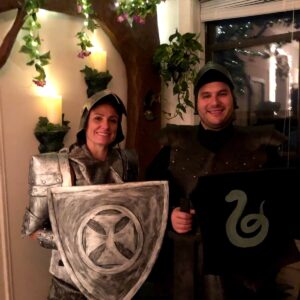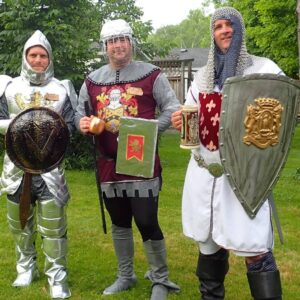 "He organizado mi primera fiesta y tenía miedo de que si alguien podía fallar en un paquete tan impecable fuera yo misma. Pero este kit lo hace tan fácil y divertido. Hay mucho espacio para hacerlo a tu gusto y no es un corte de galleta, ¡pero siempre es súper sencillo! ¡No puedo esperar a organizar otro onell! Gracias Noche de Misterio".
"Compré el paquete Noche de Misterio para un evento de formación de equipos de trabajo. Todos mis compañeros de trabajo dijeron que era el mejor evento de equipo al que habían asistido. El paquete era muy sencillo y tenía muchas ideas y consejos para ayudar a que el evento fuera súper sencillo. Lo recomiendo encarecidamente".
"He tenido tres fiestas a lo largo de los años. Este año volveremos a hacerlo. Las fiestas normales tienen sus grupos. El instituto por ahí, la iglesia por allá, la familia por allá. Pues con la cena de misterio de asesinato no hay nada de eso. Además eres libre de no ser tú durante la noche. Todas las fiestas han sido un éxito. En la última vinieron más de 100 personas".
¿Estás preparado para
¿el desafío?