All aboard for an arousing adventure filled with peculiar passengers and conspiring crewmembers.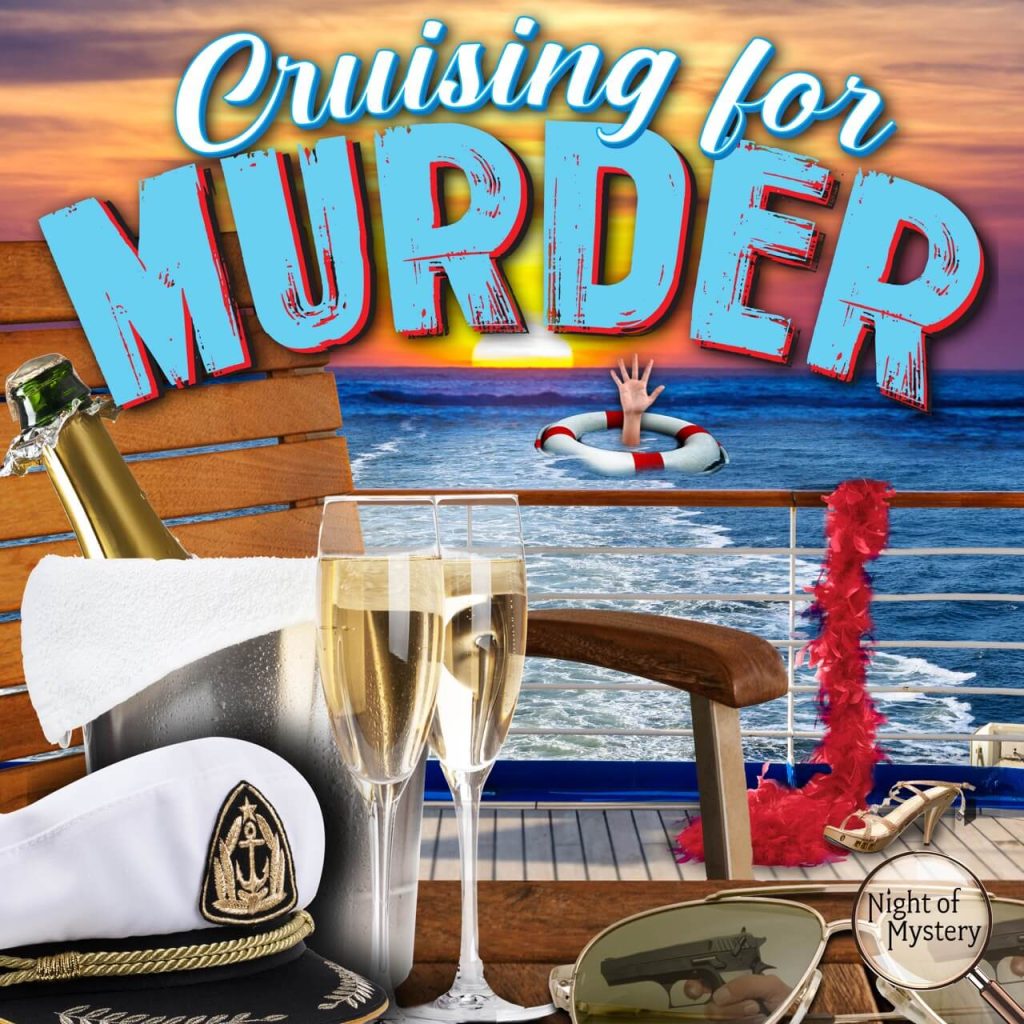 Check out the Ship Speak Glossary and other fun tidbits that might come in handy on your cruise!!!
Ship Speak and Towel Folding!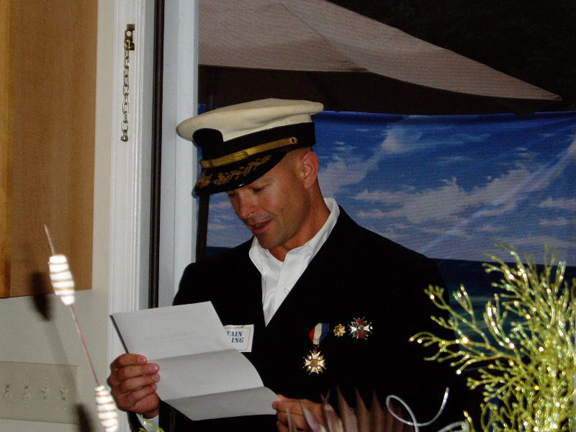 Familiarize yourself with some nautical terms before you embark! Click here
Towel-folding Tutorial!
For all of your towel boys and cleaning crew! (Click here)
Contestant Sash Directions!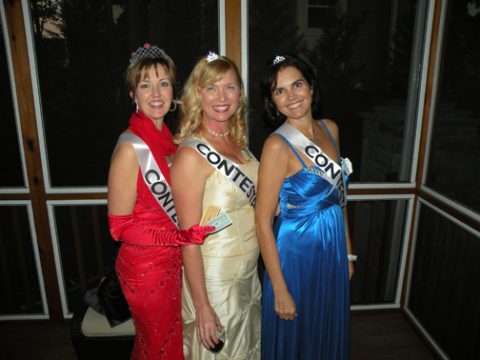 In the running for the Ambassadress contest? Click here for a guide
Cruise Ship Etiquette
Here are 10 ways to show you know proper cruise-ship etiquette 
as edited for your Cruising For Murder Cruise!
1. Pay attention at the safety drill. Don't talk. Don't drink. Don't take photos. If there's a time to be serious on your cruise vacation, this is (not) it. (If your host has gone above and beyond to include a safety demonstration, relish in it!)
2. Be spatially aware. You aren't the only one on the ship. If there is a line at the elevators and you can take the stairs, take them. If you're a slow walker, let the person behind you pass in the narrow cabin hallways. At the buffet, if you're alone at a table for six, consider sharing.  Make sure you are conversing and spreading the joy (and listening on other's conversations).
3. Avoid being a deck-chair hog.Reserving a deck chair for the whole day at the pool by leaving your stuff, even when you won't be there the whole time, is not considered courteous. Spend your time in the sun and then clear the space for someone else. Spend your time at the bar, chatting up with your fellow party-goers and spreading as many secrets and starting as much scandal as you can!
4. Don't save seats for your band of eight in the theater. Make new friends and sit with them! Make sure to find out what secrets they may have!
5. Make choices quickly at the buffet (it helps to take a look before you get in line). The buffet line is also not the time to lecture your child or quiz a chef about every ingredient in every dish. Be sure to tell your host what a great job they did preparing food!
6. Check promptly that the luggage delivered to your room(or outside your door) your nametag and objectives are is your own.
7. Keep your kids under control. Just because you are on a cruise ship doesn't mean you can stop parenting. The kids should not be running wild. Also, don't try to sneak youngsters into adults-only areas of the ship – such as the quiet pool, gym, hot tubs, or spa. Follow the age rules. Make sure with your host that kids are invited, as Cruising for Murder does have adult topics within it. Murder, for instance.
8. Talk quietly (no shouting) on cabin balconies and in cabin hallways. Your neighbors can hear you, including when you let your cabin door slam. Especially if you are the murderer. 
9. Arrive on time. When you are at an assigned table at a set time, it's uncool to keep your tablemates waiting. This goes DOUBLE for your evening of mayhem and mystery— the party can't start till you are all there!
10. Follow the dress code. Nothing gets the ire of fellow passengers more then when they follow the dress code – putting on a jacket or tie, for instance – and you blow it off, showing up in the dining room carefree in a Hawaiian shirt. If you want to go casual on a more formal night, head to the Lido buffet. Go overboard on accessories, outfits, props, etc. Nothing will delight your host and fellow guests more than a fellow party-goer that has gone all out! Not to mention, the idea of being awarded Best Dressed at the end of the night!
Aloha shirts and Sunglasses required!
Costume Ideas
Cruising For Murder is a fun cruise ship murder mystery game to costume for since you can dress up as much or as little as you desire. Personally, we suggest that you go "over the top" in your outfit — whether that means a brightly colored wig or a full-fledged costume is totally up to you! Our research shows that the more you dress up, the easier it is to act out your character and be as crazy as you want to be — I mean, you are wearing a costume it is not really YOU!
Travelers:

Fancy outfits
Anything to show wealth

expensive jewelry
mink stolls
fur coats
feather boas
watch piece

Suit with jacket
Bow tie
Top hat
Money tucked into places, like lapel, hatband, etc.
Long Gloves

Crew:

Hats
White coat
Shirt with large gold buttons
A Clipboard
Bow tie
Vests
Aprons
Name tags
Feathers in your hair (showgirls and cocktail waitresses)

Add to any outfit!

Boas
Wigs (think any variety)
Facial hair
BLING!
Gold or silver accesorries of any type
Fancy headress
Cigarette extension holders
Props of any sort!
LARGE hats
Fake eyelashes
Sunglasses
Ideas for both inside and outside your party space!
Create Your Entrance
In the yard, place a "Cruise Ship Terminal" sign.
Alongside your terminal sign, put anchors, a ships wheel, with perhaps some fishing nets, toy ships and plastic fish.
Have your guests enter along a gangway.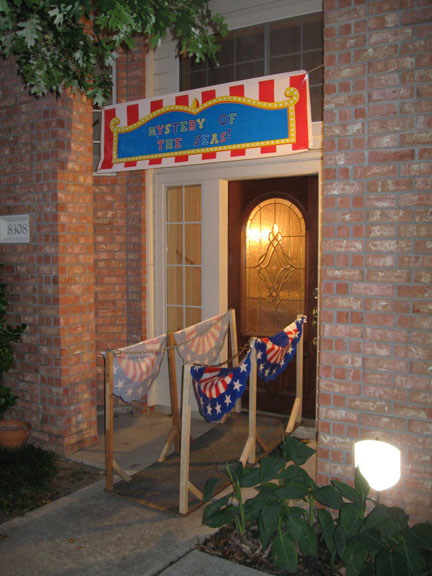 You can lay down planks that lead to the doorway or you can simply use cardboard and paint it to look like planks.
 Use small poles and rope to line the entrance as they're making their way aboard.
 Scatter blue cellophane along the walkway to make water.
 You could even make cut-outs of fish to lay across the cellophane or make shark fins out of cardboard to have rising from the water (from aluminum foil or gray poster board).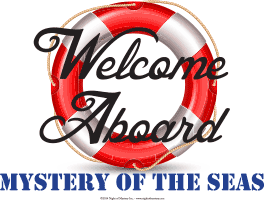 Place a sign at the entrance that reads, "Welcome Aboard! Mystery of the Seas". Create your own or use the one included with the mystery purchase!
As guests walk in hand out shell necklaces to the ladies and nautical hats to the gents.
---
Greet guests in cruise ship style with a life preserver arch and lots of balloons in red, white and blue.
(This is a perfect place for a photo spot!)
After having a photo, direct them to the purser, who will hand them their party information (name tag, money, "a" objectives, etc.).
See "creating a photo spot" for more ideas
Upon entering, have your guests pose for a photo (see 'making a photo spot' below).
Party Space
Space Use lots of directional signage to guide everyone through the party, "This way to…" Purser. Galley. Lounge. Casino. Sun Deck. Golf deck. Swimming Pool. Captain's Quarters. (Signs for areas included with the mystery.)
Make portholes and place them throughout the party space

Directions and designs are included in mystery!
Designs for both above deck (horizon) and below deck (underwater scenes) are included!
Hang life preservers throughout.
Place Mystery of the Seas "Do Not Disturb" door hangers on all of the rooms that will not be utilized during the party (included in the mystery).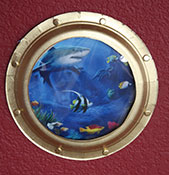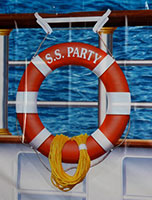 Don't forget to give Wanda and Wilbur Wed some privacy with an "Anniversary Suite – Do not disturb" sign.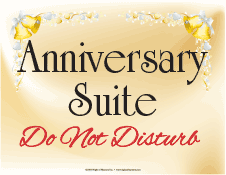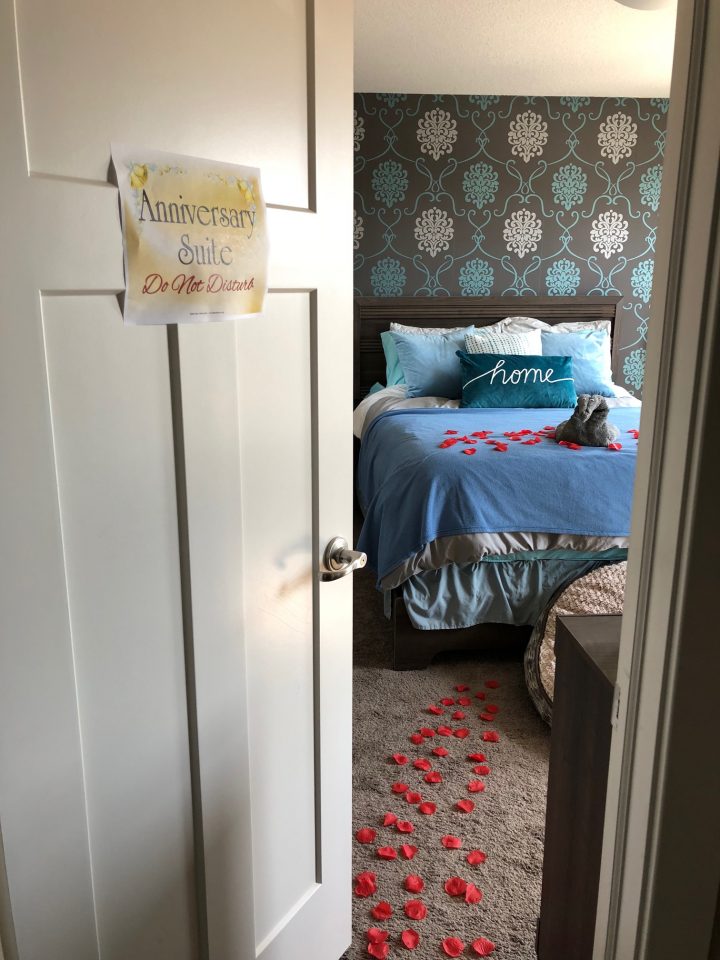 ---
Advertise for the Night of Mystery Review Show
starring Candy Cann by hanging her show posters in your Party Area!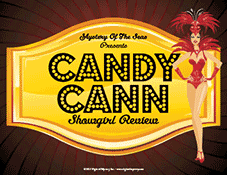 Have maritime flags hanging! A fun, festive and colorful way to pull the ship together!
Create some luggage props with travel stickers (included with the mystery) and an old piece of luggage. 

Don't have one? Check your local Goodwill and/or thrift store. (We found ours for $3.)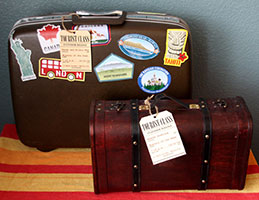 Place seafaring items throughout your party space to give it a nautical feel:
Ship's Wheel
Captain's hats
Anchors
Life Preservers (make your own here)
Cruise Posters
Map of the ship (enclosed in mystery)
Fish netting
Starfish
Seagulls
Maritime flags
---
Areas to Create Inside your Ship
A pool/lido deck

Purchase scene setters that will give you the ambience and feel of being out on the deck!
Set out lawn chairs, patio tables, etc.
Drape your furniture with beach towels
Create a shuffleboard on the floor with painters/masking tape on the floor.
Play some background sea/ocean noise!
Casino

Have gambling tables set up if you wish – real or fake!
Consider having iPad, laptops, etc., with gambling apps preloaded for your casino.
Decorate with neon signs, ringing noises, and casino scene setters.
Lounge Area

Consider a karaoke machine for entertainment during and/or after the mystery.
Karaoke microphone could double and help with announcements
Bar/Cocktail Lounge

Consider using votive candles to enhance some intimate lighting.
Serve lifesavers candies in silver dishes.
Make sure your guests have plenty to drink!
Dinner area

Create a room for dining or have a buffet table.
Use red, white and navy table clothes to accentuate the maritime theme.
Set your table with table decorations to give it a nautical feel.
See Food & Music page for more ideas!
Chapel

For any impromptu weddings or renewing of vows!
Can be made easily by stringing lights or tulle on a wedding arch.
Salon

You can use the bathroom for this with extra pampering details!
Have your towels folded into animals (see directions here) – much like you would find on a cruise line!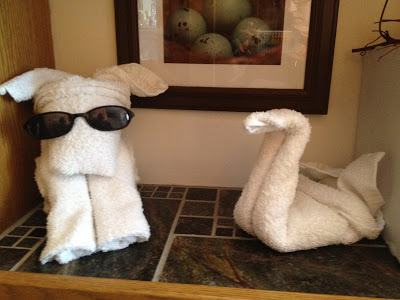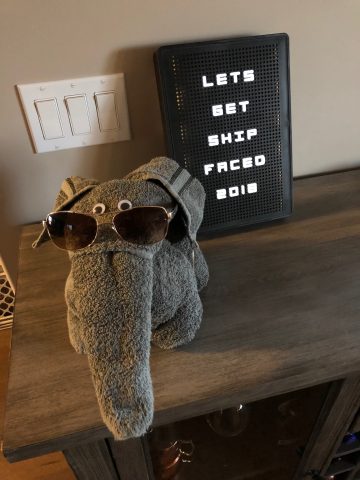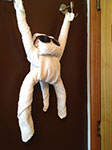 Create a Photo Spot!
Give your guests an unforgettable souvenir by setting up a photo area where they can capture a picture of themselves in character.
A few suggestions:
Pick a place where there will be good lighting.
You can make it as elaborate or simple as you want.
Accessories and decorations can make the difference. Have some extra props on hand that your guests can pose with. Consider extra captain's hats, feather boas, tiaras, lifesavers, large sunglasses, anchors, etc.
An easy way to create a background is to use a "scene setter". These affordable rolls of images transform your room instantly and make for a good backdrop to your picture.
Make sure there is enough room to fit everyone in to the frame.
For individual shots of guests, designate someone to be in charge of pictures as your guests arrive. Consider your character list and which character would fit the role of taking the picture. If you want mug shots, perhaps ask the investigator to be in charge of taking the pictures.
For a group picture, take one just before the introduction is read or right after the solution is read (before people may start heading out).
o These are two times when you can count on everyone being around and attentive.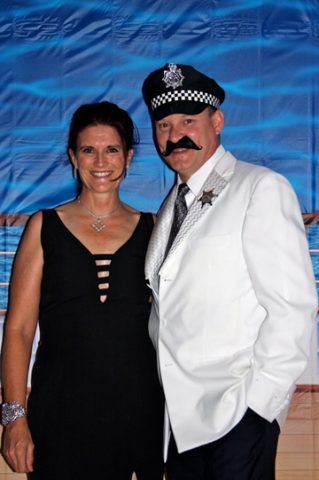 BACKDROP IDEAS for your cruise ship photo spot
Take a picture as the guests enter on the gangplank.
Use scene setters to make a simple background. There are many that are cruise themed.
Create a ship's wheel for your guests to pose behind.
Have additional props such as: captain's hats, an anchor, life preservers, buoys, etc.
Paint your own backdrop to pose in front of!
Tiki drinks and tropical fruits and flavors will help transport your guests to paradise of sand and surf.
Food
Cruise ships are well-known for their sumptuous buffets. 
Serve a buffet to your guests to keep with the cruise ship theme. (This will allow you to make any fare you choose!)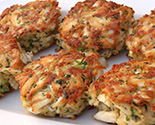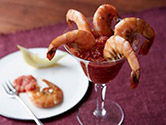 Check out some tips and recipes for making buffets here.

---
Make your dessert MURDEROUS!
While cruising on the ocean, why not try a menu filled with seafood?
Click on the menu items below to find recipes for your cruise ship murder mystery game.
Angel hair pasta with shrimp and basil
Shrimp cocktail
Crab cakes
Seafood stir fry
Flounder with crabmeat stuffing
Find a number of seafood recipes here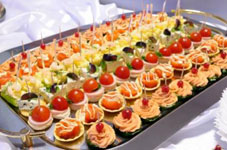 Drinks
Think Tropical Drinks
Serve tropical drinks like pina coladas and daiquiris that tend to be associated with cruises, vacations and tropical destinations.
Don't forget the drink umbrellas!
Download a tropical drink menu here!
Download a non-alcoholic tropical drink menu here!
Serve punch out of a large punch bowl and add a floating toy cruise ship or sailboat on top.
If you are daring enough – serve the elaborate fishbowl punch!
Consider blue Jell-O shots with Swedish fish for the theme!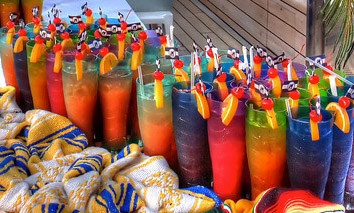 Setting Your Table
Arrange the food along a table and ring a bell when it's time to eat, inviting everyone to dine at the Captain's table.
– Use the table signs (provided with mystery) to denote where the crew and guests should sit.
Enter your food into the menu (included with mystery) and have it out for the guests to see.
Label your food with nautical terms (Captain's capers, Seafaring Shrimp, etc.) and set out by your dishes. (Designed food tents included with the mystery).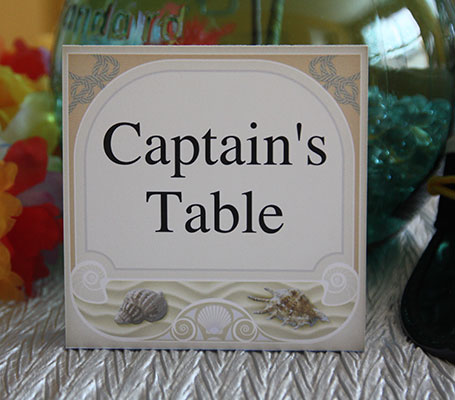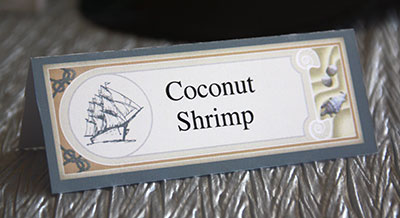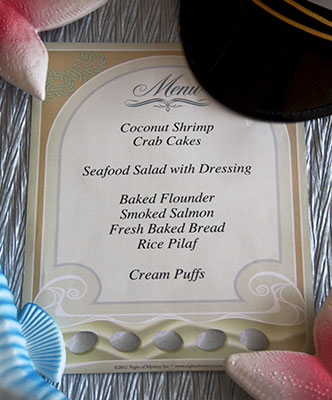 Use a red/navy/white color scheme and set your table using those colors. It can be as easy as using colored table cloths, napkins and plasticware to pull it all together!
For a formal feel, consider using crisp white linens and blue skirts, crystal glasses, white plates and silver chargers.
For a more casual feel, drape tables with fish netting fish hooks and anchors (which can easily be made of heavy duty aluminum foil twisted and formed into shapes) and seashells.
A long row of light brown sugar along the center of the table makes great 'sand' onto which you can arrange your table decorations and/or scatter sand toys, sea shells, etc. to create your own table decorations!
Tie lengths of white rope or cord (not too thin) around the napkins (contrasting color is best…sea blue…perfect.)
Wrap napkins with twine or white cord and lifesavers.
For centerpieces, place ice buckets with champagne or wine and silver balloons coming off. Then, use shimmery cellophane to fill the bucket. You can use the champagne bottles to drink OR for prizes at the end.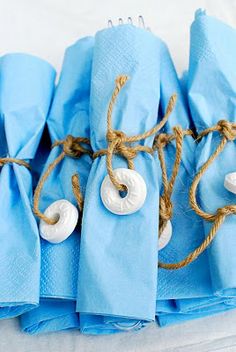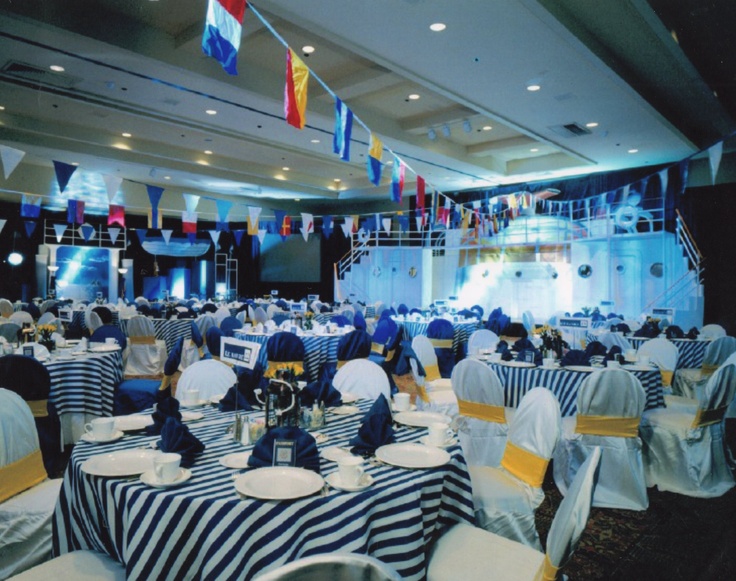 Spotify Playlist
Click on the image to get to our Spotify Playlist for this party!
Click on the image to get our Spotify Playlist for this party!
Other Music Ideas
Waves Lapping and other Seaside Sound Effects. You may want to have the sound of waves lapping playing when your guests walk to the entrance (up your gangway), if any part of your party is outside, or just in general. You can also look for sound effects with a ship horn blowing, seagulls, etc. You can find free sound effects here to download.
Make a mix of music about sailing, cruising and the open water. Here are some ideas for songs for your mix.
Love Boat Theme
Come on Down to My Boat – Every Mother's Son
Rock the Boat- Hues Corporation
Boat Drinks – Jimmy Buffet
Sea Cruise- Frankie Ford
Where The Boat Leaves From – Zac Brown Band
Sailing Away- Styx
Lovely Cruise – Jimmy Buffet
Orinoco Flow (Sail Away)- Enya
Sloop John B – Beach Boys, Kingston Trio
Sailing – Rod Stewart
Sailing – Christopher Cross
Shipbuilding – Elvis Costello
Sail On – Crawler
Sail Away – Randy Newman
Ship To Shore – Chris DeBurgh
Sail Away – The Temptations
My Ship – Tavares
Son of a Sailor – Jimmy Buffet
Sail on Sailor – Beach Boys
I'm Your Captain/Closer To Home – Grand Funk
Rhythm Of My Heart – Rod Stewart ("Where the ocean meets the sky, I'll be sailing")
Ship of Fools – Erasure
Ships – Barry Manilow
Sailing On The Seven Seas – O.M.D.
Big Ship – Freddie McGregor
26 Miles (Santa Catalina)  – The Four Preps
Go above and beyond with these specific ideas for THIS theme!
Once you order, in your mystery packet you will receive directions and/or printables to make unique and original decorations specific to your party! Included will be:
LUGGAGE TAG DESIGN
TRAVEL STICKERS
MAKING PORTHOLES AND DESIGNS FOR INSIDE THEM (directions and examples)
POSTERS (3 designs)
• Welcome Aboard
• Enjoy Your Trip
• Candy Cann Showgirl
• Captain's Cocktail Reception
• And more!
SIGNS
• Room/Area signs
DO NOT DISTURB DOOR HANGERS
DESIGNED DINNER MENU (you can personalize with your menu items)
FOOD TENTS
AND MORE!!!
Are You Up for
the Challenge?