A Night of Medieval Madness
A tournament of great celebration is planned to honor the noble marriage
of Baron Bartholomew to Lady Diana of Dunnsberry in the manor of Fernwood.
As a resident of the manor, you are not only invited to be there,
but your attendance is required by the request of your lord.
Whether it is to see knights jousting or to partake
in the ale and entertainment, your business is your own…
that is until you find yourself in the middle of a murder.
With only one night to find the guilty, you will soon figure out
that there is a lot more at stake, for murder in the manor is punishable by death.
Whether you are guilty or not, there will be others trying to finger you as the culprit
as you try to find the real murderer, and only you can defend your innocence.
Who do you trust? Who will betray you before the night is through?
Everyone is a suspect and no one is safe in this mystery of medieval madness.
Be careful in attending this medieval murder mystery party.
Your life will depend not only on your innocence, but your
ability to defend it.
*Note that the cast listed below is provided only to give an idea of the types of roles available in this medieval murder mystery party, and not presented in any order relevant to the plot. 
Not all cast members are included in every version.  
King Kyle
King

As ruler of this prosperous kingdom, Kyle is well liked by everyone. It's hard to have many enemies when the punishment of betrayal is death!
Queen Genevieve
Queen

Genevieve rules equally alongside her king, or so she thinks.
Sheriff
The Sheriff of Fernwood.

As Kyle's official in Fernwood, Sheriff is in charge of collecting the taxes in the manor. With the profits dwindling, Sheriff may have some explaining to do since the royal family's prosperity seems to be at its highest.
Sherilyn
Sheriff's Wife

Sherilyn will do anything to see her husband promoted, especially if her actions bring her more power and riches.
Lord Taylor
Lord of the Manor

In celebration of his only son's marriage to the noblewoman of his choosing, Lord Taylor is determined to host a tournament of epic proportions.
Lady Gwendolyn
Lady of the Manor

Gwendolyn is delighted for the approaching tournament. To Gwendolyn, the celebration symbolizes prosperity and happiness and a chance to marry off her only son to another noble.
Baron Bartholomew
Son to Lord Taylor and Lady Gwendolyn
Lady Diana of Dunnsberry
Noblewoman
Willie the Watchman
Manor Watchperson
Maid Marilyn
Lady Gwendolyn's Lady-In-Waiting
Elizabeth the Elaborate
Vassal
A picture is worth a thousand words, so take a look at actual versions of this medieval murder mystery party hosted by our customers.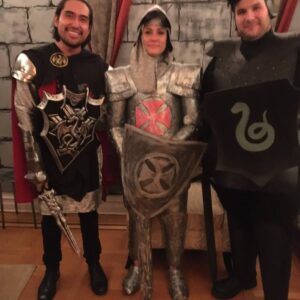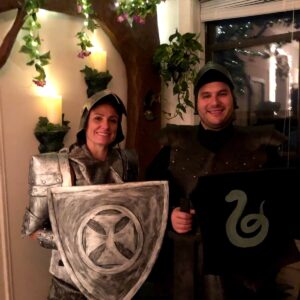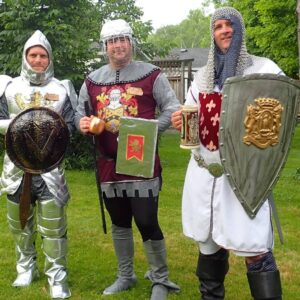 "I hosted my first party and I was scared that if anyone could fail such a flawless package it would be myself. But this kit makes it so so easy and fun. Lots of room to make it your own and not cookie cutter, but always super straight forward! I can't wait to host another onell! Thanks Night of Mystery!"
"I purchased the Night Of Mystery packet for a work team building event. All of my co-workers said it was the best team event they've been to. The packet was very straightforward and had so many ideas and tips to help make running the event super simple. Highly recommend!"
"I've had three parties over the years. This year we will be doing it again! Normal parties have their groups. High school over there, church over there, family over there. Well with the murder mystery dinner there is none of that. Plus your free to not be you for the night. Every party has been a success! Last one we had over 100 people come."
Are You Up for
the Challenge?