Adult Halloween Birthday Party Ideas
So, your birthday's around the corner and just happens to fall on the spookiest day of the year? That's spooktacularly lucky! We're going to unravel the best adult Halloween birthday party ideas that are dripping with suspense and intrigue. Let's embark on this riveting journey together!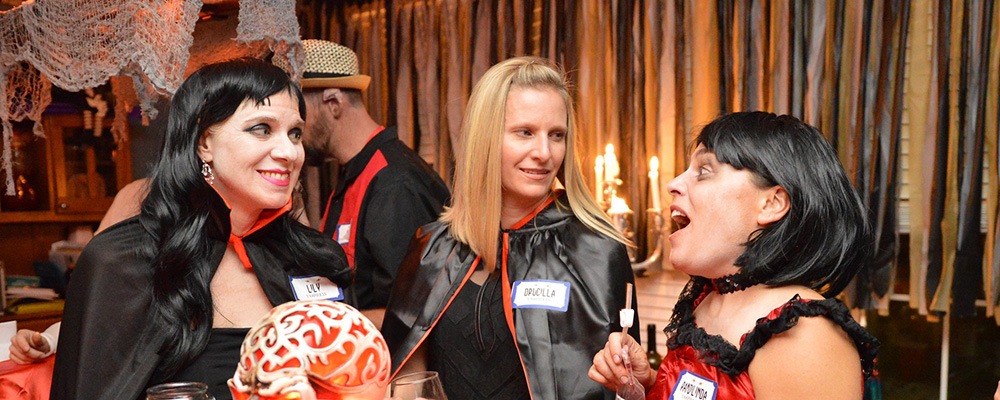 Adult Halloween Party Ideas
When the clock strikes midnight, and the moon is shining bright, one thing is crystal clear – an ordinary party just won't cut it. The secret ingredient in our adult Halloween birthday party ideas? A tantalizing theme with exhilarating activities to keep your guests on the edge of their seats.

Halloween Party Ideas for Adults
Now, the conundrum – what activities to choose? Here's a thrilling list of Halloween party ideas for adults that are sure to be the talk of the town:
Murder Mystery Dinner
We may be biased, but a murder mystery party is the best idea for an adult Halloween party. In fact, it kills it every time!
What Is a murder mystery dinner? It's a themed party where your guests are given characters and arrive in costume. Then, they play through a crafted experience to try solve the inevitable murder before the killer gets away…
Why are these so great? Well, just think about these reasons:
Immersive experience for guests:

How many parties to guests really get to contribute to? People don't just show up out of politeness – they become part of the plot.
Keeps everyone engaged and interacting:

Whether everyone knows each other or not, there are no awkward silences. Everyone is engaged and having a killer time.

A great excuse for fancy or fun costumes:

Depending on the theme, costumes can be easy or elaborate. Scary or funny. You decide!

Channel your inner sleuth and solve the crime of the century!

Simply purchase a downloadable murder mystery kit and let the games begin. Will the villain be caught? Only time will tell.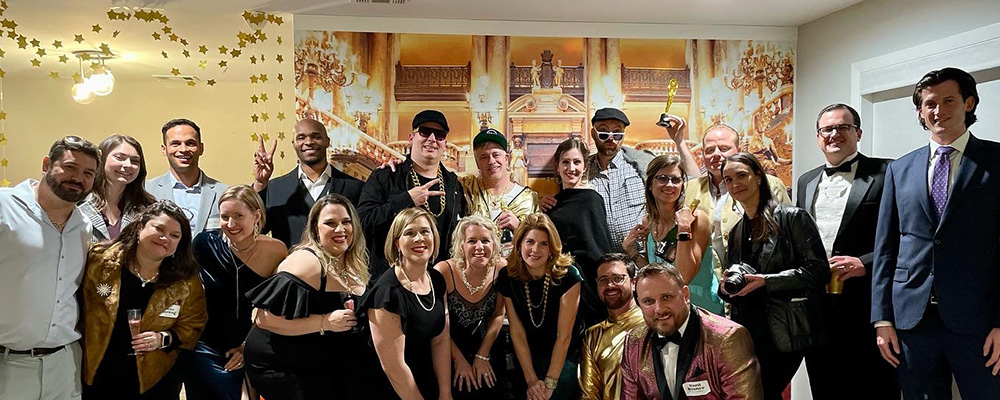 Costume Ball
Think of a masquerade, but with a mysterious twist. Ask your friends to don their most captivating costumes. Who will steal the show?
These can be fun, but they are basically a fancy dress-up party. You need to make sure your guests want to go all out for costumes, or it might not be the hit you hoped for.
Horror Movie Marathon
If you have a small, close-knit group, then consider coying up with some popcorn as you journey through the world of silver screen horror. From classics to modern spine-chillers, the suspense is palpable!
The downside to this is that it's hard to socialize while watching a screen.
Potion Making (Cocktail Mixing)
Brew your own concoctions with a dash of magic and mystery. If no one has ever called your cocktail a magic potion, then there's definitely room to learn some new skills!
This also works well to mix with a murder mystery party, because you can make cocktails to match your theme.
Murder Mystery Parties: Our Clear Favorite!
Now, while all these scary Halloween party ideas are intriguing, there's one that stands out in the spotlight – the Murder Mystery Party. Not only does it offer an immersive experience, but it keeps your guests guessing until the very end!
The twists, the turns, the suspense! And the best part? Night of Mystery offers detailed murder mystery kits tailored to different group sizes, complete with resources like:
Decorating tips

Recipes

Playlists

And more!
Crime has never been this much fun!
Unique Halloween Party Themes for Adults
Wondering about unique Halloween themes? Night of Mystery has you covered. We understand that not all parties are made equal. Whether you're looking for something classy, fun, or utterly mysterious, our range of themes is sure to cater to your discerning tastes.
A Classic Scary Theme
Think of Dracula and all the other spooky monsters who lurk in the shadows of gothic gothic horror. This is a great theme for October for obvious reasons, and it's relatively easy to pull off. Due to the amount of Halloween stores that pop up, the host can easily find decorations, and your guests can get their hands on costumes (if they don't have them hiding in their basements already).
If this has you intrigued, then check out Terror in Transylvania… if you dare…
The Dark Side of the Roaring 20s
In a world of gangsters, flappers, and underground crime, there's a lot to enjoy at Halloween-time. This theme is always a hit among guests because the costumes are fun and easy to put together, and they make for some great photos. Plus, it's easy to get into character when you enter the mysterious door of a speakeasy, and it's not surprising that the criminal activities get out of hand.
Want to open a door to the past? Check out Murder at the Juice Joint.
Cruel Fate In A Fancy Mansion
How many stories are set in a luxurious mansion full of suspicious characters with strong motives? A lot, because it's the perfect plotline.
It's also one of the perfect adult Halloween birthday party ideas because your guests can easily get into costume by finding things already in their closets (even though some will love the excuse to go shopping). And, you can kill it with easy decorating tips – you might even add a touch of class that you'll decide to keep after the party ends.
Ready to enter a mansion with at least one killer? Try A Clueless Murder.
Gamble… With Your Life
Sin City takes on a whole new meaning when you realize one member of the party won't make it to the end. Everyone is hiding something in a Las Vegas casino, so that makes the mystery all the more intriguing to solve.
With a wide range of costumes just like you'd find in Vegas, this one's a blast for a Halloween birthday bash.
Roll the dice by hosting Murder in Sin City.
A Halloween Birthday Party Should Be One For The Ages
The key to an unforgettable adult Halloween birthday party lies in the suspense, the intrigue, and the thrill of the unknown. The good news is that Night of Mystery is your accomplice when it comes to planning this particular crime. Our games come in varying sizes so your group will have the perfect mix of characters, and each one has a Party Tips page with advice on decorating, food, and more!
Are You Up For The Challenge?