Host an Outdoor Murder Mystery Party
When the summer warmth starts peaking around the corner, you're probably getting excited about hosting your friends in a memorable backyard bash. But, unless you have a swimming pool with an epic water slide, it can be difficult to make your party stand out. Have you ever thought about throwing an outdoor murder mystery party?
Whether you're a seasoned pro at hosting murder mysteries or this is your first foray into the world of detectives and deception, Night of Mystery is here to help you conjure up the ultimate outdoor murder mystery party. With spine-chilling games tailored for various group sizes and a treasure trove of resources to help you plan and execute the perfect ghastly gathering, we're your one-stop source for a thrilling evening of intrigue and suspense!
What Are Murder Mystery Party Games?
If you're a first-timer, then you're probably wondering exactly what are murder mystery party games?
Let's set the scene. You and your pals (old and new alike) gather together in a spooky old mansion, dressed to the nines in your most mysterious outfits. Or maybe you're in a backyard in pirate garb. Or even under the disco ball with a throwback to an '80s prom – complete with all the neon you can imagine! Suddenly, a blood-curdling scream pierces through the air, and you all discover that one of you has been "murdered"! Dun dun dun!
But don't worry, it's all just a game! A murder mystery party is essentially an interactive whodunnit where you and your guests take on the roles of suspects, detectives, and even the killer!
It's like a mystery movie come to life, but with many more laughs, twists, and turns.
You'll have to use your detective skills to:
Suss out the culprit

Gather clues

Solve the mystery before the party is over
And the best part? You get to do it all while sipping on cocktails, nibbling on hors d'oeuvres, and cackling with your friends.
So, if you're looking for a wickedly good time to spice up your standard gathering, gather your partners in crime and host a murder mystery party! Just be sure to watch your back… you never know who might be lurking around the corner with a plastic knife and a mischievous grin!
Hosting An Outdoor Garden Murder Mystery Party
An outdoor garden murder mystery party shares many of the same planning aspects of any murder mystery party. Essentially the only difference is you'll want to have a theme that works well with the outdoors, and a backup plan in case the weather tries to bring a quick death to the party.
Choosing the Perfect Murder Mystery Game (Mwahaha!)
Night of Mystery offers a vast array of downloadable murder mystery games, designed to accommodate both intimate séances and larger gatherings of scheming guests. To choose the perfect game, simply count the number of souls you've lured in and select your preferred theme. Sandy whodunnit on a beach? Modern-day mystery on a cruise ship? The choice is yours!
This is where you can really make the outdoor setting stand out.
Does your yard have palm trees? That sounds like a

red carpet

or

tropical

opportunity!

Do you have an elegant patio? Go with a murder at a

winery

.

Have a messy yard and don't feel like cleaning? Time for a

trailer park

!
Preparing for Your Frighteningly Fun Murder Mystery Party
Ensure your guests are quivering with anticipation by sending out invitations early and providing them with their character information. This will help them fully embrace their roles before the big night! Night of Mystery has you covered with tons of costume resources and ideas, making it easy for guests to embrace their inner monsters.
And don't forget the themed recipes, playlists, and other party resources available to guarantee a terrific time solving a crime!
Conjuring Your Outdoor Murder Mystery Party
Like any good crime, the location of your event is key to its success! Carefully consider the space, accessibility, and (dare we say) potential weather conditions when choosing your venue. With the perfect spot in hand, it's time to transform the area into the perfect crime scene! Think of seating arrangements, mood lighting, and props that really bring the guests into the game.
The "Party Tips" page of every Night of Mystery game has specific ideas for each mystery.
Hosting the Party and Unraveling the Game
As the host, your task is to guide your guests through the game and keep the party from going off the rails. You want plenty of chances for guests to mix and mingle, so we recommend a barbecue or buffet-style serving of the food. It's also a good idea to have a bar set up with theme-specific drinks (and don't forget non-alcoholic options!).
The Big Reveal and Capturing the Culprit
The game reaches its dramatic climax with the dramatic reveal of the sneaky culprit and their hidden motive. Celebrate this moment of truth by presenting awards to those who successfully solved the mystery, as well as those who had the best costumes or played their characters most convincingly. Encourage everyone to snap group photos and share memories of the mystery on social media, tagging Night of Mystery to join the realm of murder mystery fanatics (but don't post spoilers, so others can have fun)!
Mystery Party Ideas For Adults
We mentioned that the theme is key to the game, so you'll want to consider your setting. Here are some specific themes of Night of Mystery party ideas for adults that are perfect for an outdoor murder mystery party.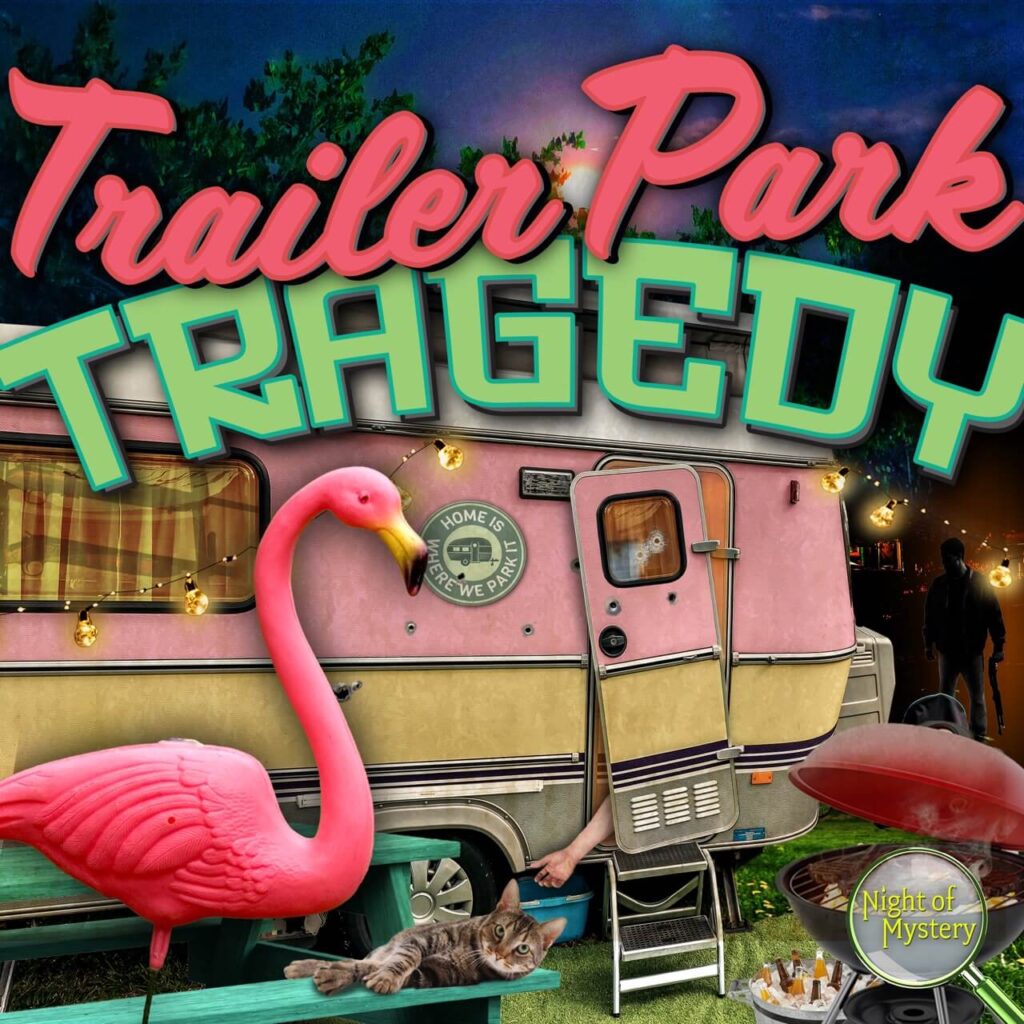 Trailer Park Tragedy
It's the annual W.T. Trailer Park BBQ which is well known in the community and by law enforcement agencies because of its after-hours fights, double-crossings, and illegal happenings. In other words, this trailer park's BBQ is a recipe for disaster.
This is a fun party to set up, and relatively easy for your guests to create costumes.
Murder In Margaritaland
Somewhere in the tropics between the Port of Confusion and Bay of Disarray, you'll find that murder meets mayhem and the intrigue begins! While most vacation at Margaritaland, an exclusive tropical resort, to get away from their troubles, for one unfortunate soul, it will mean the end of their travels altogether. At the resort, the guilty will mingle among the guests and everyone will be left with the task of deciphering between the facts and falsehoods that plague this paradise in order to make a killer pay for their crime.
If you can't escape to a tropical island, this is the next best thing!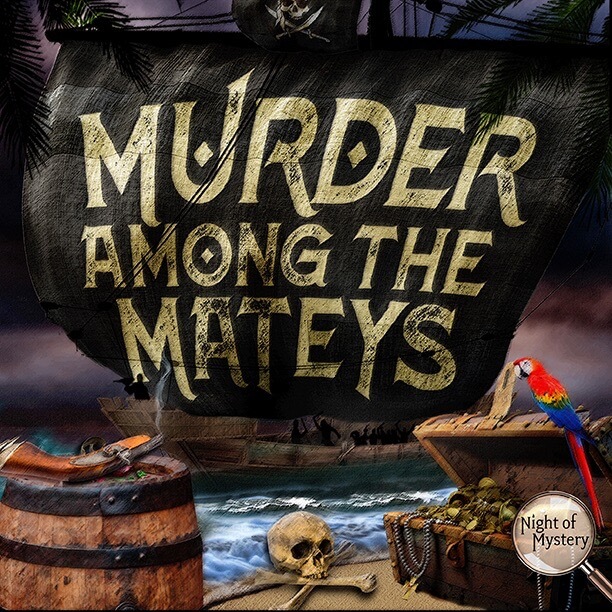 Murder Among The Mateys
Well, shiver me timbers and sharpen me sword! After a voyage filled with pillaging and plundering, the Jaded Jewel–a pirate ship captained by Redbeard, an old but dangerous pirate–is docked in a cove near Port Royal. As the pirates head into town to celebrate their homecoming and spend their gold and goods, a night of turmoil and trouble is sure to transpire. As the night quickly steers out of control, one guest meets a tragic demise and ends up in Davy Jones' Locker leaving the rest of the partygoers to bring the guilty to the gallows.
All it takes to transfer a deck into a pirate ship is a bit of creativity!
Night Of Mystery Makes It Easy!
Hosting a murder mystery party takes a lot of planning and preparation, but we offer plenty of resources to make that as smooth and easy as possible.
Check out our wide range of themes, and you'll be solving your own murder in no time.
Are You Up For The Challenge?