How do you drum up excitement for a really cool event? The invitation, of course!
The invitation is the first thing that your guest will receive in anticipation of the big event and you want them to know it is going to be just that — something they won't want to miss!
Now, we at
Night of Mystery
have designed
emailable invitations
for you to do just that. (You can
download them here
, before you even purchase!)
BUT, if you are that host/hostess who likes to pull out all the stops, here is a fun, new invitation idea for Happily Never After, Once Upon a Murder,
Terror in a Toga
and
A Knight of Murder
!
Who wouldn't be excited to get this mailed or handed to them?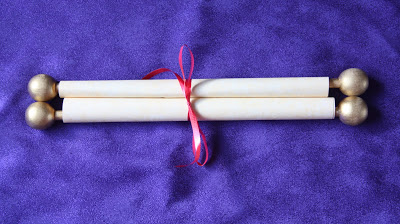 Unroll it and here you go!
The directions are simple and concise, step-by-step, showing you how to create this authentic piece of propaganda for your party!
(Like our other invite designs, we included fields where you can enter in your own party information.)
So, go ahead!
Start planning your night of night of
fearsome
fantasy, Roman rivalry or Medieval madness and intrigue your guests with more than they ever hoped for!
For a another VERY COOL invite idea for Murder in Margaritaland, Cruising for Murder and Murder Among the Mateys, check out this blog posting!
(Hint: pictured below)