Invitation In A Bottle!!!
Your guests will go overboard when they receive their invitation as a message in a bottle!!!
Imagine the surprise and intrigue you will create around your party when you
invite your guests to a murder via a message in a bottle?
We found these
bottle invites online
and personalized them by sending the invites that are provided in the Night of Mystery party packets in them. (You can
download an invite here.
) The bottles were able to be sent via the post– just make sure to seal the bottom of the bottle with the address label or tape.
When we added in our own stuff, this is what our guests received!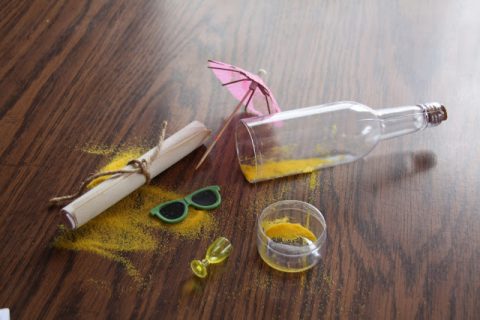 These bottles are perfect to use with
Murder in Margaritaland
and
Cruising For Murder
. Not to mention, we found some
pirate-themed bottles
online that would work perfectly with
Murder Among the Mateys!
Perfect for Murder in Margaritaland
Not only will you have the most unique party with Night of Mystery–
but a very unique way to invite your guests!!!
For a another VERY COOL invite idea for A Knight of Murder, Terror in a Toga, Once Upon a Murder or Happily Never After, check out this blog posting!
(Hint: pictured below)