Lights! Camera! MURDER!!! June Party of the Month
Every month, we highlight a mystery description and pictures that someone has emailed us — this is June's winner! Find out how to enter and win yourself here!
---
I was looking for party theme ideas for a ladies night out (at my house) for a group of friends and family. I came across night of mystery and found Lights, Camera, Murder! It was perfect! I downloaded the party info right away and set out to plan my mystery party. I chose the 12 guest option, female version.
It was way to difficult to assign the characters, since so many of my guests were perfect for every role, so I randomly assigned them.
Picking a date that 12 of us could make it proved a bit of a challenge, so I scheduled it about 3 months out. It was perfect, I had so much time to get ready!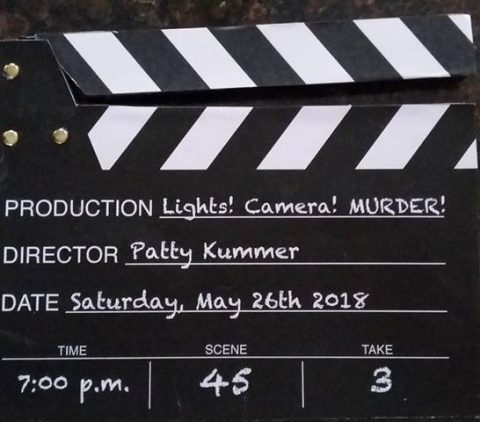 I wanted to order life-size cutouts of celebrities, but could not believe how expensive they were! At about $80.00 per celeb I was going to spend my entire budget on them alone…. not going to happen! But wait…… I stumbled on this awesome web site,
Blockposters.com
and found out I could print them out myself, glue them onto cardboard and voila, star studded party! You need high resolution images so they don't get pixelated when you enlarge them. I found them on
theplace2.ru
,downloaded them then turned them into block posters. It's a bit of work, but for under $50.00 I had 6 celebrities! I got huge cardboard boxes from a local appliance store and used adhesive spray and glue sticks. Up close they are not the best looking props, but they looked awesome in the pictures, and the guests absolutely loved them.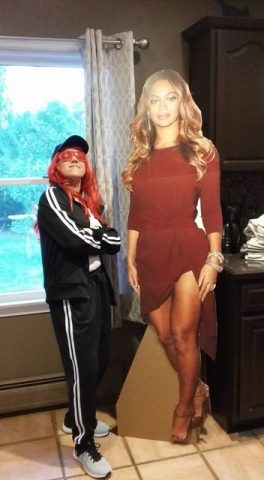 I also wanted to personalize some props for my guests, I found
postermywall.com
and uploaded their pics and turned them into posters as well. I used their character names as the star of the movie, playing them (their real names) .Everyone loved this, and took them home at the end of the night.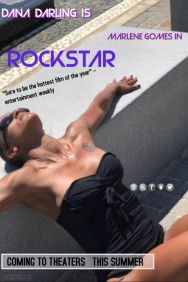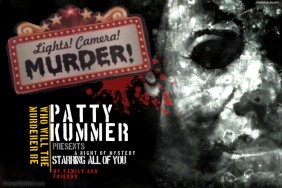 I had a red carpet coming up my walkway and a VIP step and repeat banner red "velvet" stanchions (red pool noodles) for inside photo opps! I also bought some photo booth props for added fun. Everyone enjoyed taking pictures in front of the wall, it was one of the best "props." I created a playlist on Pandora with all recognizable movie theme songs and played it outside as guests arrived on the red carpet, great touch!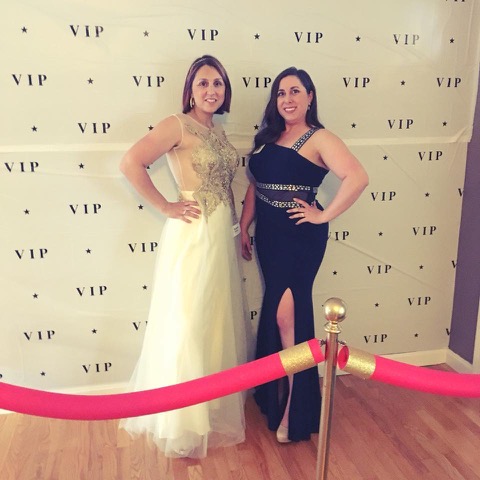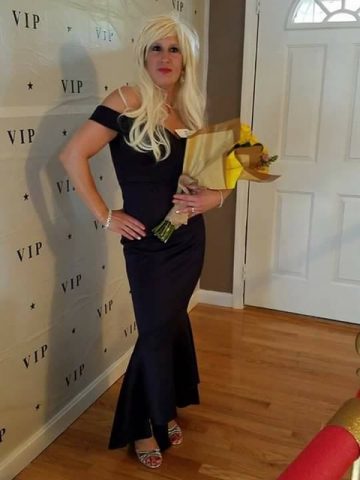 I started the night off with a champagne toast. I had all the glasses by the door with the provided name drink tags on them. I dusted the glasses with edible gold first, they looked glamorous!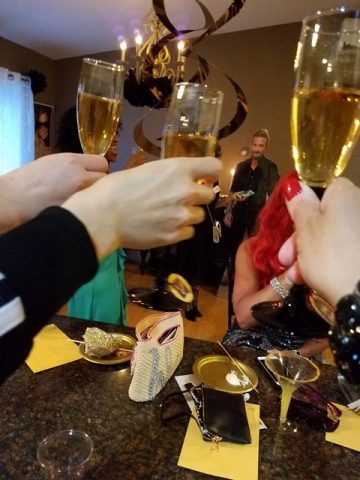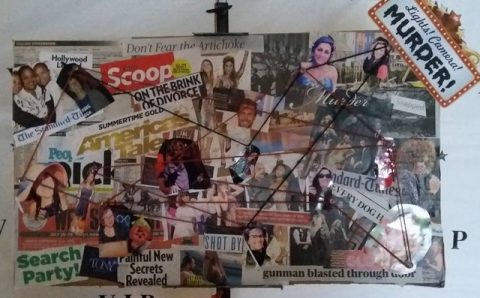 We served a variety of appetizers. I made death by chocolate and champagne cupcakes dusted with edible gold for dessert. I served red carpet sangria and Hollywood martinis. I rimmed the martini glasses with gold sugar and made lemon twists for a little flare. They were a hit!
My husband found a gunshot sound and downloaded it to play over the speakers for the murder. It was absolutely perfect! Lights went out, a gunshot, lights on and we found our victim on the floor! What a scene! We had a lot of fun doing the investigation. Everyone was shocked when the solution was read. No one guessed correctly!
My guests all took their roles seriously. They were dressed up like it WAS a Hollywood party! "Angel Wood" even had an Oscar engraved! "Holly Honor"arrived in a limo she made out of cardboard, it even had working headlights! It was the best prop of the night, everyone had fun taking pictures with it.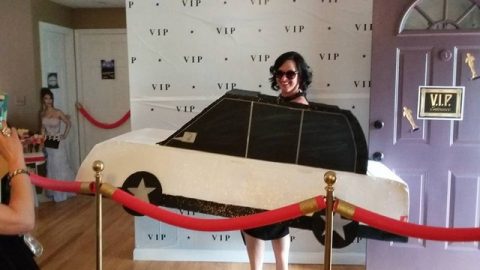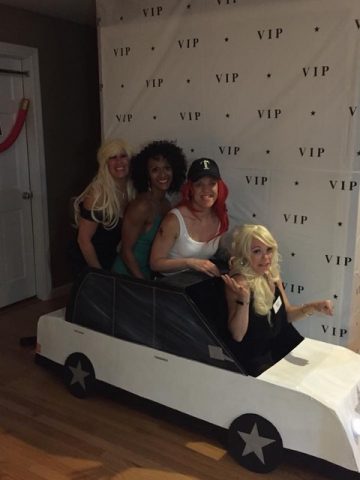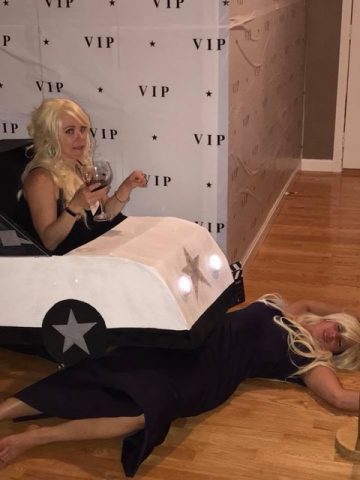 I then gave out the awards for the night. For Drama queen, I bought 2 movie tickets and decorated the envelope with blood drops and bloody fingerprints. For dressed to kill, I filled a cute travel makeup bag with items to pamper the recipient. Bath bombs, lotions, face scrub, etc.. The Mrs. Moneybags prize was similar, I added a blinged our compact mirror. A bottle of wine using the provided labels was given to each as well.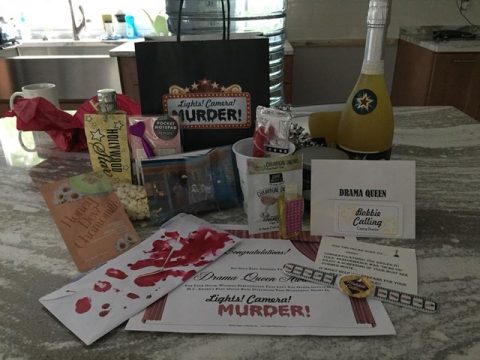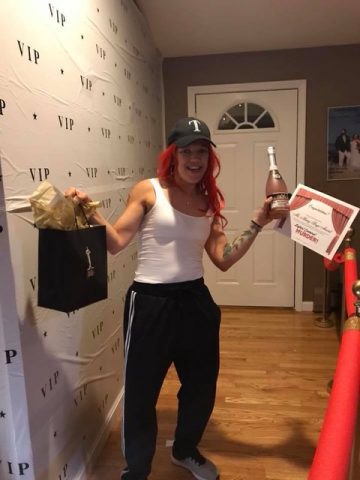 In keeping with the Hollywood Oscars theme, I provided each guest with swag bags as they left. I put mini champagne bottles, notepads & pens, hand sanitizer, champagne gum, facial masks, chocolate bars, popcorn bags, nail files, and a few other small items. I printed out the party logo and glued it onto black gift bags. They looked great.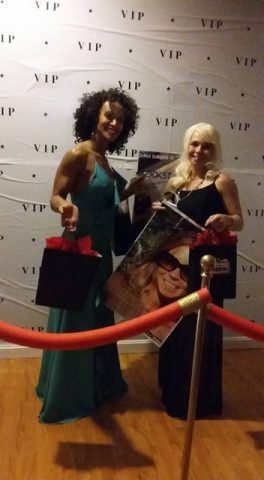 We all had an incredible evening! It was my first murder mystery party, and won't be my last! Everything was easy to follow and put together so the night went smoothly. My guests could not thank us enough. I'm sure we will all be talking about it for some time!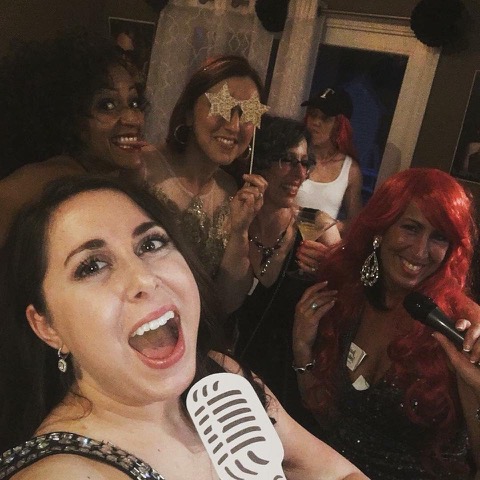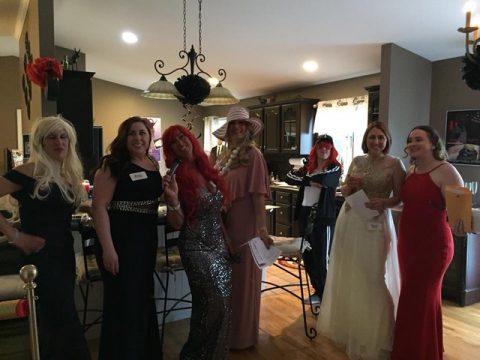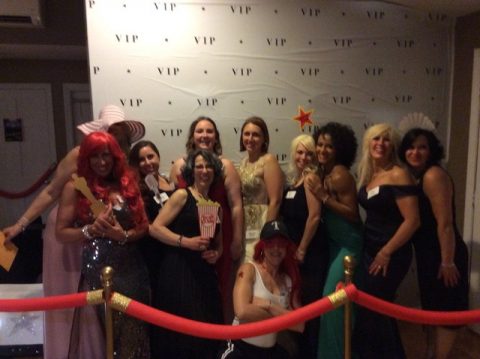 ---
Each month we highlight one of our customers who has posted on our blog and award them a FREE party!

To get your $5 coupon AND be entered in the Party Of the Month contest for a chance to win a FREE party, please email your pictures and party description to: nompartyofthemonth@gmail.com
Host Lights! Camera! MURDER!! Mystery Party NOW!