Every month, we highlight a mystery description and pictures that someone has emailed us for a FREE party!!! Here is April's winner! Find out how to enter and win yourself here!
————————————————
When you've got a bunch of twenty-something's with wild imaginations, adventurous spirits, and a good sense of humor…..it only makes sense to throw a murder mystery party.
90% of my guests had never done a murder mystery, but they all were naturals! I give a lot of credit to how well thought-out the character sheets and clues were. ​​​​I've hosted a few parties like this, and this was by far the best. Months later, people are still talking about it!
THE KIT
I haven't stopped raving about my "Night of Mystery" party. Everything in my kit was so well thought-out, and made it so easy for me as the host. The characters were all fun and had a lot of material to work with, and weren't overly cheesy like I've experienced before. All the costume, food, and decoration tips were such a helpful added bonus. I was actually able to prep nearly the entire party myself, without spoiling anything. (It took some self-discipline, but the PDF really made it clear where the safe/spoiler moments were.) (I'd recommend getting somebody to help with the photographic evidence portion—- that's the only thing that was hard to avoid)
ADAPTION
I loved the idea of having a Hollywood themed party……but I also love film noir, and so I adapted my party to take place in glamorous "Old Hollywood." The "Lights, Camera, Murder" kit worked perfectly— I didn't change any character names, clues, or character sheets. I've got a background in graphic design, so it was fun to reinterpret the name tags, invitations, a variation of the "Page 6 Magazine", a food and cocktail menu, "who dunnit" cards, and the awards to match my theme. My guests loved this, and it totally made it a more immersive and unique experience.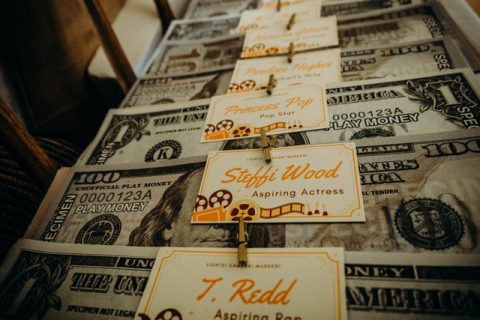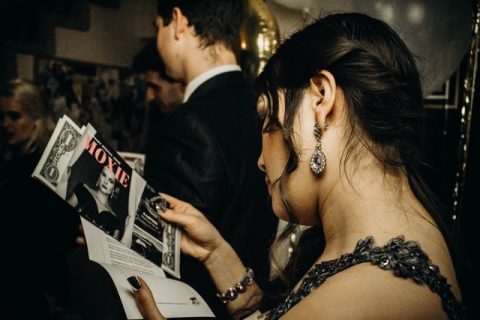 DECORATIONS
My party took place during Oscars season, so I was able to find decorations easily! I went for a classy atmosphere, and bought a lot of black and gold things. A lot of New Year decorations worked well.
One of my favorite features was having a HUGE 40 foot red carpet ($20 from Party City) up the walkway to my house. I lined the carpet with gold stars I cut from poster paper glued to skewers I staked in the lawn, to create a "Walk of Fame." Guests' jaws dropped before they even came into the party! I also bought a cheap backdrop online that had paparazzi silhouettes, and hung it up next to my front door.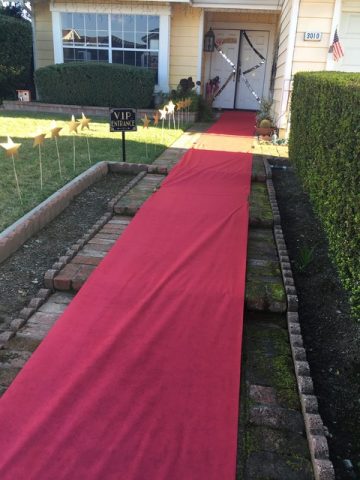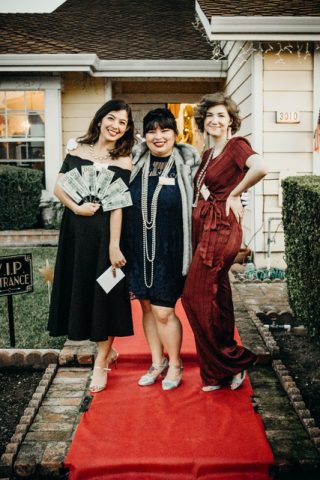 I bought a simple backdrop + some fun, giant balloons from Party City, and used it for a photo booth. It was my 23rd birthday, so I also splurged on some giant "23" balloons!
I also rented a few cocktail tables, which definitely made it feel classy! I wanted people to walk around and be totally engaged, so we only used chairs during the parts were we all gathered around to open envelopes.
FOOD & DRINK
Because there would be a lot of walking and talking all in character, I opted to do heavy appetizers instead of a formal dinner. Pinterest came to the rescue here! It was fun having so many toothpick treats! I also splurged and rented out a chocolate fountain for the evening…..it was a huge hit! My dad wanted to be involved, so I assigned him to be bartender for the night. He welcomed and hosted guests during the cocktail hour, and was in character the whole time (he made up his own backstory!) He learned a few magic tricks to entertain guests, made drinks like "Pink Paparazzi" and "Murder in Manhattan")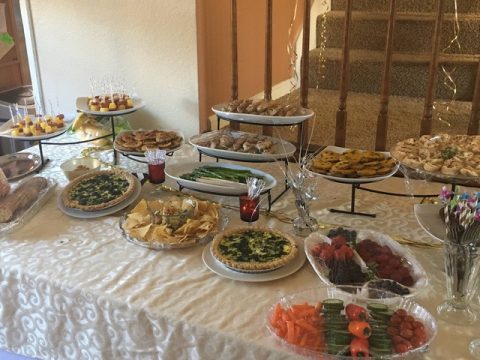 GUESTS
I had 24 guests join the party. Not a single one (besides me) had ever done a murder mystery!!! They all had an amazing time, and totally owned their characters. Most had "scripted" roles, but I invited a few extra people, and just had them come up with their own backstories (we had a stunt double, a magician, an Italian mobster…!) This was a good sized group, and it worked because we used my entire house and backyard. It was fun to find people paired off in my side yard, or in the pantry, having clandestine meetings.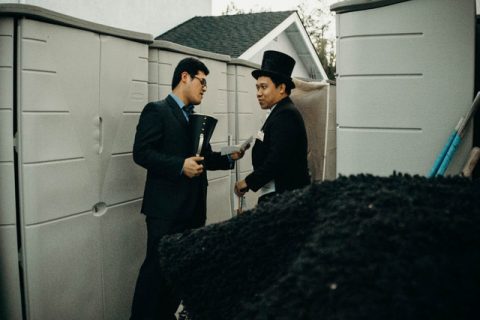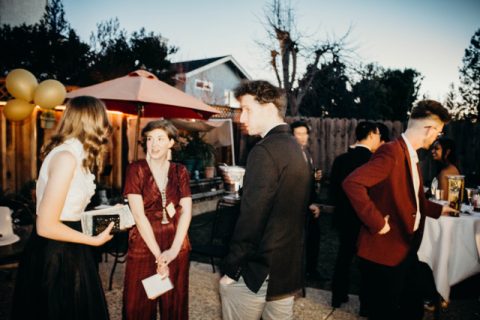 FUN "EXTRAS"
– I bought fake money online, and bought JUMBO sized because I thought it would be funny. It was pretty funny, but not very practical and hard for people to hold. I'd recommend just doing normal (or even slightly smaller) sized money. – In my invitation, I noted that there would be a 45 minute "cocktail hour" before official game time at 5 p.m. This was great and gave time to guests to try out their characters and get in the mood. It also ensured that EVERYBODY was present when we officially kicked off the game with the opening of the envelope! – For the awards at the end, I adapted them to sound more "Hollywood" like (Best Dressed = "Best Costume Design;" Drama Queen = "Outstanding Performance by Lead Actress"), and handed out mini Oscar statues. – Everybody's favorite prop was the giant "crime scene board" my fiance made. It was hilarious and pointless, but a great decoration. We just printed out funny photos of all the guests, and pinned them onto a bulletin board to make it look like a detective movie. We added red yarn, maps, newspaper clippings, and whatever random things we could find.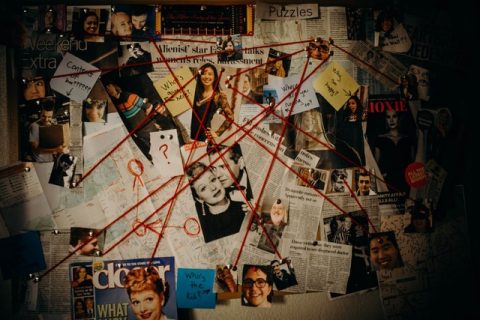 – I don't know if this was a part of the kit, but before we made the "murder reveal," we went in a big circle and gave everybody 30 seconds on the mic to either share their conspiracy theories, or defend themselves. Easily the funniest part of the night!!! And it built suspense before we all filled out the Who Dunnit cards. Not everybody had a chance to talk to everybody else, so it helped to hear other people's leads before I made my own guess.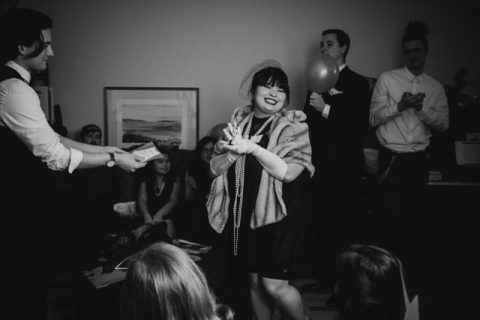 A LONG REVIEW, but I had so much fun with this and just had to share. Happy sleuthing to all of you!
————————————————
Every month, we highlight a mystery description and pictures that someone has emailed us for a FREE party!!! Here is April's winner!
Find out how to enter and win yourself here!
Start Planning your Lights! Camera! MURDER!! Party NOW!